August 2022 New Cookbook Review
August 25, 2022 by Jenny
Once again there has been changes on the release dates of many cookbooks. I have updated our Library records but it's like trying to keep track of hundreds of moving targets. Recently, I shared my fall/autumn preview Part I for the baking titles and Part II for non-baking titles – great titles await us.
If you would like to order any of these titles (or preorder/order any other books or items) using our affiliate links below or BUY BOOK button on the book details page, earns Eat Your Books revenue as an Amazon Associate from qualifying purchases when using our links:
USA * Canada * UK * Australia * Book Depository
Please remember your local bookstores during this time – for preorders as well. We need to do what we can to make sure these businesses stay afloat.
If there is an
  available for a cookbook, look for the orange icon in the blurb. Clicking on that link will take you directly to the preview. Lastly, if events are planned for particular books/authors, I have included a link. Be sure to check our Calendar frequently for new entries there are loads of events around the world including Nigella's North American tour and Ottolenghi's UK tour and 2023 Australian tour.
To jump to a particular country's listing, please click on the links below.
UNITED STATES
The Succulent Bite: 60 Easy Recipes for Over-the-Top Desserts by Nico Norena: Adored by almost 1 million Instagram followers for his irresistible, over-the-top creations, Nico Norena knows droolworthy desserts. In this must-have collection, he welcomes readers into a creamy, dreamy, sugar-laden world, where cheesecake is full of Ferrero Rocher and crepes come stuffed with Chips Ahoy.
Gaby's Latin American Kitchen: 70 Kid-Tested and Kid-Approved Recipes for Young Chefs by Gaby Melian will teach us the best recipes she's learned from all over Latin America. From desayuno (breakfast) to cena (dinner), merienda (snacks) to postre (dessert), your young chef will be a pro in no time. This book is being published by America's Test Kitchen so you know it is going to be great.
The Outdoor Table: Recipes for Living and Eating Well by Alanna O'Neil makes outdoor entertaining easy. You can sit back with loved ones, mingle with coworkers, or host a group and see just how simple outdoor entertaining can be. This laid-back outdoor living kit helps you host like a pro. Author Alanna O'Neil shares her insights and strategies for creating simple-yet-elegant gatherings, and with her help, you can create them too. Find the perfect aesthetic party decor to set the stage, create simple-yet-scrumptious bites your guests will love, and tuck away perfectly curated recipe lists for future gatherings while you enjoy endless conversations with company.
Bake and Sprinkle by Chahrazad Al Hajjar is an essential tool for every budding baker's kitchen. With simple tips and tried-and-true recipes, this book covers the basics that are a staple of every party, holiday, and indulgent night in, as well as family favorites and special treats that are sure to make you the star of any event. Every recipe has been carefully crafted and includes clear measurements and detailed, step-by-step instructions to make your baking journey as smooth and fun as possible.
A Dish for All Seasons: 125+ Recipe Variations for Delicious Meals All Year Round by Kathryn Pauline presents 26 adaptable recipes, each with four seasonal variations, for a total of more than 100 accessible recipes for creative weeknight cooking. This practical cookbook flips the script on recipe books organized by season. Instead of recipes dedicated to spring, summer, fall, and winter – which would mean three quarters of the book goes unused for three quarters of the year – this book features 26 go-to recipes, each with four variations. Every dish includes a base recipe – such as a simple frittata, Panzanella salad, sheet pan dinner, or loaf cake – plus four adaptations based on the season. Readers will also find simple instructions and formulas for creating original dishes, giving them the tools they need to improvise based on the ingredients they have on hand. With a photograph to accompany all 100 dishes, this is a versatile, repertoire-building cookbook will be a go-to resource for home cooks looking to create delicious, healthy food all year long.
Gracias Madre: Bright, Plant-Based Recipes from Our Mexi-Cali Kitchen by Alan Sanchez: It's no surprise that Gracias Madre has its roots in giving gratitude. Gracias Madre means "Thank you, mother" in Spanish, and the phrase encapsulates the mission of this Cali-Mexican eatery, which is to serve the L.A. community and give people fresh food made with integrity from ingredients grown with love. With 125 simple, entirely plant-based recipes for the home cook, including Calabaza and onion quesadillas, Coliflor with cashew nacho cheese, and Coffee flan, this title is a vegetable-forward dive into one of the world's most delicious cuisines.
The Cake Collection by Brian Hart Hoffman shares a cake for every occasion – from marble swirled Bundts to sophisticated sheet cakes and an epic primer on classic birthday cakes. As with all of Bake from Scratch titles, this title contains beautiful imagery and a wealth of recipes for cakes of your dreams.
The Herbivorous Butcher Cookbook: 75+ Recipes for Plant-Based Meats and All the Dishes You Can Make with Them by Aubry & Kale Walch shares vegan recipes for meat alternatives and tasty dishes from cult favorite vegan "butcher" shop The Herbivorous Butcher. From the Guamanian brother-sister duo behind the beloved vegan "butcher" shop, here are 75 innovative recipes for plant-based meats and standout vegan dishes. These are butcher shop classics (but so much healthier) that taste and chew as good as the real thing – perfect for vegans as well as anyone who wants to eat less meat.
From Harvest to Home by Alicia T. Chew: For anyone who loves all things fall, this book is a stunning celebration of this cozy season. Brimming with gorgeous photography and tons of autumnal activities, creative décor projects, and delicious recipes, this lifestyle guide will inspire readers to make the most of this enchanting time of year. Learn how to craft an eye-catching fall wreath. Plan an epic tailgate party. Host a spooky movie marathon with the ultimate watch list. Get inspired to go apple picking, then make Cardamom ginger apple butter. Design an exquisite tablescape using decorative gourds, greenery, and candles for a Thanksgiving or Friendsgiving celebration.All these ideas and more are presented in an attractive package with foil on the cover that makes a thoughtful, seasonal gift alongside a scarf, a thermos, or a fall-themed candle.
Everyday Cake: 45 Simple Layer, Bundt, Loaf, and Sheet Cakes by Polina Chesnakova: Using ingredients that are readily available, these cakes are unfussy yet sweetly indulgent. Recipes are arranged using pans most of us already have in our kitchens: round, square, loaf, rectangle, sheet, and bundt. Flavors include warm spices, herbs and flowers, and sweet essences, plus chocolate, fruit, nuts, and seeds. An appealingly wide range of cakes will tickle every fancy.
Masala: An Invitation to the Magic of Indian Spices, with Recipes by Anita Jaisinghani will teach you to think like an Indian chef, revealing the wisdom and techniques to cooking with fresh whole spices: identifying warming versus cooling, what order they should be used, how to temper in hot oil, and much more. With recipes drawing inspiration from every corner of India, including fermented dosas, sweet and savory chutneys, fragrant chicken, fish, and pork curries, samosas, pakoras, and naans, these recipes pay homage to one of the oldest and most diverse cuisines on the planet. Expect to be wowed with new flavors and combinations, such as Saffron citrus pilaf, Jackfruit masala, Vindaloo ribs, Avocado mushroom chilla, and Smoked eggplant raita.
Modern Jewish Comfort Food: 100 Fresh Recipes for Classic Dishes from Kugel to Kreplach by Shannon Sarna: At The Nosher and in her first cookbook, The Modern Jewish Baker, Shannon Sarna won accolades for her fresh and inclusive perspective on the Jewish culinary tradition. Modern Jewish Comfort Food features irresistible new dishes from the cuisines of North Africa, Georgia, Syria, New York, and beyond. The jumping-off point is always a classic dish, but Sarna doesn't hold back from joyful experimentation with delicious results. Sarna's shakshuka is cleverly transformed into pizza, her latkes welcome a variety of veggies, and a multitude of dumplings reflect the range of the Jewish diaspora. With each dish detailing the specific dos and don'ts of Jewish culinary arts, and with Sarna's vibrant photography, this is the perfect gift for home cooks who want to reconnect with their Jewish heritage or explore the history of this cuisine.
Simple Pasta: Pasta Made Easy. Life Made Better. by Odette Williams is a gorgeous collection of simple, tasty pasta recipes you'll return to again and again, any night of the week, from the author of the beloved Simple Cake. Odette begins with providing us several dough recipes including gnocchi and follows with tips for folding ravioli, filling pasta and more. Pestos, sauces – including instructions for canning passata (a simple, light, fruity tomato sauce) – and there are even a few cocktails and desserts thrown in for good measure. Many of us don't have time to whip up homemade pasta on a weeknight (although it really doesn't take very long) so the recipes also include store bought pasta substitutions.
Events
Mission Vegan: Wildly Delicious Food for Everyone by Danny Bowien and JJ Goode: As cofounder and chef of the famous Mission Chinese Food restaurants in San Francisco and New York, Danny Bowien has a reputation for inventive meat dishes like Chongqing chicken wings and Kung Pao pastrami. Yet eight years ago, he became a dad, got sober, went vegan, and quietly began to train his gift for creating exhilarating food on meat-free, dairy-free dishes. Soon, much of the Mission menu was vegan – not that anyone noticed. They were too busy eating it up. And while these are all dishes that have appeared, or could appear, on Mission's menu, the recipes are all geared for the home cook, delivering restaurant-quality impact without restaurant-level effort.
Flour Power: The Practice and Pursuit of Baking Sourdough Bread by Tara Jensen: Teacher and baker Tara Jensen introduces new and experienced bakers to approachable techniques and recipes for making sourdough, rye, and desem (hearty wheat) breads. With chapters that include learning about flours, fermenting, various methods of breadmaking and more – this is the one book this cookbook season that devoted bread makers will turn to. Measurements in weight and volume.
Boards & Spreads: Shareable, Simple Arrangements for Every Meal by Yasmin Fahr presents more than sixty recipes for beautiful, delicious boards with epic spreads and sharing-friendly meals, from breakfast through dinner. Going far beyond the standard cheese board or charcuterie board, here you will find countless ideas for how to create colorful platters and spreads with easy, flavorful recipes to fill them. Plus, there are plenty of quick recipes for dips, snacks, and other fun add-ons that you'll turn to time and time again for countless meals.
The Red Truck Bakery Farmhouse Cookbook: Sweet and Savory Comfort Food from America's Favorite Rural Bakery by Brian Noyes shares over 85 recipes for breakfast, lunch, dinner, and dessert from the award-winning Red Truck Bakery near Virginia's Shenandoah Valley, bringing the comfort and charm of the farmhouse where the bakery started into your kitchen. Brian's Red Truck Bakery Cookbook is a wonderful book and this title is just as promising. Comforting dishes such as Creamy potato soup; Tarragon chicken salad and Potato and pesto flatbread along with scores of baked breads, cookies and more are offered. Measurements just are given in volume.
Events
Forever Beirut: Recipes and Stories from the Heart of Lebanon by Barbara Abdeni Massaad is a collection of 100 easy-to-prepare recipes that celebrate Beirut's rich culinary heritage, its resilience, and healing power. It is Barbara's way of honoring the city of her childhood, her dreams, her Lebanese family kitchen, and the food that roots her. It is filled with stories and anecdotes about the customs, food, people, and traditions, with sections for soups, salads, breads and savory pastries, mezze, kibbeh, grilling, main dishes, pickles and preserves, and sweets. With beautiful food and location photography, Forever Beirut is a must-have for cooks who love healthful and delicious Middle Eastern food.
I Am From Here: Stories and Recipes from a Southern Chef by Vishwesh Bhatt: James Beard Award–winning chef Vishwesh Bhatt hails from the Indian state of Gujarat but has lived in Oxford, Mississippi, for more than two decades. As he immersed himself in the ingredients of the American South, he couldn't help but notice the similarities to those he grew up with, including rice, peanuts, spices, tomatoes, and okra. In his long-anticipated cookbook, Bhatt shares his worldly life story through 130 recipes that pay homage to traditional southern and Indian ingredients while exploring the unexpected delight of partnering the two.
Dispatches from the Gilded Age: A Few More Thoughts on Interesting People, Far-Flung Places, and the Joys of Southern Comforts by Julia Reed profiles Andre Leon Talley, Sister Helen Prejean, President George and Laura Bush, Madeleine Albright, and others. Readers will travel to Africa and Cuba with Julia, dine at Le Bernardin, savor steaks at Doe's Eat Place, consider the fashions of the day, get the recipes for her hot cheese olives and end up with the ride of their lives through Julia's beloved South.
KosherSoul by Michael W. Twitty considers the marriage of two of the most distinctive culinary cultures in the world today: the foods and traditions of the African Atlantic and the global Jewish diaspora. To Twitty, the creation of African-Jewish cooking is a conversation of migrations and a dialogue of diasporas offering a rich background for inventive recipes and the people who create them. The question that most intrigues him is not just who makes the food, but how the food makes the people. Jews of Color are not outliers, Twitty contends, but significant and meaningful cultural creators in both Black and Jewish civilizations. KosherSoul also explores how food has shaped the journeys of numerous cooks, including Twitty's own passage to and within Judaism. As intimate, thought-provoking, and profound as The Cooking Gene, this remarkable book teases the senses as it offers sustenance for the soul as well as fifty recipes.
Spice Kitchen: Healthy Latin and Caribbean Cuisine by Ariel Fox is a compilation of 110 recipes from a Hell's Kitchen winner and award-winning chef that takes a healthier approach to cuisines that are often underrepresented in cookbooks. Fox introduces you to both classic recipes as well as innovative new dishes in Spice Kitchen in a way that works for all lifestyles. This book has something for everyone, including information on how to maximize your pantry, simple recipes, and useful suggestions for adapting the dishes to any diet.
Other titles of interest:
Canada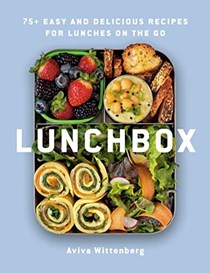 Lunchbox: 75+ Easy and Delicious Recipes for Lunches on the Go by Aviva Wittenberg has literally months' worth of recipes for flavorful, filling, nutritious, and delicious meals – guaranteed to stay fresh until lunch. Every recipe has a "Get Ahead" tip, calling out exactly what can be made ahead of time, as well as a "Packing Tip" on how to pack a balanced and beautiful lunchbox; the steps are fuss-free, and all ingredients can be found in your local grocery store. In addition to the recipes are lunch packing strategies and multi-week meal plans to help you efficiently plan your menu and your time, streamlining meal prep to avoid that stressful morning crunch.
United Kingdom
Jams With a Twist: Deliciously Different Recipes for Sweet Surprises by Kylee Newton will take your jam making to a whole new level. Liven things up with alcohol, essences, cordials, syrups, teas, spices, nuts, nibs and kernels. Go foraging for exciting new ingredients. Create double- and triple-layered jams. Float fruit, flowers and herbs in your jellies. Or treat yourself to classic jammy desserts made in jars! Whether you are new to jam making or an old hand, these delicious recipes will inspire you to mix things up and try something new.
Big Has HOME: Recipes from North London to North Cyprus by Hasan Semay: Grounded and honest (and a little bit sweary), Hasan Semay (a.ka. Big Has) is a bright and talented North-London based chef and YouTube presenter. Having dropped out of school and tried his hand at odd jobs from plumbing to security, Has was accepted onto the prestigious Jamie Oliver "15" programme in 2011 which unearthed a true passion and flair for cooking. HOME is his debut cookbook and a celebration of the dishes, the places and the people that have made him who he is today. His food is beautiful and robust with familiar Mediterranean influences from his Cypriot heritage as well as from his time working in professional kitchens across London. Peppered with anecdotes about working in professional kitchens and the characters and inspiration behind his food, HOME is a refreshing and accessible cookbook from a uniquely bold chef.
Twochubbycubs Dinner Time: Tasty, slimming dishes for every day of the week by James and Paul Anderson is the latest cookbook from the outrageously funny James & Paul, otherwise known as the Twochubbycubs, here to arm you with meals that will fill you up throughout the week and keep those tastebuds happy, all while keeping you on track with your healthy eating. These are recipes for everyone: perfect plates for families, friends and meals made for sitting in front of the TV.
Batch Baking: Get-ahead Recipes for Cookies, Cakes, Breads and More by Cynthia Barcomi Friedman: Batch-baking, like batch-cooking, is all about making enough in advance to enable a quick transformation with little to no effort. A quantity of dough can either be chilled or frozen to be baked later, while a dry mix can be pulled from the shelf to create delicious treats at a moment's notice. This user-friendly approach then allows you to bake small amounts of pastries, pizzas, or cookies, without having to start from scratch – not only saving you time but washing up, too! In this book, baker and TV chef Cynthia Barcomi shares over 70 of her tried-and-tested dough, batter, pastry, and frosting recipes, including advice on working with doughs (with and without yeast), plus refrigeration and storage. There will be vegan recipes throughout, making this a truly revolutionary way to bake!
The United Nations of Cookies by Jess Murphy and Eoin Cluskey: Cultures and cuisines have many differences, but one thing they all have in common is cookies. No matter the country, cookies evoke fond childhood memories and feature in many holidays and celebrations. But there's more to this book than just a sweet treat. Author Jess Murphy is an official High-Profile Supporter of the UNHCR (the UN Refugee Agency), with whom she works to raise awareness and to advocate for refugees. She has worked with refugees around Ireland as well as immigrants who have made Ireland their home to collect and share their recipes. Meanwhile, author Eoin Cluskey has tested all the recipes at his Bread 41 bakery in Dublin. This is a little book with a big heart, showing that food knows no borders. All author proceeds will be donated to UNHCR.
The Tunisia Cookbook: Healthy Red Cuisine from Carthage to Kairouan by Hafida Ben Rejeb Latta: This comprehensive guide to the great range of Tunisia's traditional dishes is a feast for the senses. But also so much more – a festival of this ancient nation's remarkable heritage. The culinary traditions we celebrate in Tunisia today are the flowering of a mature culture that has flourished and deepened over centuries. It explores the many levels at which diet contributes to the community.
Jane's Patisserie Celebrate!: Bake Every Day Special by Jane Dunn is packed with simple bakes, mouth-watering flavours and iconic treats that will make every day special. Includes 70 new and exclusive recipes requested by Jane's followers, a photograph for every recipe, popular classics from her blog – Mini egg NYC cookies, Chocolate orange cupcakes, Kinder Bueno cheesecake and more!
Persiana Everyday: All New Recipes from the Best Selling Author of Persiana by Sabrina Ghayour: An all-new collection of more than 100 fuss-free, crowd-pleasing recipes for everyday eating from the author of the award-winning, Sunday Times bestselling cookbook Persiana. Designed to ensure maximum flavour with the greatest of ease – including no-cook, quick-prep, quick-cook and one-pot dishes, Persiana Everyday is full of generous, inviting and delicious recipes to cook again and again for family and friends. Learn more about this book and enter our giveaway here.
Simply Chinese: Recipes from a Chinese Home Kitchen by Suzie Lee is a sumptuous collection of classic and modern Chinese home-style recipes that can be made, with ease, in your own home kitchens.With traditional dishes prepared in non-traditional ways, and with a classic Suzie twist, these recipes are creative and delicious, and celebrate real Chinese home cooking. Unrestrictive and easy to follow, Simply Chinese shows you how to create authentic-tasting pan-Asian dishes using supermarket ingredients, that are readily available.
Bake It. Slice It. Eat It.: One Cake Tin, Over 70 Unbeatable Recipes and a Lot of Fun by The Exploding Bakery, Oliver Coysh and Tom Oxford: A whole load of tasty cake recipes – from knockout carrot cake, banana bread, tiffin, crumble cake and cheesecake to an irresistible array of brownies – awaits you here and they're all made in one size of brownie tin. Start simple and work your way up to experimenting with new flavour combinations, different flours and seasonal ingredients if the mood takes you. What's important is that these recipes are for everyone who's serious about delicious cake.
Pierogi: Over 50 Recipes to Create Perfect Polish Dumplings by Zuza Zak is divided into ten chapters across 50 recipes. In North, South, East, West and Central we delve deep into the regions of Poland, along with the dumplings, traditions and stories that define them. In the Modern, Vegan, Festive, Creative and Gluten-free chapters, we find a fun take on dumplings for a contemporary audience. Throughout, the recipes are interspersed with mini-essays on some of the key ingredients used to make pierogi. With beautiful location photography, thoughts on the history and development of pierogi, and tips and tricks for perfecting them, Pierogi is a deep-dive into this compelling and culturally significant food.
How To Go Plant-Based: A Definitive Guide For You and Your Family by Ella Mills demystifies going plant-based, making it as easy, clear and delicious as possible, and features 100 new recipes to get you started on your plant-based journey. How to Go Plant-Based is not just filled with family-friendly recipes, it's also a practical guide incorporating Ella's own journey, alongside scientific research and data, plus insights and information from plant-based experts, including doctors and nutritionists. Ella debunks the common myths surrounding eating a plant-based diet, shares her experiences of cooking for her family and emphasises the importance of making a plant-based diet accessible to everyone – for health, wellbeing, and the planet.
Quick and Easy Gluten Free: Over 100 Fuss-Free Recipes for Lazy Cooking and 30-Minute Meals by Becky Excell shows you just how simple it is to recreate all the foods you miss as well as introduce you to a few new dishes too – but best of all, nothing tastes or looks "gluten-free". Enjoy speedy, fuss-free, 30-minute recipes or choose from a variety of 'lazy' recipes that only ask for 15–20 minutes of effort – after which you can put your feet up while it cooks, bakes or chills.
Small Batch Bakes by Edd Kimber: Another lovely baking title from GBBO's Edd Kimber follows in line with his recent books: One Tin Bakes and One Tin Bakes Easy. The newest offering delivers recipes for "small" batches of bakes for one to six people. Recipes for Blueberry cream tarts; Individual tarte tatins; and Emergency chocolate chip cookies are some of the examples of pared down desserts for when you just need a few treats. For me, it seems extra special when you bring a platter of individual desserts to the table. Easy to transport to a gathering instead of juggling a large unwieldy dessert – a bakery box with an assortment of tiny temptations will ensure that you are the toast of the party. Measurements in weight and volume.
Mushrooms: Over 70 Recipes Which Celebrate Mushrooms by Martin Nordin: The 70 vegetarian recipes in Mushrooms applaud the versatility of this classic ingredient. Bestselling author of Fire, Smoke, Green, Martin Nordin, showcases creative and varied ways that mushrooms can be served. From soups and stews, to dumplings, pizzas and pickles, all the recipes draw inspiration from around the world. Mushrooms features stunning photography, some of which were taken by the author, as well as stylish illustrations.
The Squash & Pumpkin Cookbook: Gourd-geous Recipes to Celebrate these Versatile Vegetables by Heather Thomas: Squashes and pumpkins are the versatile vegetables that not only pack a flavour punch, but are also oh so good for you. Not only are they low calorie, but they're also jam packed full of vitamins A, C and E and a jackpot of minerals, from iron and zinc to magnesium and potassium. These super ingredients are so versatile that you can bake, roast, fry, grill, barbecue and stuff them. From spicy chutneys and hearty soups and curries, to light refreshing salads and delightful bakes, this cookbook will carry you through the colder months with nutritious, homely and comforting recipes to suit every taste.
British Cheese on Toast: Over 100 Recipes with Farmhouse Cheeses by Steve Parker is a paperback reissue of the 2020 release. This title will take you on a tasting tour of British cheeses, showcasing the absolute best along the way. From Cheddar to Wensleydale via soft, blue, smoked and goat's, in this book you'll find over 100 recipes plus advice on which cheese to use with which type of bread, as well as suggestions for innovative sweet and savoury flavour combinations to take things to another level. With a handy guide to shops where artisan cheeses featured in the book can be bought, as well as tips on using supermarket and own-brand cheeses, British Cheese on Toast is a complete celebration of this traditional meal. The perfect gift for cheeselovers everywhere.
My First Baking Book by David Atherton: Learn how to bake breads, cakes, pastries and biscuits to perfection in this imaginative collection of deliciously healthy recipes from a winner of the GBBO. Featuring easy to follow, beautifully illustrated step-by-step instructions, and a wealth of classic and creative bakes, this first baking book is jam-packed with with inspiring content and has everything budding bakers need to take their first steps to baking glory!
Australia
Good Food Made Simple: Healthy Recipes to Eat Well and Feel Incredible by Leah Itsines: Begin with meal prep hacks and money-saving tips to get organised, learn how to make some mean marinades that will make life simply delicious, then move through over 100 killer recipes from The Lighter Side, Quick & Delicious to Itsines Family Favourites and – for something a bit special – The Entertainer. Good Food Made Simple is your gateway to getting comfortable in the kitchen, being kind to your body and having some fun. Food wasn't meant to be hard.
More Fish, More Veg: Simple, Sustainable Recipes and Know-how for Everyday Delicious Meals by Tom Walton is as simple and helpful as it sounds. A cookbook that demystifies the subject of cooking fish and seafood by teaching the basic cooking methods and techniques for different seafood that can then be mixed and matched with multiple vegetable recipes. Offering a sustainability and seasonal guide to Australian seafood with tons of advice on substitutions, the questions to ask at the fish counter, as well us utterly addictive shortcuts to banging flavour.
Cook: Your Friend in the Kitchen by Karen Martini is a 900 plus page tome from the one and only Karen Martini. Cook is the essential Australian cookbook for the food you're cooking at home today. Covering a generous breadth of cuisines and ingredients across well over 1000 recipes, this book bursts with Karen's love of cooking, and the inspiring ideas and enduring principles that make her flavours timeless. I have all of Karen's titles and she does not disappoint.
The Kitchen Garden Sowing, Growing and Cooking for the Garden Enthusiast by Lucy Mora is an illustrated guide to growing edible plants from sowing to harvesting. Learn when to sow, what to grow and how to make your delicious harvest into a meal. The book features fifty-five plant profiles ranging from the everyday to the utterly unique, from broccoli to cape gooseberries. Each profile has a hero illustration and an easy-to-comprehend table detailing the most important information: when to sow and harvest; growing time; space needed between plants; optimal soil pH; whether the plant will tolerate pots and frost; and each plant's companions and dislikes. A planting chart summarising the most useful information from the plant profiles is also included, along with guidance on the different climate zones and how best to start your kitchen garden. With an emphasis on seasons rather than months, the book is a beautiful and practical gift for a garden enthusiast, whether they live in the northern or southern hemisphere.