Meat-Free Mexican Cookbook Giveaway
September 20, 2022 by Jenny
Enter our US/UK/CA giveaway to win one of two copies of Meat-Free Mexican: Vibrant Vegetarian Recipes by Thomasina Miers.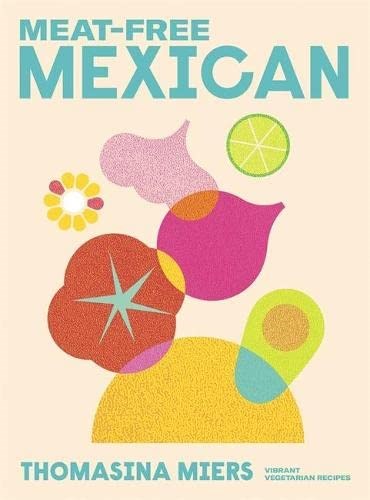 Meat Free Mexican by Thomasina Miers, owner of award-winning restaurant group Wahaca (with over 25 branches across the UK), is back with her newest cookbook, sharing 100 meat-free Mexican recipes.
This title has a little bit of everything from breakfast dishes, sides, mains, drinks and even dessert – all tied together with beautiful photography. Coffee, cardamom & pecan morning buns, Sweet potato rösti, Wild garlic gorditas with grilled asparagus & herby ricotta; Banana & chocolate cornbread, Garlic, soy & lime cauliflower tacos and a Pineapple tarte tatin with rum cream that will haunt my dreams tonight.
The dishes here are so craveworthy and comforting that no one will be looking for the meat. I've read through the book three times now and find myself finding something exciting and new with each turn of the page.
Let Thomasina take you on a Mexican vacation in your own kitchen – this one is a keeper. Thanks to the publisher for providing us with two recipes to try now.
Sticky coconut tart with orange & lime
Add this recipe to your Bookshelf (click the blue +Bookshelf button)
Serves 8
This deliciously chewy, orange and lime-scented coconut tart reminds me of sunny travels along the Caribbean coast of Mexico, where coconut trees abound as well as Seville orange trees, first brought to the continent by the Spanish. It is common to use a mixture of fresh orange and lime juice to replicate the flavours of the Seville orange in this part of the world. It works beautifully in this fudgy tart which I like to eat with thick cream or Greek yoghurt. I use organic spelt flour and ground almonds for a lower gluten finish.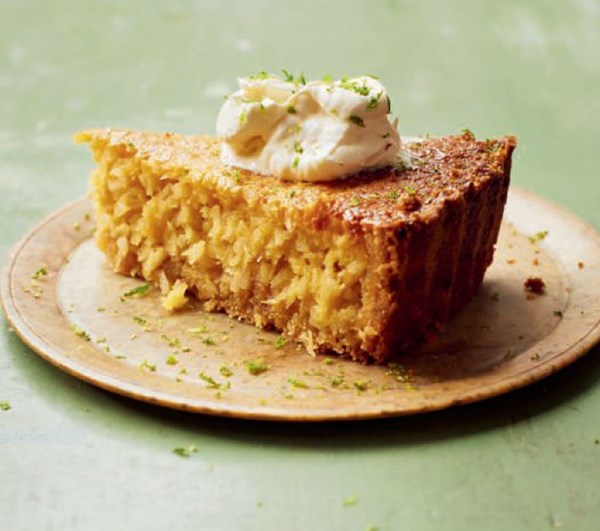 3 eggs
180g (6 1/2 oz) soft brown sugar zest and juice of 2 limes
zest and juice of large orange
375ml (12 1/2 fl oz) double (heavy) cream, plus extra to serve
240g (8 1/2 oz) unsweetened coconut, dessicated or flaked and blitzed fine
large pinch of sea salt
Preheat the oven to 180°C/160°C fan/350°F/gas 4 and butter a 24–25cm (9 1/2–10 inch) tart case.

To make the pastry, empty the flour, almonds, sugar, butter and salt into a food processor and blitz briefly to get fine breadcrumbs. Add the yolks and pulse a few times. Open the lid and feel the mixture. If it just about comes together, empty out onto a cold work surface. If it is not sticking together, add 1–2 teaspoons of iced water and pulse a few times more. Work the pastry as little as possible and don't worry if it still looks a little crumbly.
For the pastry
250g (9 oz) white spelt flour 100g (3 1/2 oz) ground almonds
100g (3 1/2 oz) icing (confectioners') sugar
200g (7 oz) fridge-cold unsalted butter, cut into dice
few pinches of fine sea salt
2 eggs, separated
Bring together the pastry into a ball deftly with your hands. Roughly flatten, wrap in cling film (plastic wrap) and rest in the fridge for 15 minutes. Once it has cooled down, roughly grate as much as you need to line the tart tin, flattening it out around the tin and rolling it smooth with a small glass.

Freeze for 15 minutes before filling with parchment and baking beans. Bake for 15–20 minutes.

Remove the baking beans, brush the pastry case with some of the egg white (you can keep the rest to add to an omelette or to make financiers) and return to the oven for a final 5 minutes until pale golden.

While the pastry is doing its thing empty the eggs and brown sugar into an electric mixer and beat on high speed for a few minutes until light and fluffy. Add the citrus zest and juices, the cream, coconut and salt. Once the pastry case is cooked, pour in the coconut filling and bake for about 45 minutes until the tart has risen and is looking golden and tempting. Cool to room temperature and serve with cream and small glasses of reposado tequila.
---
Crispy sweetcorn nuggets with sweet chilli sauce
Add this recipe to your Bookshelf (click the blue +Bookshelf button)
Makes 18-20 nuggets
These deep-fried, crispy sweetcorn nuggets are totally delicious and dairy-free, making them a great starter for those on a plant-based diet. I love to serve them with crème fraîche and a home-made salsa or a spoonful of smoky harissa. Abrilliantbitefor a party on a balmy summer's evening.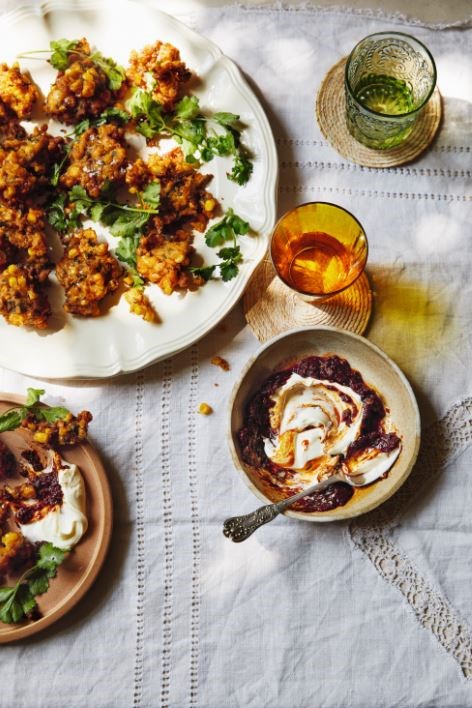 360g (13 oz) sweetcorn (from approx. 3 cobs)
1 ½ tsp baking powder
6 spring onions (scallions), finely chopped
30g (1 oz) Chipotles en Adobo (page 234), chopped
3 garlic cloves, crushed
30g (1oz) coriander (cilantro) leaves, finely chopped
juice of 2 limes (3 tbsp)
120g (4 1/2oz) chickpea (gram) flour
1 ½ tsp ground cumin
1 tsp allspice
1 tsp brown sugar
rapeseed (canola) oil, for frying salt and pepper
To serve:
crème fraîche or vegan crème fraîche alternative
Salsa Negra (page 226), Salsa Macha (page 237) or smoked harissa paste
coriander (cilantro) leaves
Cut the corn from their cobs using a sharp chopping knife. Place half the sweetcorn in a food processor and blitz for 20–30 seconds. Mix this with the rest of the corn in a large bowl.

Add the rest of the ingredients apart from the oil and season generously with salt and pepper. You will need at least 1 teaspoon of sea salt.
Pour enough oil into a pan or wok so that it is at least 5–7cm (2–3 inches) deep. Bring to a temperature of 160–180°C (320–350°F). Test a little of the mixture – it should sizzle and start to brown in 20–30 seconds; if it burns or cooks too quickly, turn the heat down and allow the oil to cool for a few minutes.

Shape spoonfuls of the mixture and fry in batches of 5–6 depending on the size of your pan. Fry for about 2 minutes until pale golden all over. Serve with the crème fraîche, salsa or harissa paste and a sprinkle of coriander leaves.
Special thanks to the publisher for providing two copies of this title in our promotion. Entry options include answering the following question in the comments section of this blog post.
Which recipe in the index would you like to try first?
Please note that you must be logged into the Rafflecopter contest before posting or your entry won't be counted. For more information on this process, please see our step-by-step help post. Once you log in and enter your member name you will be directed to the next entry option – the blog comment. After that, there are additional options that you can complete for more entries. Be sure to check your spam filters to receive our email notifications. Prizes can take up to 6 weeks to arrive from the publishers. If you are not already a Member, you can join at no cost. The contest ends at midnight on November 18th, 2022.
a Rafflecopter giveaway