New European Baking – Cookbook & Emile Henry Bread Cloche Giveaway and Quick Bites
October 10, 2022 by Jenny
Enter our US/UK/CA giveaway to win one of three copies of New European Baking: 99 Recipes for Breads, Brioches and Pastries by Laurel Kratochvila with one US winner also receiving an Emile Henry modern bread cloche. Be sure to check Laurel's events to see if she will be near you!
New European Baking: 99 Recipes for Breads, Brioches and Pastries by Laurel Kratochvila is a stunning book filled with gorgeous photography, featuring bios on the bakers of Europe and their bakes. Recipes from featured bakers include Franck Perrault's pâte aux prunes, Roberta Pezzella's wild fennel bread (Pan di ponza), Diogo Amorim's Portuguese corn torte (Broa de milho) and Xavier Netry's caramelized coffee bread (Pain café caramélisé).
The majority of the recipes are from Laurel herself and include Twice baked almond pain perdu; Semla (a Swedish holiday bun); and Boureka croissants. There are a wealth of photographs including step-by-step photos for particular bakes that require some skill and technique. For example – shaping a ball, a navette, a tress for a braid and more. The detail and thought given to each recipe is spectacular – four entire pages devoted to working with shortcrust pastry that includes 21 photographs of each step. One would be hard pressed to find a more approachable volume devoted to baking with this much context.
I am totally smitten with this title and the recipes and knowledge shared within its covers. Every baker needs to have a copy of this stunner in their cookbook arsenal.
There are two online recipes for you to try now.
And the publisher is sharing an additional recipe for our Members:
Halva flan
Add this recipe to your Bookshelf (click the blue +Bookshelf button)
Yield: 1 tall 20cm (8-inch) flan
Nowadays, you'll find flan in every color and flavor under the sun. This is because flan is such an easy recipe to tweak — simply flavor the pastry cream base with extracts, nut butters, jams, liqueurs, or zests. Whether you like pistachio, lemon, peanut, or coffee, there are no limits. If it can exist as a pudding, it can exist as a flan. But for all the flans out there, this halva flan is my favorite. It's extra creamy and rich and the addition of tahini lends a smooth sesame halva taste. Top it with crumbled sesame halva after baking or leave it plain for a more classic look. I find the best way to enjoy this flan is directly from the refrigerator, any time after midnight, and preferably standing up with the fridge door open. Share with no one.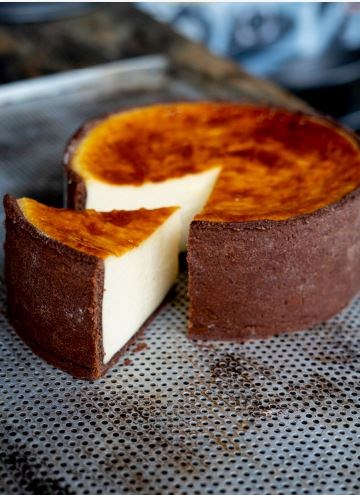 For the tarte shell:

• 280g (2 ⅓ cups) all-purpose or pastry flour
• 60g (¾ cup) cacao powder
• 170g (¾ cup) unsalted butter, cubed and cold
• 130g (1 cup plus 2 tbsp) confectioners' sugar
• 4g (1 tsp) fleur de sel, or 5g (¾ tsp) table salt
• 1 large egg, plus 1 large egg yolk, beaten
For the halva custard filling:

• 3 large eggs
• 133g (⅔ cup) granulated sugar
• 15g (2 tsp) honey
• 38g (5 tbsp) all-purpose or pastry flour
• 38g (⅓ cup) cornstarch
• 950g (4 cups plus 3 tbsp) whole milk
• 150g (½ cup plus 1 tbsp) tahini
• 75g (⅓ cup) unsalted butter, cubed
• 10g (2 tsp) pure vanilla extract
For the syrup:

• 150g (¾ cup) granulated sugar
• 100g (⅓ cup plus 1 tbsp plus 2 tsp) water

Make your tarte shell: In the bowl of a stand mixer fitted with the paddle attachment, combine the all-purpose or pastry flour, cacao powder, and butter and beat until sandy. Add the confectioners' sugar and salt and beat on low until uniform. Add the egg and egg yolk and beat on low for 2–3 minutes, or until the dough comes together and is smooth, not crumbly. Form the dough into a disk, wrap airtight, and chill in the fridge for at least 2 hours (or for up to 3 days).
Once the dough is chilled, divide it into thirds. On a lightly floured work surface, use a rolling pin to break the dough by pounding it, or folding it over itself and rolling it. Repeat until the dough is supple enough to roll out without cracking, then roll the first third out to a 3mm (⅛ inch) thickness. Use a 20cm (8 inch) nonstick springform pan that is 7cm (2 ¾ inches) tall to trace and cut a circle of dough. Set this circle in the base of the pan. Roll the remaining 2 portions of dough into two 32cm (13 inch) long strips, both 8–9cm (3 ¼–3 ½ inches) wide — a bit taller than the height of the pan. Trim the sides of each strip to make long rectangles, then press both strips into place to form the sides of the tarte shell. Where these strips meet, trim any overlap and press the dough together to make a seam. Finally, press the sides of the tarte gently downward at the point where the sides meet the base to seal them together. Use a knife to trim the top rim so the dough is tidy and level with the pan, then prick holes in the base with a fork and chill in the freezer for at least 15 minutes or until ready to fill.
While the tarte shell is chilling, make your custard filling: In a large bowl, whisk together the eggs, half of the granulated sugar, the honey, the all-purpose or pastry flour, and the cornstarch until smooth. Set aside.
In a medium saucepan, warm 755g (3 ⅓ cups) of the milk and the remaining granulated sugar over low heat until steaming. Remove from the heat. Gradually add the hot milk mixture to the egg mixture in a slow, fine stream, whisking constantly to temper the eggs. Once all the milk is incorporated, return the mixture to the saucepan and place over low heat. Whisking constantly, allow the mixture to bubble and thicken, then add the remaining 195g (¾ cup plus 2 tbsp) of milk and whisk until smooth. Remove from the heat, then add the tahini, butter, and vanilla extract and stir until the butter is melted. Set a rack in the middle of the oven and preheat the oven to 175°C (350°F) (preferably convection setting).
Pour the custard into the chilled tarte shell and bake on the middle rack for 12 minutes. While the flan is baking, make your syrup: In a small saucepan, melt the sugar in the water over low heat. Increase the heat to medium-high and bring to a boil. Continue boiling for about 3 minutes. Set aside and let cool. Lower the oven temperature to 115°C (240°F) and continue baking the flan for 50 minutes, or until it has pretty brown spots on top and still has a strong wiggle. Remove the flan from the oven and gently brush the top with syrup, being careful not to break the surface. Let cool at room temperature for 4–5 hours, then chill in the fridge for at least 1 hour before removing the sides of the springform pan and serving. The flan will keep for up to 5 days in an airtight container in the fridge.
---
Recipe taken from New European Baking by Laurel Kratochvila (Prestel, 2022). Text © Laurel Kratochvila, image © Małgosia Minta.
---
To celebrate this book, our friends at Emile Henry are providing one of their modern bread baker's to one US winner. Not only is the Emile Henry modern bread baker a beautiful piece of bakeware – it also helps you to achieve a delicious loaf of bread with a perfect crust. The dome of the bread baker is made from refractory ceramic, producing the same level of humidity as a traditional bread oven. This is what creates a thick, crispy crust and a light, airy inside. When used upside down, the lid can also be used as a mixing bowl for preparing the dough and proofing. The highly resistant glaze and the criss-cross pattern on the platter prevent the loaf from sticking and make cleaning easy. The bread baker is the ideal tool for baking your crusty homemade bread!
---
Lastly, Laurel graciously took time from her busy schedule to answer a few questions for our Members:
Laurel Kratochvila was born and raised in Massachusetts and thought she was headed for a career in physics until she landed in Prague. There she met both her husband as well as a language barrier that lasted long enough for her to fall back on the kind of customer service and gastro jobs that got her through college. She never went back to the hard sciences. When they moved up to Berlin to open a second bookstore, things didn't work out as planned and she launched a bakery – Fine Bagels – out of a storage closet to keep the store afloat – the fridges were hidden behind bookcases. Specializing in old-fashioned Jewish-American baking, it got popular enough to move out of the storage closet and into a real space.
Laurel is a self-taught baker with some classic imposter syndrome though, and knowing there was a lot more to learn about breadmaking, she trained up a team to replace her in Berlin and left the bakery to stage around France and train at the Lycee Professionnel Gustave Eiffel in Reims and the Cordon Bleu in Paris. Over the years though, what really excited her was the network of bakers pushing forward quality and creativity in the field – with all the exchange and community that comes with it.
Q: What first triggered your interest in baking? Do you remember your first baking memory?
We always baked at home. My mother has a kind of made-from-scratch hippie food ethos that meant if we wanted junk food, we better make it ourselves. So there were no Easy-Bake Ovens, just ovens, and endless batches of zucchini bread from the piles of zucchini we grew in our garden. I was allowed to do everything.
Q: If you had to describe your baking style, what would it be?
I'm a sucker for nostalgia – that's what my bakery was always about. Eighteen-hour fermented bagels, kettle boiled, hand-rolled, flaky knishes, mandelbread, that kind of thing, but pushing the quality and ingredients. Recipes that have a story to them. Which is why I'm probably so attracted to deep-diving into baking styles across Europe. You find these stories across the baking spectrum wherever you go and it's an incredible entry point into a culture and a place.
Q: Are you a cookbook collector?
It's the funny thing about being in a bookselling family – my collection is the rotating collection on the shelves of our store. So, at once I have hundreds of cookbooks and no cookbooks at all. I'll steal them, get them covered in some sort of batter or splatter, and put them back with a discounted price and annoy the hell out of my husband. My favorite cookbook of the last decade is Anne Applebaum's From a Polish Country House Kitchen. It's a deep dive into Polish culinary traditions and foodways, useable recipes, and gorgeous photography. Meanwhile, I'd say that possibly the greatest cookbook ever written is Inside the Jewish Bakery by Norman Berg and Stanley Ginsberg. In general, I love context and functionality in a cookbook over the visuals.
Q: What is the best part of your job? Do you sometimes feel like working with food all day keeps you from wanting to get creative in the kitchen?
No. I'm always hungry and craving something. It's a great motivator.
Q: What is your go to for a quick dinner – quick dessert?
Is it embarrassing to say tuna melts? I love tuna melts. Dessert is chocolate ice cream.
Q: Tell us about your cookbooks or any future projects you are working on?
I just opened a wine bar a few months ago so I've spent a lot of the last year or so building that and visiting small low-intervention winemakers. Funny enough, a lot of my wine connections come from bakery connections, so I guess it's all tied together. Not sure about the future book, but maybe it'll come out of this new endeavor?
Please be sure to follow Laurel on Instagram: @finebagels, @shakespeareandsons and @lebalto_berlin.
Special thanks to the publisher for providing three copies of this title in our promotion and to Emile Henry for providing one US winner a modern bread cloche. Entry options include answering the following questions in the comments section of this blog post.
Which recipe in the index would you like to try first?
Visit Emile Henry and leave a comment about a piece of cookware or bakeware you would like to own.
Please note that you must be logged into the Rafflecopter contest before posting or your entry won't be counted. For more information on this process, please see our step-by-step help post. Once you log in and enter your member name you will be directed to the next entry option – the blog comment. After that, there are additional options that you can complete for more entries. Be sure to check your spam filters to receive our email notifications. Prizes can take up to 6 weeks to arrive from the publishers. If you are not already a Member, you can join at no cost. The contest ends at midnight on January 9th, 2023.
a Rafflecopter giveaway