Cookbook Giveaway: Bao & Dim Sum
February 15, 2023 by Jenny
Enter our US/UK/AU/NZ giveaway to win one of three copies of Bao & Dim Sum: 60 Easy Bun and Dumpling Recipes by Orathay Souksisavanh.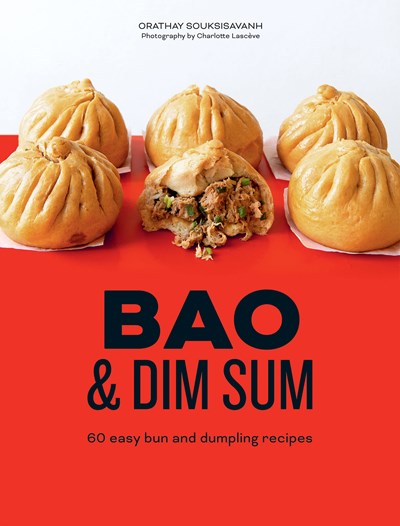 Orathay Souksisavanh is a culinary stylist and author who was born in Thailand. She has written Super Spiralized: Fresh & delicious ways to use your spiralizer and Super Easy Burgers: 69 Really Simple Recipes as well as articles for various outlets.
Her latest cookbook Bao & Dim Sum: 60 Easy Bun and Dumpling Recipes vibrantly guides us through creating a range of bao and dim sum. Try your hand at Mushroom dim sum and Braised pork bao, as well as sides such as Cucumber salad and Braised aubergines, and even a selection of sauces. With easy-to-follow instructions and beautiful photography, Bao and Dim Sum is perfect for any level of cook.
The Baked chicken and candied lemon bao buns dish featured in the Preview below looks spectacular as do most of the recipes in this title. Orathay demonstrates that bao and dim sum are approachable dishes that we can conquer in our own kitchens.
Our
takes you inside this beautiful book and features the following
Be sure to check out this title and enter our giveaway below.
Special thanks to the publisher for providing three copies of this title in our promotion. Entry options include answering the following question in the comments section of this blog post.
Which recipe in the index would you like to try first?
Please note that you must be logged into the Rafflecopter contest before posting or your entry won't be counted. For more information on this process, please see our step-by-step help post. Once you log in and enter your member name you will be directed to the next entry option – the blog comment. After that, there are additional options that you can complete for more entries. Be sure to check your spam filters to receive our email notifications. Prizes can take up to 6 weeks to arrive from the publishers. If you are not already a Member, you can join at no cost. The contest ends at midnight on April 15th, 2023.
a Rafflecopter giveaway