Yiayia: Time-perfected Recipes from Greece's Grandmothers
August 14, 2023 by Jenny
Enter our US/UK/AU/NZ giveaway to win one of three copies of Yiayia: Time-perfected Recipes from Greece's Grandmothers by Anastasia Miari.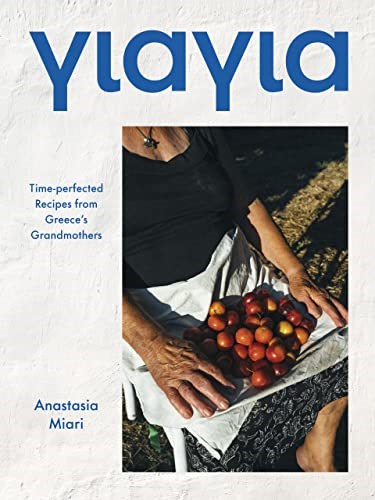 Anastasia is also the author of Grand Dishes: Recipes and Stories from Grandmothers of the World ckbk published in 2021 which was inspired by her own Greek grandmother. Yiayia is Greek for grandmother.
In her second book, Yiayia: Time-perfected Recipes from Greece's Grandmothers she explores eight regions of Greece including the Ionian Islands, Thessaly, the Peloponnese, Thessaloniki and Northern Greece, the Cyclades, Athens and the Saronic Gulf, Crete and the Dodecanese & Cyprus. She notes that the reason she could not cover all the islands and regions of Greece, was time constraints; and perhaps the next book can over those areas missed.
The author explains about the acceptance of imprecision of measuring ingredients: Her yiayia did not measure precisely. She used her hands as tools and her own judgment with regard to cooking time. So the yiayias in this book stress to season to our tastes and keep checking for flavor. For example, if the recipe calls for the juice from one lemon and that lemon isn't very juicy – use more – nothing is written in stone. Another important key is to not take shortcuts – if you need to soak the beans overnight – soak the beans. Or blitzing an onion for a pastitsada rather than quickly chopping them will make the sugo silkier in the end. The book is filled with yiayia advice throughout.
Greek meals that contained meat were typically for Sundays – during the week it was about vegetables and meatless meals. So this title is filled with many vegetarian dishes.
The book shares photos and bios of different yiayias and their treasured recipes. We are also privy to a look inside a few of their modest kitchens where countless meals are prepared in small rooms without every gadget known to man. It is almost embarrassing when I think about the wealth of equipment I have and these wise women create huge meals for their families with a bare minimum.
Our
takes you inside this beautiful book and features the following
I recommend both of Anastasia's gorgeous books to bring home Greece and the wisdom of countless yiayias to our kitchens.
Special thanks to the publisher for providing three copies of this title in our promotion. Entry options include answering the following question in the comments section of this blog post.
Which recipe in the index would you like to try first?
Please note that you must be logged into the Rafflecopter contest before posting or your entry won't be counted. For more information on this process, please see our step-by-step help post. Once you log in and enter your member name you will be directed to the next entry option – the blog comment. After that, there are additional options that you can complete for more entries. Be sure to check your spam filters to receive our email notifications. Prizes can take up to 6 weeks to arrive from the publishers. If you are not already a Member, you can join at no cost. The contest ends at midnight on October 24th, 2023.
a Rafflecopter giveaway