Holly Herrick
August 31, 2012 by Susie
For this month's author profile, we have some lovely insights into the writing and cooking life of Holly Herrick, author most recently of Tart Love. In her piece you'll find surprising answers to questions like "What's the hardest part of writing a cookbook?" and "How do you become a food writer?" as well as a charming personal anecdote about Julia Child.
Just underway with researching and writing my 5th and 6th cookbooks, I've learned a lot about this unique process over the years. My favorite part is always, at least initially, the recipe testing and development. The entire time I'm doing that, I'm scripting the writing in my head. Once I'm underway with this, I have a lot of fun with the actual writing, but I'll never love actually writing recipes. It's difficult work because it is so detailed and the author has to always keep the cooking skills and kitchens of her readers in mind. Consistency is a big part of it, and clarity, too. It's a real balancing act of offering just enough details and hand-holding, without overwhelming.
The first two cookbooks I've ever owned were wedding gifts back in 1990, and they still remain near and dear to my heart, and kitchen. These are The Way to Cook by Julia Child and New Basics. Of the two, the former is by far my favorite and definitely the one I would take with me to a deserted island. My copy is tattered and torn and full of notes, and I love the music of Julia's style, language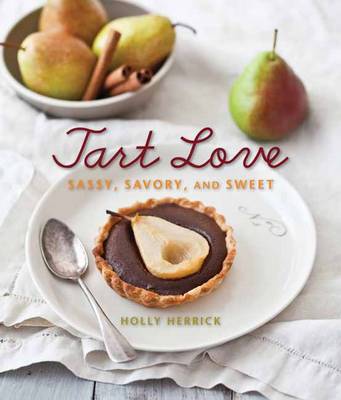 and knowledge ringing through every single page. A lot of Julia is in Tart Love – Sassy, Savory and Sweet as she is literally and figuratively the reason I went to Le Cordon Bleu. As a child, I was captivated by her television show and eventually met her at a Food and Wine Festival in the late 1980's. I asked her the best way to get qualified for food writing and her response, in true, to-the-point-fashion, was: "Can you get to Le Cordon Bleu?" Thanks to her, and a lot of other people, I did and in France, I not only fell in love with cooking and France, I also developed a passion for baking tarts, particularly savory tarts, which were a relatively new concept to me at the time. While I love all the recipes I developed for Tart Love, I have two favorites, or what I would consider signature recipes. The Panna Cotta Tart with Roasted Fresh Figs in Balsamic Honey Sauce, is elegant, beautiful and loaded with lovely flavor and texture contrasts. The inspiration? A beautiful bin of fresh figs at the farmers' market here in Charleston, SC. I'll never tire of the Vidalia Onion Tart with Bacon, Honey and Fresh Thyme which combines some of my favorite flavors and reminds me of my friend Simone, who is from Alsace, France, and inspired this recipe. Happy cooking, friends!