Art of the Pie – Kate McDermott
October 8, 2016 by Jenny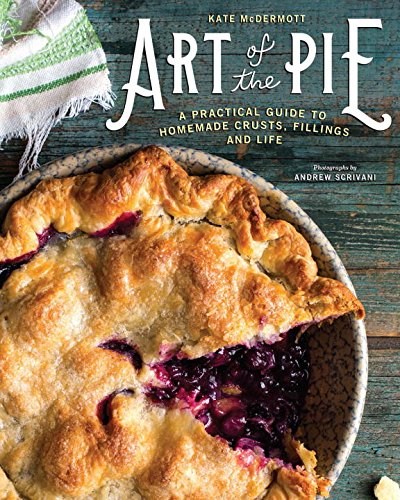 Kate McDermott's Art of the Pie is a dream of a cookbook for pie bakers and those who wish to become pie bakers. Kate signs off as "Pie Maker, Teacher, Practitioner of Kindness" and is nationally recognized as an expert on the subject. Culinary stars and bakers, alike, have made the trip to her Pie Camps in Port Angeles, Washington. Attending one of her pie camps, would be a dream come true for me.
Art of the Pie is a beautiful book and Kate approaches teaching her craft as if she was teaching her friends, students or loved ones. It's not overly technical but simple, perfect pie craftsmanship at its best. The photographs by the talented Andrew Scrivani are simply gorgeous and provide inspiration.
Kate covers all the classics and provides over a dozen crust recipes, including vegan and gluten-free options along with traditional fillings and flavors like chai. Banana Rum Caramel Coconut, Angel Food, and her Sausage and Applie Pie are on my list of must make pies. Savory pies are offered as well including Italian nettle sausage and big clam. Her book has been declared the definitive cookbook on pie making and it is easy to see why. Even the big websites were not prepared for the power of Kate's pie and soon their supplies were diminished. Have no fear, more copies are on the way to eager recipients. Enter our giveaway to win a copy of Art of the Pie – every baker has this book on their holiday list.
Special thanks to Kate and her publisher, Countryman Press, for sharing the recipe for The Quintessential Apple Pie. Photographs by Andrew Scrivani.
The Quintessential Apple Pie
I don't peel apples as most skins become soft in the baking, plus their tannins add flavor to the pie. If there is an apple with skin you find too thick, it's just "off with their jackets!" as Henry Ward Beecher wrote. A mix of six to eight different varieties, some for tart, some that hold their shape, and some that don't, will give you a pie with exceptional flavor and texture.
Makes one 9-inch deep-dish pie
INGREDIENTS
About 10 cups heritage apples (skin on), quartered and cored, to mound up high in the pie pan
½ cup (100 grams) sugar
½ teaspoon (3 grams) salt
1 teaspoon (2 grams) cinnamon
2 gratings nutmeg
½ teaspoon (1 gram) allspice
1 tablespoon (12 grams) artisan apple cider vinegar or 1-2 teaspoons
(5-10 grams) freshly squeezed lemon juice
1-2 tablespoons (15-30 grams) calvados or other apple liqueur (optional but really good)
½ cup (73 grams) flour
1 recipe double-crust pie dough
1 knob butter, the size of a small walnut, cut into small pieces for dotting the top of the filling
1-2 teaspoons (4-8 grams) sugar, for sprinkling on top of the pie
Egg Wash
1 egg white plus 1 tablespoon (15 grams) water, fork beaten
PROCEDURE
1. Slice the apples into ½-inch (1.5 centimeters) thick slices, or chunk them up into pieces you can comfortably get into your mouth.
2. In a large mixing bowl, put the apples, sugar, salt, cinnamon, nutmeg, allspice, vinegar, calvados, and flour, and mix lightly until most of the surfaces are covered with what looks like wet sand.
3. Pour the mixture into an unbaked piecrust, mounding high, and dot with butter.
4. Roll out the remaining dough, lay it over the fruit, and cut 5 to 6 vents on top. Trim the excess dough from the edges and crimp (see Vents, Appliqués, Crimps, Flutes, Lattice, pages 51-56).
5. Cover the pie and chill in refrigerator while you preheat the oven to 425°F (220°C).
6. Lightly brush some of the egg white wash over the entire pie, including the edges, and bake on the middle rack of the oven for 20 minutes.
7. Reduce the heat to 375°F (190°C) and bake for 30 minutes longer.
8. Open the oven and carefully sprinkle sugar evenly on top of the pie, then continue baking for 10 minutes more.
9. Look for steam and a slight bit of juice coming out of the vents before removing the pie from the oven. Get your ear right down almost to the top of the pie and listen for the sizzle-whump, which some call the pie's heartbeat (see Kate's Very Short Glossary of Pie-Making Terms on page 333).
10. Cool the pie for at least an hour.
VARIATIONS
Apple Cheddar Pie Make this pie with either of the cheddar cheese crusts (page 63 or 86 for gluten-free). Or add up to 1 cup grated cheese to the filling, or fill the pie halfway, top with sliced cheese, and spoon in remainder of filling.
Traditional Art of the Pie Leaf Lard and Butter Dough
This is the dough I teach to pie makers across the country and abroad. I use it on a daily basis for sweet and savory pies, quiches, tarts, crostatas, hand pies, and pie pops. Add a tablespoon or two of sugar to the dry ingredients if you wish to make it slightly sweet.
For one double-crust pie or two single-crust pies
INGREDIENTS
2½ cups (363 grams) all-purpose flour, unbleached
½ teaspoon (3 grams) salt
8 tablespoons (112 grams) salted or unsalted butter, cut into tablespoonsize pieces
8 tablespoons (112 grams) rendered leaf lard, cut into tablespoon-size pieces
½ cup (118 grams) ice water + 1-2 tablespoons (15-30 grams) more as needed
Additional flour for rolling out dough
Notes: Leaf lard is available at some butcher shops, farmers' markets, and also by mail order. Be sure to use rendered leaf lard. Chill the dough on the lowest and coldest shelf in your fridge. After chilling, dough discs may be frozen for one to three months.
PROCEDURE
1. Put all ingredients but the ice water in a large bowl.
2. With clean hands, quickly smoosh the mixture together, or use a pastry blender with an up and down motion, until the ingredients look like cracker crumbs with lumps the size of peas and almonds. These lumps will make your crust flaky.
3. Sprinkle ice water over the mixture and stir lightly with a fork.
4. Squeeze a handful of dough to see if it holds together. Mix in more water as needed.
5. Divide the dough in half and make two chubby discs about 5 inches (12 centimeters) across.
6. Wrap the discs separately in plastic wrap, and chill for about an hour.
ROLLING INSTRUCTIONS
1. Take out the dough discs and let them temper until they feel slightly soft to the touch and easy to roll out. Unwrap one disc and place it on a well-floured board, pastry cloth, parchment paper, or plastic wrap.
2. Sprinkle some flour onto the top of the disc. Thump the disc with your rolling pin several times. Turn it over and thump the other side.
3. Sprinkle more flour onto the top of the dough as needed to keep the pin from sticking, and roll the crust out from the center in all directions.
4. When the dough is 1 to 2 inches (3 to 5 centimeters) larger than your pie pan, brush off the extra flour on both sides.
5. Fold the dough over the top of the pin and lay it in the pie pan carefully.
6. Don't worry if the crust needs to be patched together. Paint a little water where it needs to be patched and "glue" on the patch piece.
7. Put the filling in the pie and repeat the process with the other disc.