Bring the flavors of fall into your cocktails
September 29, 2018 by Darcie
Fall has begun in earnest in many parts of the Northern Hemisphere, with crisp morning temperatures, crystal clear days, and gorgeous displays of color. Along with the change of the season comes a change in foods, with warm comforting items taking center stage. In addition to entrees, appetizers, and desserts, the flavors of fall can be extended to cocktails too. Chowhound explains how to incorporate fall's best tastes into seasonal cocktails.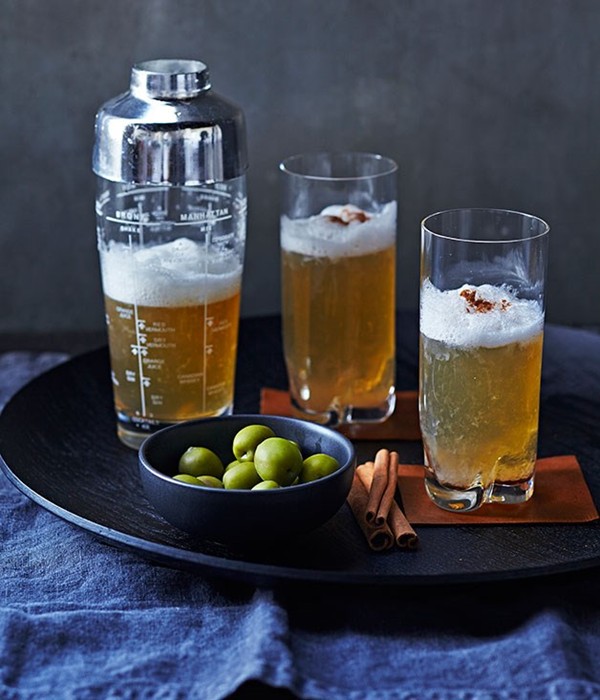 The article is grouped by ingredient. Naturally, the list begins with pumpkin – both pumpkin spice flavors and actual pumpkin. They suggest using pumpkin butter to stir into cocktails, and offer a recipe for a pumpkin syrup if the texture of the pumpkin butter isn't to your liking.
The second ingredient is my favorite for adding to fall cocktails: maple syrup. Unless you are in the same camp as Mimi Sheraton, you might enjoy the subtle flavor and sweetness that maple syrup brings to drinks like the Rye and maple fizz from Australian Gourmet Traveller pictured above.
Fall fruits such as apples, pears, figs, and cranberries are also excellent flavor boosters for cocktails. You can use apple cider or juice to great effect or infuse spirits with fruits like figs and cranberries to add subtle notes. Herbs and spices get their due in the article, as well as one item you might not expect – smoke. There's nothing like a warm fire on a cool night, so why not add a bit of that aroma to your drink?