Alice Waters is having a yard sale
March 28, 2019 by Darcie
It seems that this year, everyone is "Kondoing" their homes, and it looks like chef and restaurateur Alice Waters and her daughter Fanny Singer have caught the fever. The pair is having a yard sale in the Chez Panisse parking lot this weekend. If you are in the Berkeley area, you might want to check it out.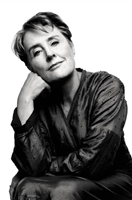 According to a post by Fanny, this "flea market" will feature "vintage & designer clothes," and "decades' worth" of antiques, crafts, books, and more. It's anyone's guess what those antiques, crafts, and books will be, but it's probably safe to say that food-related items will be among the offerings.
The event will be held from 10:00 am to 3:00 pm this Sunday, at 1517 Shattuck Avenue in Berkeley. Let us know if you get anything!