A Taste of Home from The Passage
October 3, 2020 by Jenny
The Passage is an agency that has been supporting the homeless in transforming their lives in London for 40 years. In celebration of this anniversary, The Passage has compiled a special cookbook A Taste of Home: 120 Delicious Recipes from Leading Chefs and Celebrities.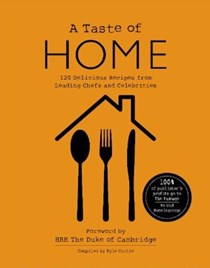 The Passage states:
To commemorate 40 years of our charitable work and the homeless people that we have supported during this time, we will be launching a very special cookbook, featuring a Foreword from HRH The Duke of Cambridge, and exclusive recipes from over 100 well known names including: Gino D'Acampo, Nigella Lawson, Sir Paul McCartney, Stephen Fry, Yotam Ottolenghi, and many more. All profits will go directly towards our services to support people who are street homeless.
The book can be preordered now. The publication date is October 15, 2020. Thanks to Diana Henry's list of books to buy this Autumn for a heads-up on this fantastic book.