Getting credit for the recipe
January 13, 2022 by Darcie
The origins of recipes are often murky at best – think pasta carbonara and the $250 Neiman Marcus cookie – and eerily similar recipes pop up from cookbook to cookbook with little or no explanation of the recipe's history. The issue of recipe plagiarism aside, the concept of who should get credit for a decades-old recipe that has been shared by thousands of people is something people will probably argue about in perpetuity. Writer Bobby Finger explores this idea for Eater where he ponders a Joanna Gaines brownie recipe featured in NYT Cooking.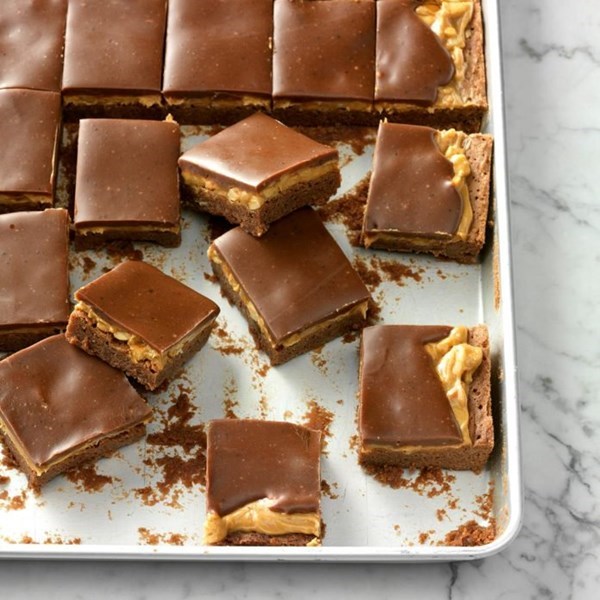 After reading the recipe, Finger scrolled down to the comments section where someone posted that they had been making essentially the same brownie since 1992, and that the recipe came from Southern Living Magazine. Intrigued by this comment, Finger decided to dive deeper into the peanut butter brownie's origins. He purchased a secondhand copy of the Southern Living 1992 Annual cookbook, where he found a recipe for Frosted peanut butter brownies that shared a nearly identical ingredient list to Gaines' recipe, although it did call for crunchy vs. creamy peanut butter and a larger quantity of sugar.
Looking at the version published in Magnolia Table, Volume 2, Finger noted that Gaines gives credit for the recipe to her friends' mother, and even named the brownies after her: Lucy's peanut butter brownies. Finger then asked Julia Moskin, who wrote the intro to the NYT recipe, why she decided to credit Gaines with developing the recipe when Gaines herself said she got it from a friend. "The definition of 'developing' a recipe is hard to pin down, even in the culinary world," Moskin replied. All of this research left Finger wondering who should get credit for the recipe or if there is even a need to pinpoint the developer of a treat that has obviously been working its way around US kitchens for 30 years.
When writing this synopsis, I searched for the Southern Living recipe in the EYB Library. It was not indexed (I added it), but in my search I found these Peanut butter brownies from Taste of Home Magazine (pictured above) that were also nearly identical to the Southern Living Magazine recipe – down to the number of large marshmallows specified (10). The headnote to the Taste of Home recipe – allegedly from Judy Sims of Weatherford, Texas – states that "A friend gave me the recipe for these layered brownies, but I added my own touch–chunky peanut butter." Sure Judy, that was definitely 'your own touch'. Something about that headnote prompted me to recall the fake quotes attributed to 'citizens' from the satirical website The Onion. Does Judy Sims even exist?
Of course Judy may be a real person, and perhaps her friend did give her a recipe to which she added 'her own touch'. Maybe the friend did not divulge that she got the recipe from Southern Living. I have a few battle-worn cards in my recipe box that I copied from a magazine or newspaper but failed to note the source. If I shared these recipes with a friend, there would be no way to know where the dish came from even though I did not intend to obscure the recipe's origin.
I prefer to think that is what happened here rather than that Judy's friend passed off someone else's recipe as her own. It also leads me to consider whether, in this case – where no money is riding on keeping the recipe secret nor is there an issue of cultural appropriation – is it a huge problem if someone wants to claim this recipe as their own? Or is this but one example of a larger problem about taking credit for the work of others? Do the attendees at the potluck who are devouring Judy's brownies care who developed the recipe?
I do not claim to have the answers to these questions, but now I'm hungry for brownies. Maybe I will try one of these recipes and who knows, I might even add 'my own touch'.