Celebrate Pi day with pie!
March 14, 2022 by Darcie
I usually forget about the "National Pie Day" that occurs in January, but that is okay since the logical choice for the day is Pi day, which is today. What better way to celebrate the mathematical constant that is such an integral part of pies?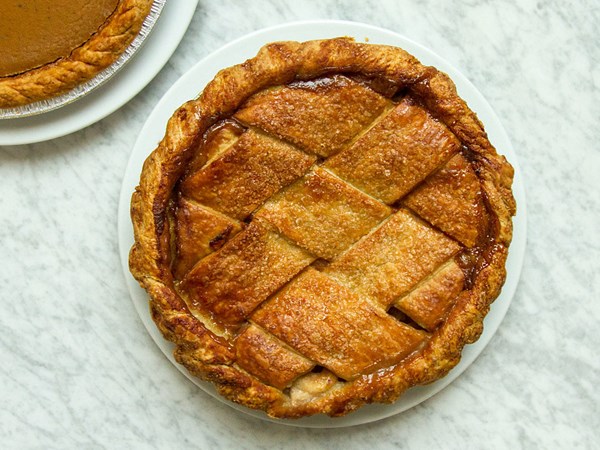 Everyone can find something that pleases them in the pie family due to its infinite variety: fillings can be savory or sweet, creamy or chunky, filled with custard or fruit or vegetables or meat. No matter your dietary preferences or restrictions, everyone can enjoy a slice of pie. Vegan pies are great, meat lovers have plenty of options, and there are many gluten- and dairy-free recipes as well. Every meal can feature pie, from breakfast to dinner and beyond (there's no shame in having a piece of pie in your pajamas in front of the refrigerator at 2 am). Whether you are celebrating one of life's little victories or comforting yourself after a disappointment, pie is the perfect food choice. 
There are so many great pie-focused books in the EYB Library that the only difficult part is choosing which one to use first. Member favorites include The Pie and Pastry Bible by Rose Levy Beranbaum, Sister Pie by Lisa Ludwinski, and Bourke Street Bakery by Paul Allem and David McGuinness. Recent pie titles include Savory Dinner Pies from Around the Globe by Ken Haedrich and one that I just ordered, Ferrandi Paris: Fruits & Nuts.
If you want to celebrate National Pie Day but need a bit of inspiration, the EYB Library offers endless ideas for every type of pie imaginable, with over 5,300 recipes available online. Here are a few Member favorites to get you started: