Cookbook giveaway – Recipes and Secrets from Our Test Kitchen: 80 Years of Wisdom from Australia's Most Famous Kitchen
September 24, 2013 by Fiona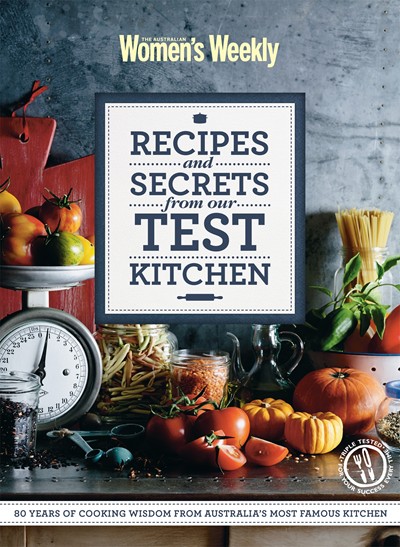 Today, we're offering a special giveaway just for our members with Australian and New Zealand addresses.
The Australian Women's Weekly cookbooks are renowned for their reliability as each recipe is Triple Tested for success in the famous AWW Test Kitchen. They are some of the world's most successful cookbooks and can be found in almost every English-speaking country; they are even translated into French, Spanish, Greek, Dutch, Hebrew and Polish.
Their most recent cookbook, Recipes and Secrets from Our Test Kitchen: 80 Years of Wisdom from Australia's Most Famous Kitchen is an ultra useful compendium that celebrates the rich history and the wealth of knowledge amassed in 80 years of The Australian Women's Weekly Test Kitchen. With 100 recipes and timesaving household tips, this book is crammed full of shortcuts and everything you need to know to maintain a well stocked, organised home and kitchen. And thanks to the publisher's generosity, we have five copies to give away.
(Remember you can check on all of our giveaways by just looking in the right-hand category column on any blog page and clicking on "Cookbook Giveaways."
To win one of the cookbooks, just post a comment below answering the question:
What's your favorite recipe that captures the unique character of food from Australia and/or New Zealand?
Additional rules are:
Please make certain you have signed in to the EYB website (you don't have to be a paid member). This ensures that we have your email address and can get in contact with you.
The giveaway will expire in 4 weeks on October 22, 2013.
Contest limited to members with Australian and New Zealand addresses.
This contest is now closed. The five lucky winners, selected by random number generator, are tui, hopefulau, Beckiemas, shaedurls, and Therese.