The Gourmet Kitchen – Jennifer Farley
November 10, 2016 by Jenny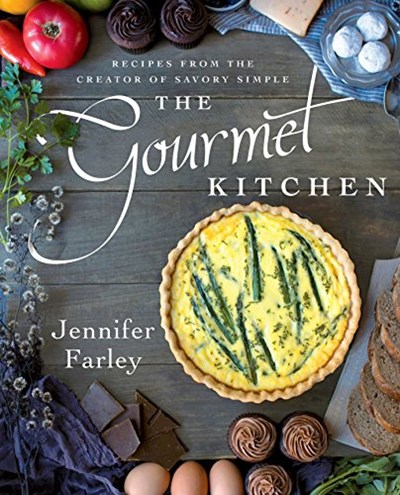 In The Gourmet Kitchen: Recipes from the Creator of Savory Simple home-cooked meals are elevated with unique and bold flavors. Jennifer Farley, the author, is also the creator of the blog, Savory Simple (451 recipes currently indexed on EYB) with almost half-a-million followers who eagerly await her new recipe posts.
With recipes for Spicy Gochujang Chicken Wings, Asparagus and Sun-Dried Tomato Lasagna and Andouille Corn Chowder – Jennifer's book is sure to be a hit. Jeweled toned Blood Orange Curd and Concord Grape Curd which pop off the page, Mini Peach Amaretto Cream Cakes and Chocolate Brownies with Salted Tahini Frosting are a few offerings from the sweets chapter.
There are a few events scheduled for the remainder of the year to celebrate this release. Jennifer was gracious enough to answer a few questions for our members. After you are finished here, head over to our contest to enter to win a copy of this beautiful book.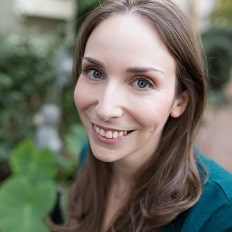 How different is the experience of writing recipes for a cookbook and for your blog Savory Simple (451 recipes currently indexed on EYB)?
The two experiences are so incredibly different! It never occurred to me until I began working on the book how different it would be. I felt very overwhelmed by the permanence of the recipes in the book. Part of what I love about the blog is that I can always go back and tweak things. I can update older images (I rarely do, but there's comfort knowing I have the option). If I find a better brand of eggnog, or discover an ingredient that enhances once of my older recipes, I have no problems going back and making small modifications with notes. You can't do that with a cookbook. That print is permanent, and sometimes I let that mess with my head too much.
Your start in the culinary world followed a change of careers. How did that come about?
I tell the whole story in the intro to the book, probably in more detail than people want to know. The short version is that my love of travel and food was the only clear path I could see away from my office job. My back and my mental health were demanding that I stop sitting at a desk for 8 hours per day. Culinary school seemed like an absolutely insane choice, yet somehow it was the only path that made sense.
What would you say is the style of cooking on your blog and in your new cookbook The Gourmet Kitchen?
I call my style "everyday gourmet recipes for the home cook." I learned a lot of fancy shmancy techniques in school, and instead of using them in restaurant cuisine, I try to elevate home cooking. The recipes often sound fancy, but if you read through the ingredients and instructions, they're not actually difficult to prepare (with a few exceptions; my layer cakes will be a pain to kitchen novices). Many recipes are geared toward entertaining guests, but a lot of them are perfect for a lazy weekend morning or weeknight meal. There's something for everyone.
Has your style of cooking changed over the years?
When I first got serious about cooking, I was obsessed with "spa cuisine." I visited a few spa restaurants that would focus on maximizing flavor while minimizing calories and fat. I was always amazed at what they could pull off. At one point I thought that would be my main focus on the blog. Then I went to culinary school where everything was butter butter butter. Paula Deen has nothing on French chefs. Someday I might like to re-explore that side of my cooking, because most of what I create now is in no way considered healthy.
In a recent post you talk about the problem of food waste. One way of avoiding this is to use EYB (search by the ingredient you need to use up and get a selection of recipes). What other ways do you have to avoid waste?
Food waste is such a struggle for me. We don't have kids, and I always have to purchase more than we need for photo shoots and testing. My personal solution is giving away leftovers to neighbors. I've been trying to develop a better system for our freezer. I think freezing, preserving, and proper planning could prevent so much waste. My mother is my role model when it comes to freezer meals. She often works late, and my father can defrost a full dinner for himself in minutes. Jeff and I have joked in the past that if it's not pizza, ice cream or tamales, we can't see it once it vanishes into the freezer abyss.
I know you love to travel. What's an example of a recipe in your book inspired by your travels?
There are so many sources of recipe inspiration in the book, and travel is definitely a biggie. The main one that pops out at me is the Tuna, Avocado, and Rice Bowl. It's basically a deconstructed sushi roll, but in Japan it's known as donburi. I first tried donburi outside the Tsukiji fish market in Tokyo. There was a sushi restaurant in the market itself that we wanted to try, but the line circled the block, and we were hungry. The donburi place had no line, and the fish was incredible. I am dying to get back to Japan.
One of the issues for anyone who writes about food is all the testing and eating that requires. You have written on your blog about how to stay healthy while still enjoying food. What are your tips?
Oh man, I could go on about this for a long time. I have a lot of opinions. I've struggled on and off with my weight for years, and I knew that temptation would be one of the biggest challenges with this career choice. Different things work for different people, but what I know now beyond any doubt is that what absolutely does NOT work for me is dieting or hardcore restriction of any kind. If I try to count calories, points, or cut out a food category, I will ultimately rebound in the worst possible way. I try to exercise 4-5 days per week. I hate the gym, but I discovered 3 years ago that I love smaller boutique studios. Indoor cycling classes and barre are my favorites. Not only do they burn calories, but they get me out of the house when I need a mental break. Aside from that, I focus on reasonable portions, making sure I get enough protein, and trying not to go overboard on sugar. The more protein I eat, the less hungry I am. The more sugar I eat, the more hungry I am. Whenever the weight starts creeping up, it usually means my protein is down and my sugar intake is up. I will always need to stay on top of that.
On your blog you take all your own photos, which are beautiful. Did you also do the photography for the book?
Thank you! I took all of the recipe photos in the book. Every single recipe has a full page color photo to go along with it.