Maggie Beer isn't afraid of hard work
October 15, 2020 by Darcie
Maggie Beer is one of Australia's best-known food personalities. A master of media, she has appeared on several television programs and has written a string of successful cookbooks, and this spring she even started an Instagram video series. This is in addition to being a successful restaurateur. When not pursuing those varied activities, Maggie spends her time working on her export kitchen in the Barossa Valley, which produces a wide range of pantry items. Australian Gourmet Traveller's Kylie Kwong caught up with the always-busy Beer, and the title that appears on the browser tab when you navigate to the article says it all – Maggie Beer: cook, restaurateur, and national treasure.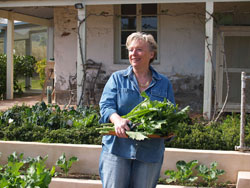 Today the terms seasonal eating and farm-to-table are commonplace, but when Beer first embarked on her culinary career over 40 years ago, these concepts were novel. She recounts that when she first moved to the Barossa Valley in the 1960s, "you didn't see basil. I'd never seen basil or zucchini. Coming here, it was all about the seasons. Our neighbour would bring down almonds, which he had picked and cracked that night. I'd never eaten a fresh almond."
Beer has no formal culinary training, and she attributes her success in cooking to instinct. She says that the talent runs in her family, which contained many excellent cooks including her grandmother and her father. But instinct alone won't make you a successful entrepreneur – it takes plenty of hard work. Of that, the ever-cheerful Beer says "It can be exhausting but if you're moving forward and if you're doing something that you love then hard work is just what is needed and you never think twice about it."
EYB has a complete recipe index of all Maggie Beer's recipes – from her cookbooks, TV shows, magazines and her own blog.