The Modern Cheesemaker – EYBD Promotion
March 29, 2019 by Jenny
Now with
EYBDigital
, if you buy a print book within the promotional period, for the first time you will have access to the full EYBD cookbook wherever you can access EYB – on vacation, at work, in the grocery store, etc. In addition to the digital book, all the features of EYB will be included in the access, at no cost to the book purchaser. For more information see our
EYBD Page
.
• Recipe search
• Bookmarks
• Recipe ratings and reviews
• Photo upload (personal photos of dishes cooked)
• Shopping lists
We are pleased to share a promotion for our next EYBD Book,
The Modern Cheesemaker: Making and Cooking with Cheeses at Home
by Morgan McGlynn.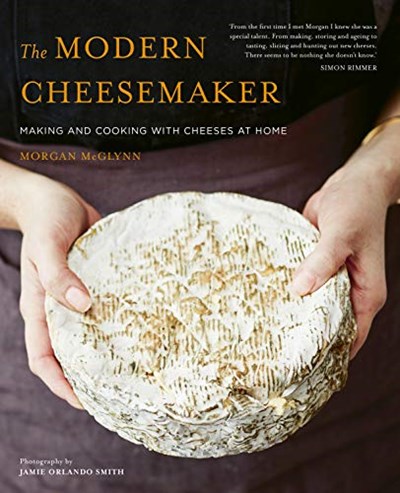 With the wealth of fine cheese selections available even in local markets, you question why anyone would want to make their own cheese at home. For years, I thought the same myself until the first time I made homemade ricotta. It was then that I understood why. Morgan McGlynn is the owner of
Cheeses of Muswell Hill
, an award-winning independent cheese shop in North London. At age 21 she was Britain's youngest female cheesemonger and she is the resident Cheese Expert on Channel 4's Sunday Brunch. She is also cheese consultant for leading retailers and in 2017 launched her cheese wholesale business which now stocks some of the UK's best delicatessens, farm shops, Michelin star restaurants and cheese shops. Her website also offers
recipes
and more. Morgan's
The Modern Cheesemaker
is a valuable resource stockpiled with step-by-step photographs, detailed instructions and recipes – not only those to create cheese but recipes to utilize the end product. With visions of homemade burrata dancing through my head, I ordered a slew of
cheese making supplies
(just some colanders and cheesecloth) and hope to tackle Morgan's version of decadent ricotta soon. Our
takes you inside this title and features the following
If you order this title before our promotional period ends, register
here
(be sure you have a photo of your receipt or screenshot from your online order ready to upload). Once your purchase has been verified, this button
will appear on the book on your Bookshelf next to the title and will take you to the digital access for this book. Below are screenshots showing how these features will appear.
Special thanks to the publisher, for working with us to bring this exclusive incentive to our members as well as for providing three copies of in our giveaway below.
The publisher is offering three copies of this book to EYB Members in the US, UK, AU and CA. One of the entry options is to answer the following question in the comments section of this blog post.
Which recipe in the index would you try first?
Please note that you must be logged into the Rafflecopter contest before posting or your entry won't be counted. For more information on this process, please see our step-by-step help post. Be sure to check your spam filters to receive our email notifications. Prizes can take up to 6 weeks to arrive from the publishers. If you are not already a Member, you can join at no cost. The contest ends at midnight on June 2nd, 2019.