Legendary Napa chef loses cookbook collection in fire
October 14, 2020 by Darcie
In our weekly roundup of food news we have covered the effects that fires in California and Oregon have had on restaurants and wine-producing regions in those states, and today we learned of another loss in the culinary community. Napa chef Cindy Pawlcyn of Mustard's Grill and other influential California restaurants lost her entire 3,800-volume cookbook library in the devastating Glass Fire (there may be a paywall for this article).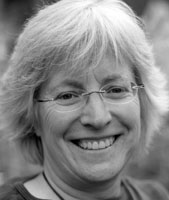 Pawlcyn's sprawling collection included signed first-edition cookbooks from Elizabeth David, Jane Grigson, Julia Child and James Beard. These are all gone, as well as many vintage cookbooks, the chef's personal notes made while developing Mustards Grill back in the early 1980s, and her grandmother's hand-written cookbook containing cherished family recipes. These are the kinds of losses cookbook lovers fear the most. It's one thing to reestablish a collection of books still in print, but there are so many volumes that just cannot be replaced.
The cookbooks weren't the only things the fire took from Pawlcyn. It consumed her entire home, taking all of her personal belongings including her cherished chef's knives. Tragically, Pawlcyn and her husband had packed to-go bags a few weeks earlier, but had decided to unpack them just days before the fire turned for the worse and came crashing through the forest to her bucolic homestead.
Despite this crushing loss, Pawlcyn retains an optimistic spirit. "I've learned a lot from my cookbooks. I loved reading them. I loved holding them,'' she says. "I don't think I'll ever have the collection I had. But there are a million cookbooks out there. There are many more that need to be read. So I better get on it."