The Instant Kitchen Cookbook: Fast and Easy Family Meals Using Your Instant Pot and Air Fryer Cookbook Giveaway
October 18, 2022 by Jenny
Enter our US/CA/UK giveaway to win one of three copies of The Instant Kitchen Cookbook: Fast and Easy Family Meals Using Your Instant Pot and Air Fryer by Coco Morante.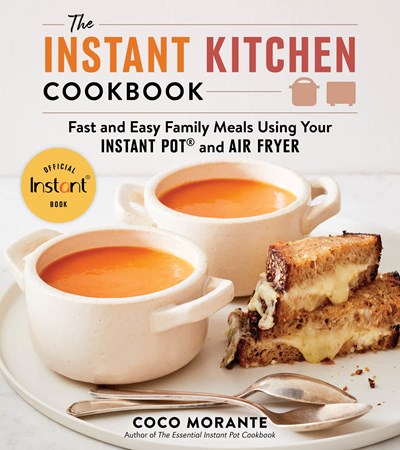 Coco Morante is an expert in both Instant Pot and air fryer cookery with seven books devoted to those types of cooking. In her latest book which is fully authorized by Instant Brands, The Instant Kitchen Cookbook: Fast and Easy Family Meals Using Your Instant Pot and Air Fryer she combines recipes for two of today's most popular kitchen appliances. Now you only need one book to get the most out of your Instant Pot and Air Fryer!
The Instant Pot is great for slow cooked meat, stews, and soups, but is also perfect for making rice, grains, yogurts, and even desserts. The Air Fryer is amazing at roasting crispy vegetables, baking with conduction heat, and, of course, making healthy versions of your favorite fried foods.
With chapters for breakfast, lunch, dinner, snacks, sweet treats, and more, these globally inspired recipes are easy to follow and adaptable to everyone's tastes and dietary needs – almost every recipe has dairy-free, gluten-free, and vegetarian options. There are recipes for dishes you wouldn't think would be applicable to the Instant Pot or air fryer – such as Lemongrass tofu rice paper rolls with peanut sauce; Sushi rolls with basil and garlic; and even Rocky road brownies. There is something for everyone in this title.
Try two recipes from this title below:
Coconut chicken adobo
Add this recipe to your Bookshelf (click the blue +Bookshelf button)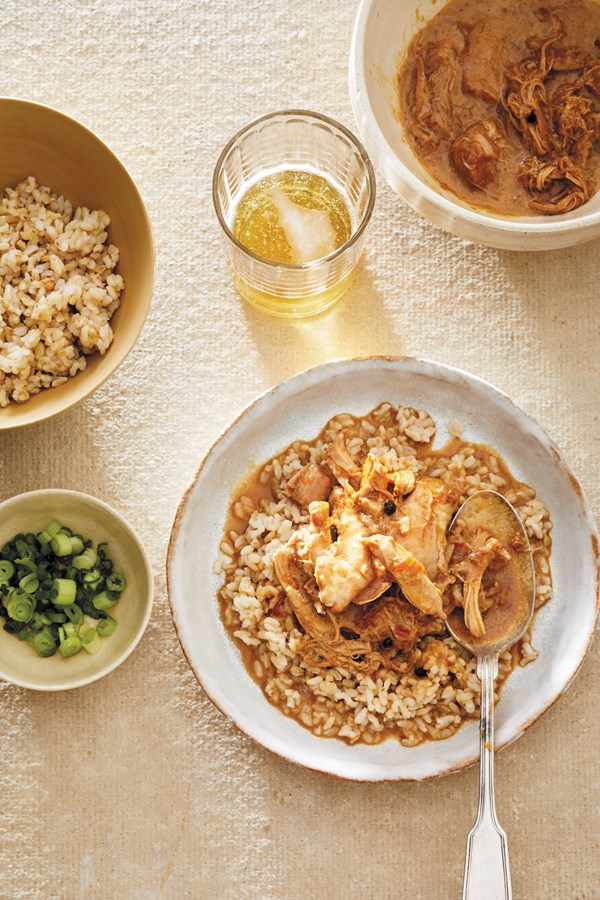 Dairy-Free, Gluten-Free (if modified)
Prep time: 5 minutes
Cook time: 45 minutes
Serves: 4 to 6
Here's a super-fast, weeknight-friendly take on Filipino-style chicken adobo. Salty soy sauce, tangy vinegar, and creamy coconut milk combine for a flavorful sauce that requires no marinating time. Serve with steamed rice (see the recipe note on page 148 for a pot-in-pot option – see below) or Roasted Vegetables with Olive Oil and Garlic (page 218).
1½ pounds boneless, skinless chicken thighs
1 medium yellow onion, sliced
4 garlic cloves, chopped
⅓ cup soy sauce or tamari
3 tablespoons white vinegar or coconut vinegar
1 tablespoon brown sugar
1 teaspoon black peppercorns
3 bay leaves
½ cup coconut milk
Thinly sliced green onions, for garnish
Add the chicken, onion, garlic, soy sauce, vinegar, brown sugar, peppercorns, and bay leaves to the Instant Pot. Use a spoon or your hands to mix everything together until evenly combined.
Secure the lid and set the pressure release to Sealing. Select the PRESSURE COOK or MANUAL setting for 15 minutes at high pressure. (It will take about 10 minutes for the pot to come up to pressure before the cooking program begins.)
When the cooking program ends, let the pressure release naturally for at least 10 minutes, then move the pressure release to Venting to release any remaining steam.
Open the pot and add the coconut milk. Press Cancel to reset the cooking program, then select the SAUTÉ setting. Let the adobo simmer for about 10 minutes, stirring occasionally, until the sauce has thickened a bit and become a little glossy in appearance. Turn off the pot. Remove and discard the bay leaves. If you like, at this point, you can either leave the chicken thighs whole or use two forks to break them up into bite-size shreds.
Spoon the chicken and sauce onto serving plates. Sprinkle green onions on top and serve right away.
NOTE: For pot-in-pot rice, combine 1½ cups long-grain white rice or quick-cooking brown rice, 1½ cups water, and ¼ teaspoon kosher salt in a 1½ quart stainless-steel bowl. Place a raised metal steam rack in the pot after mixing up the chicken and other ingredients, then place the bowl of rice on top. The pot will take about 10 minutes longer to come to pressure.
Puff pastry braid with guava and cream cheese
Add this recipe to your Bookshelf (click the blue +Bookshelf button)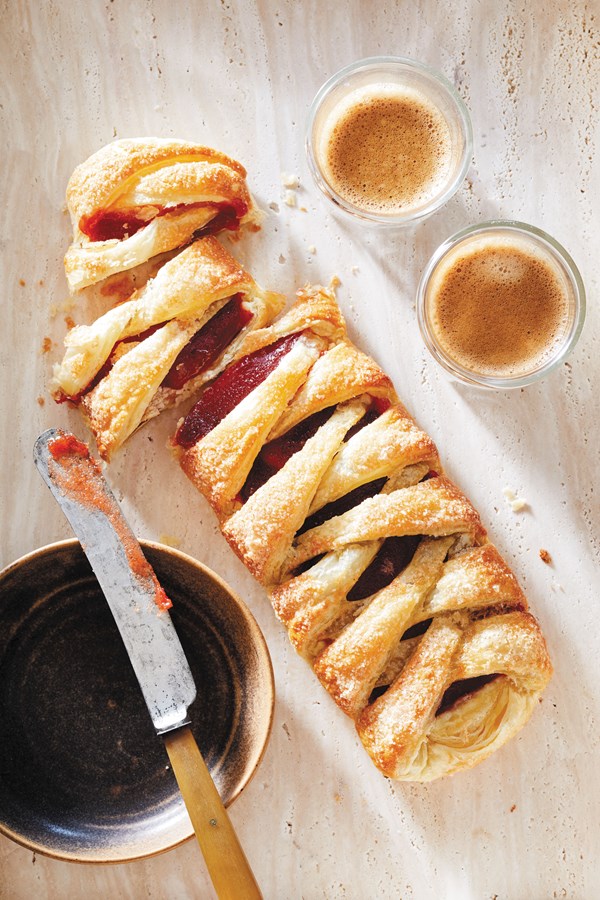 Vegetarian
Prep time: 15 minutes
Cook time: 14 minutes
Serves: 4 to 6
A store-bought sheet of puff pastry makes for a very easy yet impressive-looking dessert when filled, braided, and baked in a toaster oven–style air fryer. This one is inspired by my friend Marta Rivera's pastelillos, with a sweetened cream cheese filling underneath the traditional guava paste. Slice and serve with coffee for dessert, or as Marta serves her pastelillos, as a morning or afternoon treat.
4 ounces cream cheese, at room temperature
2 tablespoons plus 1 teaspoon granulated sugar
1 tablespoon all-purpose flour, plus more for dusting
1 large egg, separated
½ teaspoon vanilla extract
Pinch kosher salt
1 frozen puff pastry sheet, thawed at room temperature for 40 minutes
6 (⅛-inch-thick) slices guava paste (about 4 ounces; see note)
In a bowl, stir together the cream cheese, 2 tablespoons of the sugar, flour, egg yolk, vanilla, and salt until evenly mixed.
Unfold the puff pastry on a lightly floured surface. Use a rolling pin to roll it out lengthwise, until it is about 11 inches long. Transfer the puff pastry to a sheet of parchment paper.
With a sharp paring knife, cut 1-inch diagonal strips, lengthwise, one-third of the way into the puff pastry on either side, leaving the middle third intact. (These dough strips will later be folded over the top of the filling in a braid.) You should end up trimming away triangle-shaped wedges at the bottom and top of the pastry.
Spread out the cream cheese mixture along the middle third of the pastry, leaving about 1 inch at the top and bottom of the pastry bare. Lay the strips of guava paste along the middle of the cream cheese.
Fold the top and bottom bare inches of the pastry over onto the cream cheese filling. Then, alternating sides, fold the diagonal strips over the top of the cream cheese and guava paste, to make a braid.
Preheat a toaster oven–style air fryer on BAKE at 375°F and set the cooking time for 14 minutes. Line the cooking pan with parchment or aluminum foil.
Use a pastry brush to brush the egg white over the pastry braid, then sprinkle the top with the remaining 1 teaspoon sugar. Transfer the pastry braid to the lined cooking pan.
Bake the braid in the preheated toaster oven–style air fryer.
When the cooking program ends, carefully transfer the braid to a cooling rack. Allow it to cool for at least 20 minutes before serving. Transfer to a serving dish, cut into slices, and serve warm or at room temperature.
NOTE: Guava paste (pasta de guayaba) is available in most Hispanic grocery stores and online. Iberia brand, which comes in an easily sliceable block, is my favorite one to use. You can substitute quince paste (membrillo) for the guava paste, if you like.
Recipes shared from The Instant Kitchen Cookbook by Coco Morante. Copyright © 2022 by Coco Morante. Reprinted by permission of Harvest, an imprint of HarperCollins Publishers. Photo credit: Dana Gallagher
Special thanks to the publisher for providing three copies of this title in our promotion. Entry options include answering the following question in the comments section of this blog post.
Which recipe in the index would you like to try first?
Please note that you must be logged into the Rafflecopter contest before posting or your entry won't be counted. For more information on this process, please see our step-by-step help post. Once you log in and enter your member name you will be directed to the next entry option – the blog comment. After that, there are additional options that you can complete for more entries. Be sure to check your spam filters to receive our email notifications. Prizes can take up to 6 weeks to arrive from the publishers. If you are not already a Member, you can join at no cost. The contest ends at midnight on January 3, 2023.
a Rafflecopter giveaway