Cookbook Giveaway & Quick Bites: Cristy's Kitchen
May 16, 2023 by Jenny
Enter our US giveaway to win one of two copies of Cristy's Kitchen: More Than 130 Scrumptious and Nourishing Recipes Without Gluten, Dairy, or Processed Sugars by Cristina Kisner.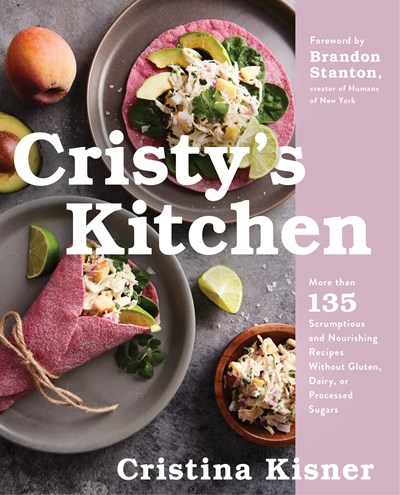 In 2019 Cristy Kisner, her husband, Sebastian, and their five daughters moved to Roswell, Georgia, from Peru, investing all their savings in Cristy's dream of opening a healthy café in the United States. When the Covid-19 lockdown came, they never closed their doors, working sixteen-hour days for a year. In March 2021, Brandon Stanton, the creator of Humans of New York who lived nearby, fell in love with the food at the café and Cristy's incredible story. He offered to write about her and sponsor a fundraiser. The post went viral and raised $1.2 million in donations in just a week, allowing the family to stay afloat and continue to live their American dream.
The food at Cristy's Kitchen is gluten free, dairy free, organic, nourishing, and thoroughly tasty. Back in Peru, Cristy had developed her recipes after two of her daughters experienced medical issues ranging from allergic rhinitis to digestive problems to an autoimmune disease. They switched to organic ingredients; removed dairy, gluten, and processed foods from their diets; and got each diagnosis under control. Her daughters' special packed lunches gained the attention of other parents and Cristy started teaching classes on healthy food prep, which evolved into her dream of having her own restaurant.
Our
for Cristy's Kitchen: More Than 130 Scrumptious and Nourishing Recipes Without Gluten, Dairy, or Processed Sugars features the following
: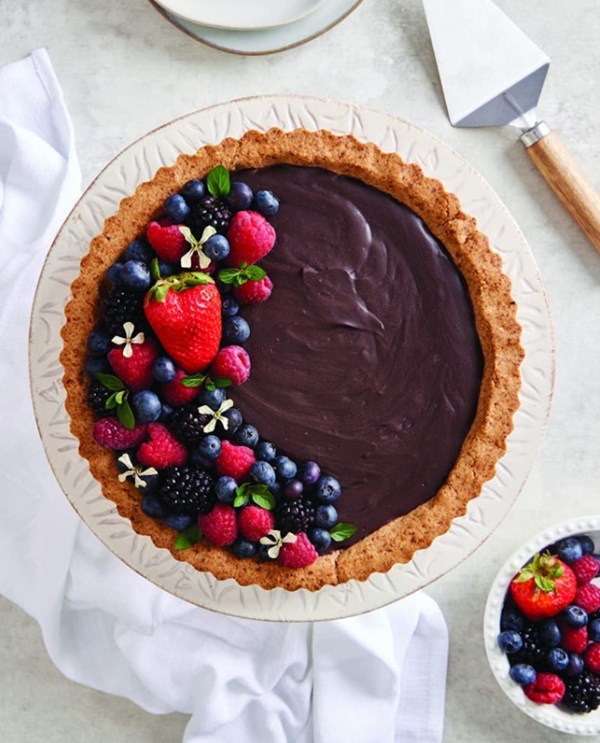 The author took some time from her busy schedule to answer our Quick Bites questions for our Members:
Cristy Kisner is the owner and creative culinary visionary behind Cristy's Kitchen, a gluten-free and dairy-free organic bakery and café that was the subject of a viral post and fundraiser on Humans of New York. She lives with her husband and five daughters in Roswell, Georgia.
Q: What first triggered your interest in cooking? Was it necessity due to allergens?
The trigger was definitely motherhood. I began to pay attention to food since I was pregnant, I began to study about breastfeeding, then about baby food and when my first daughter started going to school, I decided that I did not want to send her any food that came in a bag or box because I started taking awareness of how harmful the ingredients they contained were. At that time, I was cooking, but I didn't like pastry at all, but I decided that I had to start loving it and enjoying it in order to give my daughters the best.
Over time and due to their allergic rhinitis, I realized that food could make a difference, and it did. I started removing dairy and all kinds of processed food, and I started cooking almost everything at home, I started baking bread, snacks for the lunchboxes, juicing and buying everything organic.
Then my second daughter developed symptoms of gluten intolerance and that's when I got really into finding out all about allergens and then when my oldest daughter was diagnosed with an autoimmune disease, that's when food became such a big thing for me and my family. Food saved us in many ways.
Q: If you had to describe your cooking style, what would it be? What types of recipes will we find in your new book?
My cooking style is completely gluten and dairy free (because I believe they are the most inflammatory foods and it is good for all of us to avoid them, especially nowadays where they are so badly handled by humans) but I don't like to focus only on removing ingredients, but on adding great nutrients.
I am a firm believer that organic ingredients make a difference (in taste and nutrition) and I believe that each body is unique and each of us reacts differently to certain foods; that's why in my cookbook (and in my restaurant) I include paleo, vegan, vegetarian and AIP (autoimmune protocol) recipes, and the quality of the ingredients plays the most important role in any of them. Nature is wise and gives us a wide range of flavors, textures and colors, and each one with a purpose.
Of course, my recipes show my Peruvian culinary heritage, I love using Peruvian superfoods that are also very easy to find in America.
In my cookbook you will find recipes for all occasions, high-nutrient-dense meals. You can find sweet and savory breakfasts, delicious salads, sides and incredible mains, powerful baked goods, and refreshing and comforting drinks.
Q: Are you a cookbook collector? If so, tell us about your collection?
I love collecting cookbooks, they are a source of inspiration and knowledge. I have Peruvian cookbooks (mostly traditional recipes and food history), I love Middle Eastern cooking, so I have a lot of Ottolenghi cookbooks, and my favorite Persian cookbook is Najmieh Batmanglij's Food of Life, I am also a big fan of Jamie Oliver, I have several of his books, but my greatest treasures are my mother's old cookbooks, magazines and her handwritten recipe notebooks.
Q: What is the best part of your job? Do you sometimes feel like working with food all day keeps you from wanting to get creative in the kitchen?
The best part of my job is the happiness of giving my family real, delicious and healthy food and having the opportunity to share my journey and my recipes.
When I started looking for answers to my daughters' health problems, I felt lost and very helpless, and I think many mothers feel the same way, and many people who are looking to improve their health, so my mission is to try to help them and share what I learn every day in the kitchen, because we never stop learning. It makes me very happy when a customer arrives at the restaurant and gets excited and tells me "Thank you! I can eat here safely".
Yes, the truth is that sometimes the pressure of work does not leave me enough space to create as I would like because I formulate the recipes first in my head, and once I have them clear, I begin to analyze the chemistry of the ingredients and then I write them down to start testing them. But there are days when I have too many things to do and many new ideas going around in my head without being able to land them. But having a big family to feed every day, I can't wait for that momentum, so I have to create on the fly and under the pressure of "Mom I'm hungry!" and I love it, because it is a wonderful challenge.
Q: What is your go to for a quick dinner – quick dessert?
Quick dinner, I would say soup. I always have pre-portioned frozen grass-fed bone broth on hand, a jar of homemade dried vegetables, and frozen shredded chicken. So, it's very easy, I put the broth in a pot, add the vegetables and boil them for a few minutes, then add the chicken and the girls choose if they want to add some pasta, maybe some frozen squash or sweet potato or just a splash of coconut aminos. And if we're not in soup mode, then my frozen pot pies and empanadas (the ones we ship to more than 30 states) are an amazing dinner.
Quick, delicious, and super healthy dessert and a classic in my house, that even my girls make by themselves when they feel like something sweet: my Powerful Brownie recipe which is also very versatile, they sometimes add a swirl of almond butter, some nuts, berries, or even a little extra dark chocolate chunks.
Q: Tell us about this cookbook or any future projects you are working on?
This cookbook is very important to me because I share not only recipes, but also a little bit about my family's journey through health, bankruptcy, hopelessness, miracles and above all the lessons we have learned in life. I am infinitely grateful to my publisher, William Morrow, for trusting me and giving me the opportunity to reach a lot of people with this cookbook that is also incredibly beautiful, and of course I hope it will be the first of many. I love writing, cooking, photography, so making this book has been a dream come true.
On the other hand, my husband and I have two projects that we are working on, one of them is to add new baking mixes to our line, so that people can cook easily and quickly when they don't have time to make a complete recipe; and the frozen food line, which we currently ship to more than 30 states, but our goal is to reach the entire country and with a greater variety of products, we currently ship empanadas, pot pies, breads, pizzas, and some desserts. And who knows? maybe one day our dream of being in stores and supermarkets nationwide will come true.
You may follow @cristyskitchenga on Instagram and check out her website here www.cristyskitchenga.com.
Special thanks to the publisher for providing two copies of this title in our promotion. Entry options include answering the following question in the comments section of this blog post.
Do you have anyone in your circle that requires allergen free cooking?
Please note that you must be logged into the Rafflecopter contest before posting or your entry won't be counted. For more information on this process, please see our step-by-step help post. Once you log in and enter your member name you will be directed to the next entry option – the blog comment. After that, there are additional options that you can complete for more entries. Be sure to check your spam filters to receive our email notifications. Prizes can take up to 6 weeks to arrive from the publishers. If you are not already a Member, you can join at no cost. The contest ends at midnight on July 1st, 2023.
a Rafflecopter giveaway