Baking Yesteryear Cookbook Giveaway
August 15, 2023 by Jenny
Enter our US giveaway to win one of two copies of Baking Yesteryear: The Best Recipes from the 1900s to the 1980s by B. Dylan Hollis.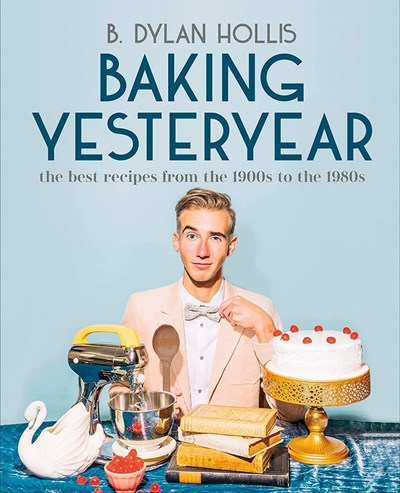 As soon as I read about this book, I knew I was going to love it and when I finally got my hands on it – it was a done deal. My only complaint is that "yesteryear" includes the 1980s. I will forgive Mr. Hollis for that slight since the book is genius in printed form but I'm still stinging from the implication that the 1980s are historic.
B. Dylan Hollis is a trained jazz pianist who has become a social media star – you can follow him on Instagram, YouTube, and TikTok – all those links are available in his author profile here on EYB. During COVID, the author took to TikTok to share his comedic talents while teaching himself to bake. He has always had a love of all things vintage (he drives a 1963 Cadillac) which explains the muse for this beautifully photographed title filled with 101 expertly curated recipes. His vibrant personality led to a massive following on all social media channels.
Baking Yesteryear is divided into decades from the 1900s to 1980s (tears) and also contains a chapter on the "worst of the worst" with dishes such as Jellied meatloaf of Pickle cheesecake. Each chapter shares recipes that were popular during that time period. For example, the 1900s contains recipes for Cornflake macaroons and Hermits and the 1980s delivers Millionaire's shortbread and the Watergate cake.
Our
takes you inside this fun book and features the following
Baking Yesteryear was officially the bestselling book (not the bestselling cookbook but bestselling book overall) in the country with almost 127,000 copies sold as of August 4th and was the highest preordered cookbook in publisher DK's history.
What are you waiting for grab a copy now!
Special thanks to the publisher for providing two copies of this title in our promotion. Entry options include answering the following question in the comments section of this blog post.
Which recipe in the index would you like to try first?
Please note that you must be logged into the Rafflecopter contest before posting or your entry won't be counted. For more information on this process, please see our step-by-step help post. Once you log in and enter your member name you will be directed to the next entry option – the blog comment. After that, there are additional options that you can complete for more entries. Be sure to check your spam filters to receive our email notifications. Prizes can take up to 6 weeks to arrive from the publishers. If you are not already a Member, you can join at no cost. The contest ends at midnight on October 25th, 2023.
a Rafflecopter giveaway