Chicken and Charcoal
March 30, 2019 by Jenny
This week, The James Beard Foundation announced the cookbook and media
finalists
and today's book,
Chicken and Charcoal: Yakitori, Yardbird, Hong Kong
by Matt Abergel was named in the restaurant and professional category.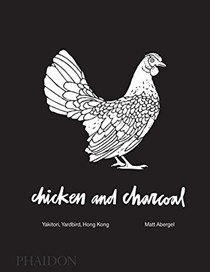 Known for their hard hitting international cuisine and restaurant titles, Phaidon publishes books that are inspiring and beautiful yet sometimes more complicated than the everyday cook can handle. While
Chicken and Charcoal
may seem complex due to its brilliant design and modern photography, it is deceivingly approachable. Yakitori is one of the simplest, healthiest ways to cook chicken. At Yardbird in Hong Kong, Canadian chef Matt Abergel has taken yakitori to global fame. In this first comprehensive book devoted to yakitori, Abergel reveals the magic behind the restaurant's signature recipes, together with detailed explanations of how they source, butcher, skewer, and cook the birds with no need for special equipment. Our
takes you inside this title and features the following
Do not be afraid to light up the grill and tackle these recipes. In addition to various recipes for all parts of the humble bird, this title shares vegetable, rice and other dishes perfect to serve alone or beside some yakitori. Special thanks to Phaidon for sharing the materials for our EYBD Preview as well as offering two copies of this revolutionary title in our giveaway below. Please remember Eat Your Book members receive 30% off Phaidon titles when using the link provided.
Congratulations to the publisher and author on the James Beard nomination and good luck to all the nominees.
The publisher is offering two copies of this book to EYB Members in the US, UK, CA and AU. One of the entry options is to answer the following question in the comments section of this blog post.
Which recipe in the index would you try first?
Please note that you must be logged into the Rafflecopter contest before posting or your entry won't be counted. For more information on this process, please see our step-by-step help post and this forum post. Once you log in and enter your member name you will be directed to the next entry option – the blog comment. After that, there are additional options that you can complete for more entries. Be sure to check your spam filters to receive our email notifications. Prizes can take up to 6 weeks to arrive from the publishers. If you are not already a Member, you can join at no cost. The contest ends at midnight on May 18th, 2019.
Please note that if you are reading this far you can thank me now for not writing "what came first the chicken or the charcoal?" You are welcome. I'll be here all night tip your waitstaff.