Lateral Cooking – Niki Segnit Giveaway
October 23, 2019 by Jenny
Enter to win a copy of Niki Segnit's Lateral Cooking: One Dish Leads to Another. Please check out the calendar for Niki's author events.
Lateral Cooking: One Dish Leads to Another by Niki Segnit was released in the UK last autumn and now has made it to the US. This title is a companion to Niki's best selling The Flavor Thesaurus. Niki strives to teach us the fundamentals of flavors so that we can be less dependent on recipes and become a more intuitive cook. That being said there are over 800 recipes and techniques shared in this impressive volume. Filled with illustrations and detailed information on various dishes this is a book that every cook of any level will appreciate.
Special thanks to the publisher (Bloomsbury UK and Bloomsbury USA) for providing two recipes for our members to try now as well as providing four copies (2 US and 2 UK) in our giveaway below.
Sweetcorn griddle pancakes
Add this recipe to your Bookshelf (click the blue +Bookshelf button).
Venezuelan cachapas are a type of sweetcorn pancake made by grinding fresh kernels with salt, egg, and butter. The variety of corn used in Venezuela is so starchy—the kernels release a pearly liquid when pulverized—that no flour or milk is needed to create a luxuriously thick batter, stippled with nibs of whole kernels. Once cooked, the pancake is folded over a generous helping of queso blanco, the mild, white, Latin-American cheese you might replace with some mozzarella or halloumi. This recipe works for the sort of sweetcorn widely available in the U.K. and U.S., but without the authentic starchiness, you do have to rely on the egg and a small amount of flour to make the batter cohere.
For about 18 pancakes
Ingredients
4 ears' worth of sweet corn kernels
6 tbsp all-purpose flour 
½ tsp salt
1 egg
Butter or bland oil to grease the pan
Mozzarella or halloumi, tomatoes and cilantro – optional
1. Blend the corn kernels with the flour, salt, and egg.
2. Let rest for 20 minutes.
3. Over a low-medium heat, wipe a heavy-based frying pan or flat griddle with a little bland oil, butter, or a mixture of the two. Flick a drip of batter on the griddle to check for cohesiveness and add more flour (or more egg) if it doesn't hold together. Watch like an overprotective parent, as the sweet corn's natural sugars make these pancakes prone to burn; they should be about 7- to 8-in in diameter.
4. Fold the pancakes over some mozzarella or grilled halloumi with cilantro and sliced cherry tomatoes.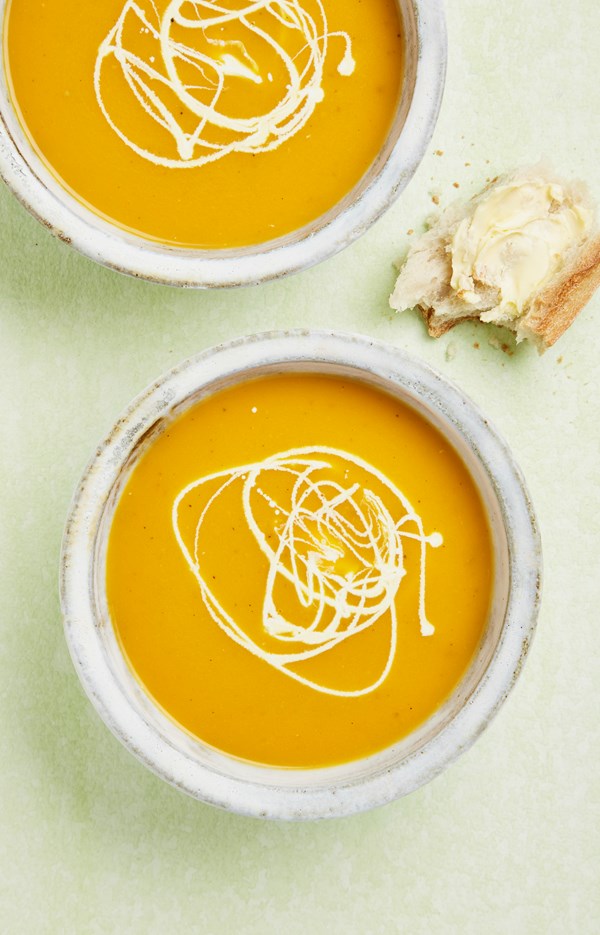 Tomato & carrot
Add this recipe to your Bookshelf (click the blue +Bookshelf button).
I am a veteran of too many carrot soup recipes. Most are okay, some almost good, but few are worth writing home about. Same goes for tomato. Leafing through a book of Arabella Boxer's Vogue columns, I came across a recipe for both: carrot and tomato soup. It hadn't even crossed my mind. Carroty meh + tomatoey zing = amazing. Boxer's original recipe was for a cold soup, with lots of buttermilk added at the blending stage, but I was just as taken with it hot from the blender, sans buttermilk. Note the absence of additional aromatics. Not so much as a bay leaf. It's one of those heaven-sent combinations that would be diminished by embellishment.
For 4 servings 
Ingredients
1 onion, diced 
2 tbsp butter
2 cups carrots, peeled
2 cups tomatoes, skinned and chopped
4 cups chicken stock 
½ tsp sugar
Salt and pepper
Buttermilk for a garnish
1. In a saucepan, gently soften the onion in the butter for 8–10 minutes. If you're using butter, take care that it doesn't start to burn.
2. Chop the carrots into coins and sweat them with the onions for a few minutes. Add the tomatoes and cook for another few minutes.
3. Pour in the chicken stock (double-diluted if you're using a cube) and season with sea salt, ½ tsp sugar and some pepper. Simmer gently, lid on, for 35 minutes.
4. Cool a little, then blend. Thin with stock or water, if required. Taste and adjust the seasoning. Reheat gently before serving. Ladle into bowls and decorate with a scant cup of buttermilk.
Thanks to the publisher for providing four copies of the above-referenced title in our giveaway open to EYB Members in the US and UK. One of the entry options is to answer the following question in the comments section of this blog post.
Which recipe in the index would you try first?
Please note that you must be logged into the Rafflecopter contest before posting or your entry won't be counted. For more information on this process, please see our step-by-step help post and this forum post. Once you log in and enter your member name you will be directed to the next entry option – the blog comment. After that, there are additional options that you can complete for more entries. Be sure to check your spam filters to receive our email notifications. Prizes can take up to 6 weeks to arrive from the publishers. If you are not already a Member, you can join at no cost. The contest ends at midnight on December 23rd, 2019.
a Rafflecopter giveaway