Cookbook Tidbits
June 14, 2020 by Jenny
Today's post is all about notable books that may have arrived after their particular month of publication and were not given adequate representation in my monthly review. A few of these titles are self-published or crowd-funded and a few come from publishers, but all are worthy of a cookbook lover's attention.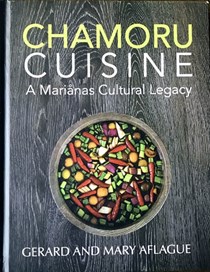 CHamoru Cuisine: A Marianas Cultural Legacy by Gerard and Mary Aflague: This cookbook began with a Kickstarter campaign which an EYB member brought to my attention in The Cookbook Junkies Facebook group and I backed this project. The book is incredibly well done with beautiful imagery and a deep dive into the CHamoru culture and hundreds of island recipes from the Mariånas. Your purchase of this book goes to feed the hungry in Guam, Rota, Tinian, and Saipan. As a backer, I have received a 10% code and can pass that on to you. Use TENOFFCC at checkout.
---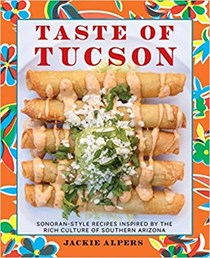 Taste of Tucson: Sonoran-Style Recipes Inspired by the Rich Culture of Southern Arizona by Jackie Alpers: This title was published in April but just arrived a few weeks ago. Taste of Tucson is a bold, colorful collection of recipes that include Molletes, an open-faced breakfast sandwich, Cream of avocado soup, and Shrimp with creamy goat cheese-poblano sauce. Jackie's recipes are packed with a flavor punch and I am eyeing the Desert dessert nachos and Potato salad with chile-lime vinaigrette and red onion.
---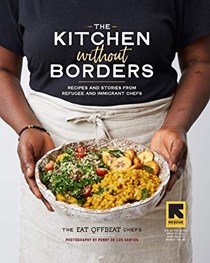 The Kitchen Without Borders: Recipes and Stories from Refugee and Immigrant Chefs by The Eat Offbeat Chefs: This book started as a Kickstarter campaign and found a publisher, Workman. As an early backer of this project, I was fortunate to receive the book this month instead of on publication date, March 2, 2021. Profiles of the chefs are shared from Eat Offbeat along with recipes from their ethnic backgrounds. Chef Dhuha's Potato kibbeh (Iraq), Chef Rachana's Samosas (Nepal), and Chef Larissa's Red pepper soup (Central African Republic) are just some examples of the dishes in this lovely book filled with photographs.
---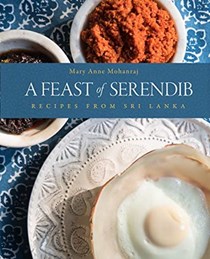 A Feast of Serendib: Recipes from Sri Lanka by Mary Anne Mohanraj, novelist and post-colonial academic, introduces her mother's cooking and her own American adaptations in this stunning book. Skillfully, she provides an introduction to Sri Lankan American cooking that is straightforward enough for a beginner, yet nuanced enough to capture the unique flavors of this cuisine. Our
provides you with the author's introduction and three recipe samples.
---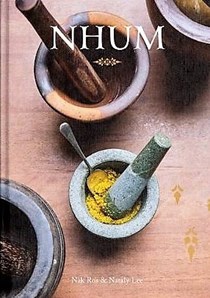 NHUM – Recipes from a Cambodian Kitchen by Roranak Ros and Nataly Lee: This is another book brought to life by a Kickstarter campaign. Thank goodness for cookbook lovers who support these projects. A self-published or crowd-funded cookbook reflects the authors' vision perfectly as they have complete control of how their cuisine is represented. There are usually more photographs and detailed information as they are the editor and publisher. This book shares recipes for dishes such as Caramel beef stew, Pork belly, shrimp and green onions, and a Chicken with ginger dish that is absolutely outstanding.
---
The Hamptons Kitchen: Seasonal Recipes Pairing Land and Sea by Hillary Davis and Stacy Dermont: Published in April by Countryman Press, Hillary reached out to me and sent me a copy of this gorgeous book. Dishes take on new twists such as Long Island potato salad with blue cheese and honey vinaigrette, Potato cheesecake with caramel crust, and BLT macaroni salad with ham crisps that make me long for home. The Hamptons Kitchen will inspire you to head to the kitchen and bring the flavors of the beach to your home.