An apple a day
October 13, 2020 by Darcie
Along with magnificent leaf colors, a crispness to the air, and noticeably shorter days, a sure sign that fall is underway are the stacks of shiny apples at the local market. There are over 7,000 named types of apples, and although most guides to apple varieties stick to only the top ten or so, every region has its own local favorites. Although the science on it is nascent, I believe that apples, like grapes, possess terroir. A variety grown in one orchard can taste quite different than the same one grown a few miles away. Several apple orchards in my area partner with the University of Minnesota to develop new varieties. The U of M has engineered many well-loved apple varieties including Honeycrisp, Zestar!®, SnowSweet®, and SweeTango®.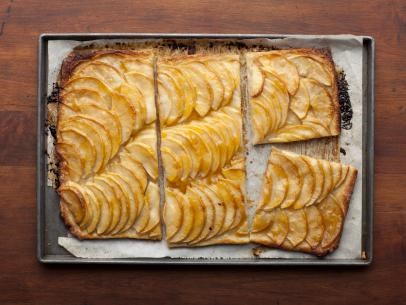 While grocery stores usually carry only three or four types, farmers' markets will boast dozens of heirloom or rare varieties. It can be difficult to make sense of all the names, but a few years ago The Splendid Table interviewed Amy Traverso, the author of The Apple Lover's Cookbook (an updated edition has just been published) and provided an excerpt that included a 'cheat sheet' that listed dozens of apples. The list was organized into categories ranging from firm-tart to tender-sweet. Last year, Mpls-St. Paul Magazine ranked the various Minnesota-developed apples, and I can't find much fault with the ratings. I'm currently on a SnowSweet kick because they are crunchy, sweet-tart and slow to discolor, making them great for cheese & fruit boards.
Apples are at home in everything from drinks to appetizers all the way through to desserts. The EYB Library will also help you make the most of your apples with more recipes as there are apple varieties. Try one of these Member favorites:
Last week's roundup was all about apples.