The Sourdough School – Cookbook Giveaway
October 14, 2020 by Jenny
Enter our US giveaway to win one of three copies of The Sourdough School: Sweet Baking: Nourishing the Gut & the Mind by Vanessa Kimbell.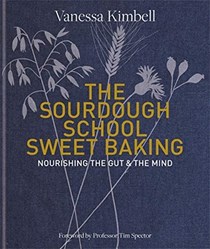 The Sourdough School: Sweet Baking is a valuable guide to exploring the techniques and ingredients involved in successful sweet sourdough baking. This book is a companion to the bestselling The Sourdough School, but focuses on sweet recipes that are gut-friendly and rely on natural sweetness where possible.
Classic recipes and new ideas for flavor combinations offer bakers an alternative method of baking. If it rises, it can be made with sourdough. Also featured are recipes for jams, syrups, and cultured butters to accompany your bakes.
Vanessa explains too how sourdough helps to maintain the health and diversity of your gut microbiome. New studies are unveiling links between the microorganisms in our gut and our mood and behavior, and Vanessa is at the forefront of sourdough research. While this is a beautiful baking title it is also an education in the science of sourdough.
The author begins with botanical blends that were inspired by standing in a field of grains and reflect the way the grains grow naturally. Wild oats, brome grasses, poppies, fragrant herbs, and more are featured in the blends shared. With stunning imagery and Vanessa's vast knowledge, this is a wonderful introduction and study of sourdough.
Special thanks to Kyle Books for sharing the following recipe with our members and providing three copies of this title in our giveaway below.
Carrot & walnut cake
Add this recipe to your Bookshelf (click the blue +Bookshelf button).
Serves 10
Diversity score:
Ingredients 21 + Diversity muesli 30 + Botanical blend 18 + = 69
The Gut Factor Increases levels of polyphenols
Suggested Botanical Blend No. 7: Spiced or No. 9: Eastern
Probiotic: Probiotic cream frosting
Most problems in life seem smaller when faced with a pot of tea, a slice of cake and time to chat. Here, I've combined Earl Grey with walnuts and a malt frosting for a gut microbiome-friendly version of a carrot cake. Black tea is a powerhouse of polyphenols like catechins, theaflavins and arubigens. These antioxidant compounds help prevent oxidative stress in the cells, which can also help mood and attention span. Studies show that the polyphenols in tea can help reduce the risk of stroke and cardiovascular diseases, as well as having antidepressant properties. Walnuts are also a source of polyphenols and ellagic acid, which is metabolised by gut microbes into anti-inflammatory compounds. One study suggested that the undigestible fibre in walnuts provides food for bacterial species in the gut that promote health and reduce inflammation.
In a large mixing bowl, mix together the starter, oil, syrup, orange zest, tea and sugar until smooth. In a separate bowl or small jug, beat the eggs until frothy, then stir them into the mixture. Add the orange juice, grated carrot and walnuts. Add the flour, vanilla powder and nutmeg and stir, ensuring everything is fully incorporated.
Grease 3 x 20cm (8-inch) round cake tins with butter and dust with muesli. Divide the mixture evenly between the tins, cover and leave overnight on the work surface. In the morning, the cakes will be risen to double their previous size. Preheat the oven to 180°C/350°F/Gas Mark 4.
Bake the cakes for 20–25 minutes, or until they are light golden and a skewer inserted into the sponge comes out clean. Turn off the oven, open the oven door and leave the cakes in the oven for 5 minutes to dry. Remove from the oven and leave to cool in the tins.
While the cakes are cooling, make the frosting. Place the butter, malt, labneh, vanilla extract and orange zest into a bowl and stir with a wooden spoon until it forms a paste. Now whisk using a hand or electric whisk until smooth and thoroughly blended.
Once completely cool, spread a third of the icing on one cake, place a second cake on top and spread with another third of the frosting. Place the remaining cake on top and spread with the remaining third of the frosting. Decorate with chopped walnuts and drizzle with date syrup. Eat fresh.
Starter Sweet or Sour
Ingredients
200g bubbly, lively starter or discard (page 114; see schedule)
150g sunflower oil
5 tablespoons date syrup
zest of 3 oranges and juice of 1 orange
100ml Earl Grey tea
100g soft light brown sugar
3 eggs, at room temperature
200g carrots, grated
100g walnuts, finely chopped
500g Botanical blend nos. 7 or 9, or stoneground wholegrain flour, sifted
2 teaspoons Ndali vanilla powder
1 teaspoon freshly grated nutmeg
butter, for greasing
3 tablespoons Diversity muesli (page 58), with fruit removed
For the probiotic cream frosting
150g Cultured butter, at room temperature
40g malt (optional)
1kg Malted orange labneh (page 76), at room temperature
3 teaspoons Ndali vanilla extract
zest of 2 oranges
To decorate
50g walnuts, chopped
3–4 tablespoons date syrup
DDT 22–23°C (72–73°F)

Schedule
Day 1-9pm – Refresh starter (first build)
Day 2-8am – Refresh starter (second build)
8pm – Mix dough and return the starter to the fridge (unless you are proceeding to a third build). Prove overnight.
Day 3-9am – Bake
11am – Decorate
Special thanks to the publisher who is offering three copies of this book to members in the US. Entry options include answering the following question in the comments section of this blog post.
Which recipe in the index would you try first?
Please note that you must be logged into the Rafflecopter contest before posting or your entry won't be counted. For more information on this process, please see our step-by-step help post and this forum post. Once you log in and enter your member name you will be directed to the next entry option – the blog comment. After that, there are additional options that you can complete for more entries. Be sure to check your spam filters to receive our email notifications. Prizes can take up to 6 weeks to arrive from the publishers. If you are not already a Member, you can join at no cost. The contest ends at midnight on April 26th, 2021.
a Rafflecopter giveaway