Toblerone Cookbook: 40 Fabulous Baking Treats
December 17, 2020 by Jenny
Enter our US giveaway to win one of three copies of Toblerone Cookbook: 40 Fabulous Baking Treats by Kyle Books.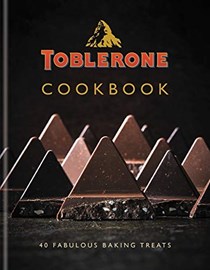 Toblerone's legendary almond and honey triangular chocolate bar is loved the world over and sold everywhere, from international airports to local corner shops.
This beautifully packaged, fabulously fun cookery book celebrates the versatility of this iconic chocolate bar (which comes in 10 different sizes, from fun to life size) and shares 40 fantastic foolproof recipes featuring all four Toblerone varieties – milk, fruit & nut, dark and white.
Covering everything from classics such as a decadent Black Forest Gâteau and irresistibly gooey Brownies to special occasion cakes for birthdays, Valentine's Day, Easter, Halloween, and Christmas, it also includes desserts and no-cook treats such as a Knickerbocker Glory, a Chocolate Fudge Mug Cake and Rocky Road, as well as gluten-free bakes that take cooking with this famous chocolate bar to the next level.
Special thanks to Kyle Books for sharing the simple but elegant recipe below with our members.
Three-Ingredient Chocolate Torte
This torte is light and mousse-like in texture. It's simple to make and only uses three ingredients! The torte will keep for 2–3 days in a sealed container in the fridge.
Serves 8–10, using a 20cm loose-based tin, greased and lined with greaseproof paper
Prep: 20 minutes
Cook: 25 minutes
200g unsalted butter, plus extra for greasing
300g TOBLERONE dark chocolate, plus extra for decorating
6 medium eggs, separated, yolks beaten
raspberries, blueberries or strawberries and whipped cream, to serve (optional)
1. Preheat the oven to 170°C/150°C fan/gas mark 3½.
2. Melt the butter and chocolate in a medium saucepan over a gentle heat. Stir with a wooden spoon until smooth, then pour into a mixing bowl and leave to cool for 5 minutes.
3. Put the egg whites in a clean mixing bowl and beat with an electric whisk until they form medium peaks. Add the beaten egg yolks to the melted chocolate mixture and stir together. Use a large metal spoon to fold the egg whites into the cake batter, being careful not to knock the air out of the mixture. Pour the batter into the prepared tin and bake for 25 minutes until risen and a little firm and cracked – this is normal! Leave to cool in the tin.
4. To serve, remove the torte from the tin and grate over some more chocolate. Serve with berries and whipped cream, if you like. Store in a sealed container in the fridge for 2–3 days.
Special thanks to the publisher for offering three copies of this title to our members in the US. Entry options include answering the following questions in the comments section of this blog post.
Have you ever tried Toblerone?
Please note that you must be logged into the Rafflecopter contest before posting or your entry won't be counted. For more information on this process, please see our step-by-step help post and this forum post. Once you log in and enter your member name you will be directed to the next entry option – the blog comment. After that, there are additional options that you can complete for more entries. Be sure to check your spam filters to receive our email notifications. Prizes can take up to 6 weeks to arrive from the publishers. If you are not already a Member, you can join at no cost. The contest ends at midnight on May 16th, 2021.
a Rafflecopter giveaway