The Lodge at Black Pearl Cookbook – Worldwide Giveaway
July 25, 2022 by Jenny
Enter our worldwide giveaway to win one of two copies of The Lodge at Black Pearl Cookbook by Vicky Mullaney.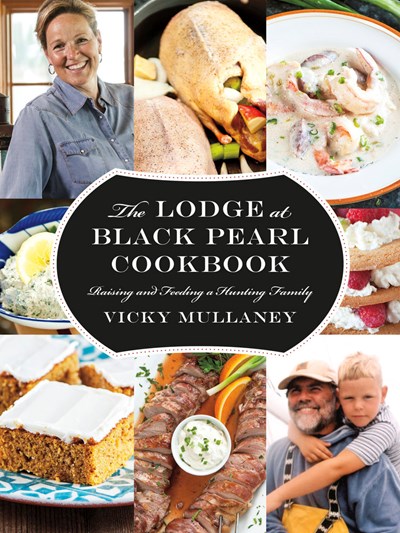 Black Pearl Farms consists of 870 acres of land in Dorchester County, Maryland with over five miles of waterfront and a couple hundred acres of flooded cropland. Each year they brush 32 blinds on the water or in flooded impoundments. (More information on brushing blinds). They grow milo, millet, corn, rice, and barley. All this makes an ideal habitat for ducks and geese and they get to see thousands of wild ducks each season. Hunters come from all over the country to enjoy unparalleled duck hunting, memorable meals, and compelling conversation. I am not a hunter but I want to spend some time at this beautiful locale.
Vicky is the lodge manager and cook. Her cookbook The Lodge at Black Pearl Cookbook is the culmination of her passions: cooking for family and friends, rearing strong children, and sharing a love of the outdoors. Vicky is a huntress, can cast a fly rod and butcher a deer. She grows oysters and farms. In addition to driving tractors and dump trucks, she cooks for both her family and the lodge guests from all over the world. You can take a look at some of her recipes on their website.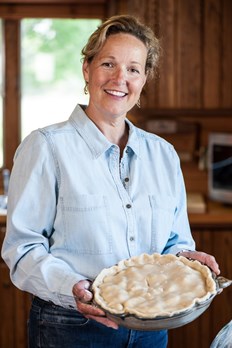 Vicky grew up in the countryside of Virginia where eating farm fresh foods and home cooked family meals was a way of life and she believes that family meals play an integral part in raising strong children and building great friendships. She has studied both French and Italian cooking and for the past three decades she has developed a unique blend of dishes which is clearly represented in the recipes in her book.
In The Lodge at Black Pearl Cookbook, she shares her beautiful life and dishes with us through gorgeous imagery. The first chapter begins with dishes served before sunrise and includes First flight apple dumplings and Larry's cinnamon rolls along with an array of muffins, egg dishes and more.
The appetizers chapter features the game and foods readily available at the Lodge for example Goose pastrami; Spiced duck meatballs and Black Pearl oysters with bacon. More traditional bites include a Spoonbill onion spread; Blue cheese dip or dressing; and Cheaspeake wings.
Next up are soups and stews with soul-warming Fireside onion soup; Choptank oyster stew and Curried potato-cheddar soup. These warm bowls of comfort are followed by salads and side dishes: Shrimp salad; Five stand potato salad; Gingered baby carrots; and a Sweet potato casserole that has me longing for November.
Main courses include Crab crepes; Goose strudel; Stewed chicken and sage dumplings and a stunner Grilled beef tenderloin that will impress any guest around your holiday table (or any given Sunday). Vicky ends her book with a dessert chapter that shares a little something for everyone from German chocolate cake; Wafer tower with raspberries and cream and a Black walnut potato cake.
For some of these recipes – you could easily switch out chicken for duck (adjusting cooking time) or goose and put your own spin on these tempting dishes. The best thing about this book (after the recipes that is) are the myraid photographs and stories of life at Black Pearl Lodge.
Vicky is planning a move across the country and would like to not ship the supply of this cookbook that she has remaining. You can purchase this beautiful book here and use the code EYB25OFF. Making the cookbook $20.00 US. This code expires on September 30th, 2022.
This is a gorgeous book that captures the spirit of Vicky, her family and the beautiful Black Pearl Lodge. I spent some time talking with Vicky a few months ago and she is one of the sweetest souls I have never met in person. Kind, passionate and she knows food and how to make family, friends and guests feel loved and taken care of with both hospitality and delicious meals.
Special thanks to the author for providing two autographed copies of this title in our promotion. Entry options include answering the following question in the comments section of this blog post.
Take a look at the recipes Vicky shares on her website and leave a comment about which one catches your eye.
Please note that you must be logged into the Rafflecopter contest before posting or your entry won't be counted. For more information on this process, please see our step-by-step help post. Once you log in and enter your member name you will be directed to the next entry option – the blog comment. After that, there are additional options that you can complete for more entries. Be sure to check your spam filters to receive our email notifications. Prizes can take up to 6 weeks to arrive from the publishers. If you are not already a Member, you can join at no cost. The contest ends at midnight on September 30th, 2022.
Photo credit: Black Pearl Lodge website.
a Rafflecopter giveaway