Linda Skeens Blue Ribbon Kitchen – Cookbook Giveaway
July 26, 2023 by Jenny
Enter our US giveaway to win one of three copies of Linda Skeens Blue Ribbon Kitchen Cookbook.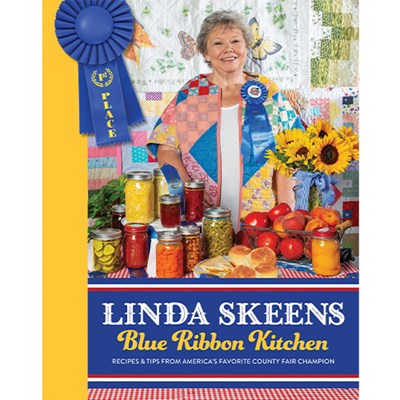 When Linda Skeens gained sudden and widespread fame for winning dozens of ribbons at the Virginia-Kentucky District Fair in the summer of 2022, people across the country began asking, "Who is Linda Skeens?"
Linda Skeens Blue Ribbon Kitchen Cookbook is her first-ever published collection of recipes and family stories. The Appalachian grandmother who's been cooking for her loved ones and entering county fairs for decades frequently took home the highest honors.
In her book, she shares more than 30 of her prize-winning recipes in addition to more than 70 other family-favorite dishes. From canning and fudges to stews and casseroles, this cookbook features a lifetime of recipes collected and perfected by Linda Skeens. Who can we trust more for the perfect recipes but a prize-winning grandmother?
We have five online recipes for our members to try now:
Special thanks to the publisher for providing three copies of this title in our promotion. Entry options include answering the following question in the comments section of this blog post.
Which recipe in the index would you like to try first?
Please note that you must be logged into the Rafflecopter contest before posting or your entry won't be counted. For more information on this process, please see our step-by-step help post. Once you log in and enter your member name you will be directed to the next entry option – the blog comment. After that, there are additional options that you can complete for more entries. Be sure to check your spam filters to receive our email notifications. Prizes can take up to 6 weeks to arrive from the publishers. If you are not already a Member, you can join at no cost. The contest ends at midnight on September 26th, 2023.
a Rafflecopter giveaway