Full Moon Suppers at Salt Water Farm
June 10, 2017 by Jenny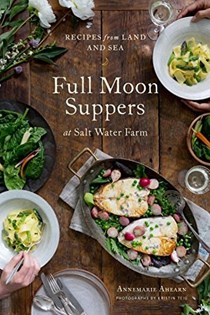 Full Moon Suppers at Salt Water Farm: Recipes from Land and Sea by Annemarie Ahearn is the debut title from the New York City chef who left her job in the big city and started a cooking school for home cooks in Maine.

Salt Water Farm is located in Lincolnville, Maine and shares menus that reflect the treasures of each season and also the spirit of the celebrated moon. For instance, May's Full Flower Moon had the table adorned with azaleas and daffodils and the meal starts with a fried chive blossom and continues with other fresh and seasonal dishes.

Lincolnville is a coastal idyllic town offering a gorgeous backdrop for Annemarie's school and the Full Moon Suppers she hosts from June to October. It is books like this that make me yearn to travel – a very big compliment to the beauty and feel of its pages – as this is usually something I reserve for exotic locations.

This cookbook brings homespun rustic dishes with the feel of elevated cuisine to our table served up with stunning photographs. Recipes such as Marmalade Cake with Crème Fraîche, Red Wine Braised Chicken with Chicken of the Woods, Bacon and Savory Herbs, and Cinnamon Rice Pudding with Cara Cara Oranges, Medjool Dates, and Wildflower Honey all will urge us into the kitchen.

Annemarie has a full tour planned to promote her debut book – be sure to see if she is in your area.

Special thanks to Roost Books and the author for sharing this dessert with our members. Be sure to head over to our contest page where we are giving away five copies – open to US and Canada members.
Rhubarb Galette with Hazelnut Crust and Vanilla Ice Cream

A galette is a simple variation on a pie. It requires just one crust and is perfect for groups of six, but it can be stretched to serve eight. This recipe calls for ground hazelnuts in the crust, but ground almonds or walnuts would also be delicious. When making a galette, do not overfill the crust, as it will leak and become difficult to manage.

Serves 8
For the crust
1¼ cups all-purpose flour
¾ cup finely ground hazelnuts
¼ teaspoon kosher salt
12 tablespoons cold unsalted butter
1 to 2 tablespoons cream
For the filling
3 cups rhubarb (4 or 5 stalks), chopped into ½-inch pieces
1 cup sugar
2 tablespoons all-purpose flour
1 teaspoon vanilla extract
For the egg wash
1 egg
1 tablespoon cream
2 tablespoons melted butter
Preheat the oven to 375°F. In a medium-size mixing bowl, combine flour, hazelnuts, and salt. Work cold butter into the dry ingredients with your fingers until the mixture resembles coarse meal. Add just enough cream to bring the dough together. Form into a ball, wrap in plastic, and let rest in the refrigerator for 20 minutes.
In another medium-size mixing bowl, combine the rhubarb, sugar, flour, and vanilla extract and let sit for 20 minutes, until the rhubarb releases its juices.
Between two pieces of parchment paper, roll out the chilled galette dough into a 9- to 10-inch round, large enough to reach the long edges of a rectangular sheet pan. Peel away the top sheet of parchment and transfer the bottom piece with the dough to your sheet pan, paper side down. With a slotted spoon, pile the rhubarb in the center of the dough and push it out to the sides, leaving about 1½ inches of dough around the edges.
Transfer the remaining rhubarb juice into a small saucepan and over medium-high heat reduce the liquid to about 4 tablespoons. The resulting syrup should be thick and sticky. Turn off the heat and let stand.
Use the parchment paper to pull the dough up and over the rhubarb, folding it over the filling. Repeat all around the galette, pressing the dough into the previous fold where it overlaps to prevent leakage.
In a small bowl, whisk together the egg, cream, and melted butter. Brush the crust with the egg-wash mixture. Bake the galette for 30 minutes, turning the pan after 15 minutes. About 10 minutes before the end of the bake time, pour the reduction syrup over the filling. Remove galette from the oven when it is golden brown and let it cool for 10 to 15 minutes. Serve warm with vanilla ice cream.
From Full Moon Suppers by Annemarie Ahearn, © 2017 Photographs by Kristin Teig. Reprinted by arrangement with Roost Books, an imprint of Shambhala Publications, Inc. Boulder, CO.
Add this recipe to your Bookshelf (click the blue +Bookshelf button)
Seen anything interesting?
Let us know
& we'll share it!