Leaf – Cookbook Giveaway
October 7, 2019 by Jenny
Enter to win a copy of Leaf: Lettuce, Greens, Herbs, Weeds: 120 Recipes That Celebrate Varied, Versatile Leaves by Catherine Phipps in our giveaway below.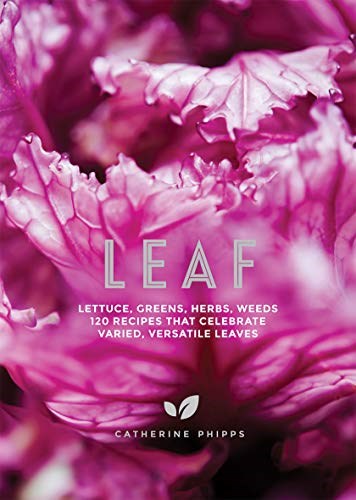 Leaf is not a book about salads. True there are salad recipes shared in this beautifully photographed title but the scope of recipes is far more reaching. From herb jellies and sauces, soups, seafood and meat dishes, vegetarian main courses to desserts, these recipes are unique and varied offerings that celebrate leaves in all their glory.
Cabbage potstickers, Herb pies, Braised chicken with coriander, chilli and orange, and a Pear and rosemary upside-down cake are just a few of the standouts in this book filled with recipes that will add more versatility to your menus. I urge you to peruse the index yourself. For instance, Russian caravan gypsy tart or Basil and Kaffir lime leaf cheesecakes look absolutely mind-blowingly good and are something I've never come across before. Having just received the book this weekend, I haven't had a chance to get cooking. There is only one problem though each time I open the book I find something new and exciting to try.
When Diana Henry, picks Leaf as one of her top twenty books of fall, you know the book is great.
Our
takes you inside this stunning book and features the following
Many thanks to the publisher for providing three copies of the above-referenced title in our giveaway open to EYB Members in the US, UK, AU and NZ. One of the entry options is to answer the following question in the comments section of this blog post.
Which recipe in the index would you try first?
Please note that you must be logged into the Rafflecopter contest before posting or your entry won't be counted. For more information on this process, please see our step-by-step help post and this forum post. Once you log in and enter your member name you will be directed to the next entry option – the blog comment. After that, there are additional options that you can complete for more entries. Be sure to check your spam filters to receive our email notifications. Prizes can take up to 6 weeks to arrive from the publishers. If you are not already a Member, you can join at no cost. The contest ends at midnight on December 16th, 2019.
a Rafflecopter giveaway