The Outdoor Kitchen Cookbook Giveaway
April 14, 2020 by Jenny
Enter our US giveaway to win one of three copies of The Outdoor Kitchen: Live-Fire Cooking from the Grill by Eric Werner and Nils Bernstein.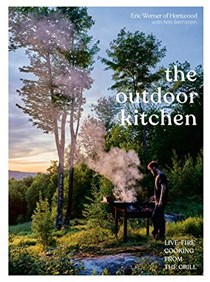 The Outdoor Kitchen: Live-Fire Cooking from the Grill by Eric Werner is the long-awaited second title from the chef behind Hartwood. To learn more about Hartwood, the restaurant and the cookbook, please see this review.
From instructions on how to build your own outdoor kitchen including setting up the grill, smoker, and buying the wood to recipes that will spark inspiration, this book is a dream. Chicken legs with onion and smoked date jam or Grilled banana trifle with toasted peanut streusel aren't your typical grilling recipes but Eric Werner isn't your typical chef.
Werner's innovation is what draws people to the jungles of Tulum and makes the wait to dine at Hartwood worth the effort. The photography here is stunning (as was in the first book) and will encourage even those who aren't drawn to cooking with live fire to light up the grill.
Our
takes you inside this beautiful book and features the following
Special thanks to Ten Speed Press for providing the materials needed for our EYBD Preview above and offering three copies of this title in our giveaway below.
Special thanks to Ten Speed Press for offering three copies of the above-referenced title in our giveaway. Entry options include answering the following question in the comments section of this blog post.
Which recipe in the index would you try first?
Please note that you must be logged into the Rafflecopter contest before posting or your entry won't be counted. For more information on this process, please see our step-by-step help post and this forum post. Once you log in and enter your member name you will be directed to the next entry option – the blog comment. After that, there are additional options that you can complete for more entries. Be sure to check your spam filters to receive our email notifications. Prizes can take up to 6 weeks to arrive from the publishers. If you are not already a Member, you can join at no cost. The contest ends at midnight on October 24th, 2020.
a Rafflecopter giveaway