Everyday Barbecue – Cookbook Giveaway
August 11, 2020 by Jenny
Enter our giveaway open to US/CA/AU/NZ/UK to win one of three copies of Everyday BBQ: All Year Outdoor Grilling by Andreas Rummel.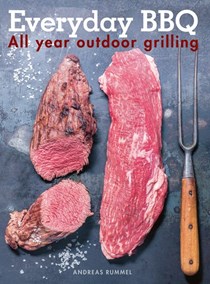 With this new reference work on barbecuing, the season can last all year long! Learn how to prepare perfect meats, fish, and vegetables and discover creative marinades and dips that will stun your guests. Vegetarians, too, will have plenty to love in this sumptuous volume.
The book begins with tutorials on grills and equipment and as stated above covers all recipes including dessert! Philly cheesesteak, Catfish fillet with fennel, and Italian style French toast are just a few examples of the dishes here. From straightforward to imposing, the recipes in this book will keep you barbecuing every day – no matter whether gas or charcoal.
Our
takes you inside this beautiful book and features the following
Special thanks to Grub Street for offering three copies of Everyday BBQ: All Year Outdoor Grilling in our giveaway. Entry options include answering the following question in the comments section of this blog post.
Which recipe in the index would you try first?
Please note that you must be logged into the Rafflecopter contest before posting or your entry won't be counted. For more information on this process, please see our step-by-step help post and this forum post. Once you log in and enter your member name you will be directed to the next entry option – the blog comment. After that, there are additional options that you can complete for more entries. Be sure to check your spam filters to receive our email notifications. Prizes can take up to 6 weeks to arrive from the publishers. If you are not already a Member, you can join at no cost. The contest ends at midnight on January 25th, 2021.
a Rafflecopter giveaway