Fermentation Cookbook & Fermentation Crock Giveaway
November 6, 2020 by Jenny
Enter our US/CA/UK giveaway to win one of three copies of Fermentation: How To Make Your Own Sauerkraut, Kimchi, Brine Pickles, Kefir, Kombucha, Vegan Dairy, And More by Åsa Simonsson with one US winner receiving a fermentation crock from Humble House.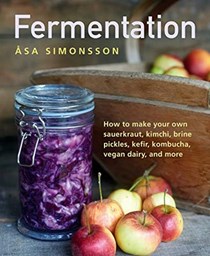 Fermentation was awarded the best fermentation book (UK) in the 2020 Gourmand Cookbook Awards and rightfully so. Åsa begins by explaining how to get started fermenting, explaining bacteria, Lacto-fermentation, probiotics, and prebiotics and the health benefits of ferments. She delves into when ferments can help and when to avoid them.
From details about the ingredients used in fermentation such as water, salt, and starters, to the equipment and the storing your ferments, the author covers it all. Our
takes you inside this beautiful book and features three recipes for Curried cauliflower kraut, Cultured spicy ketchup, and Paprika and sun-dried tomato nut cheese.
Humble House is a niche small business based in Wisconsin. They provide fermented food lovers with affordable quality home fermentation equipment and simplified home fermentation guidance, ranging from quick tips to complete recipes.
To begin fermenting, Humble House would like to give one of our US members a SAUERKROCK Fermentation Crock. They sent me one of these beauties to review and I was so impressed I ordered one as a gift for a friend as a birthday gift. The 2-liter crock comes with glazed weights. It can be used for fermenting sauerkraut, kimchi, pickles, and more. I am impressed by the quality of this crock and the care that the folks behind Humble House take in their customer service. It is a great size for a home fermenter.
I am starting a batch of sauerkraut next week. I was waiting for cooler weather to begin as I am new to fermentation. Then in mid-October, the flu bug bit and I am playing catch-up. We love sauerkraut and kimchi here so I'll be using this crock frequently. I plan to have a kraut-off with my friend whom I gifted a crock.
One of the options in the Rafflecopter is to follow Humble House on Instagram. They are trying to build their following and they share great food-related posts and cute baby and dog photos!
Special thanks to Lorenz Books and Humble House.
Special thanks to the publisher for offering three copies of this award-winning book to our members in the US/CA/UK and to Humble House for providing one US winner their fermentation crock set. Entry options include answering the following questions in the comments section of this blog post.
Have you done any at-home fermenting?
Visit Humble House's website and leave a comment about which recipe on their site you would like to make.
Please note that you must be logged into the Rafflecopter contest before posting or your entry won't be counted. For more information on this process, please see our step-by-step help post and this forum post. Once you log in and enter your member name you will be directed to the next entry option – the blog comment. After that, there are additional options that you can complete for more entries. Be sure to check your spam filters to receive our email notifications. Prizes can take up to 6 weeks to arrive from the publishers. If you are not already a Member, you can join at no cost. The contest ends at midnight on March 16th, 2021.
a Rafflecopter giveaway