The Kitchen Without Borders – Cookbook Giveaway
April 1, 2021 by Jenny
Enter our US/CA giveaway to win one of two copies of The Kitchen Without Borders: Recipes and Stories from Refugee and Immigrant Chefs by Eat Offbeat Chefs.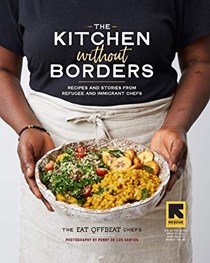 This special book began as a Kickstarter campaign which then found a publisher: Workman. As an early backer of this project, I was fortunate to receive the book in June of 2020 instead of on publication date, March 2, 2021. Profiles of the chefs are shared from Eat Offbeat along with recipes from their ethnic backgrounds. Chef Dhuha's Potato kibbeh (Iraq), Chef Rachana's Samosas (Nepal), and Chef Larissa's Red pepper soup (Central African Republic) are just some examples of the dishes in this lovely book filled with photographs.
I read hundreds of cookbooks each year. The titles that strike a chord in me are those that bring the world to me. We need to hear the voices of our refugee and immigrant population, we need to listen and learn from other cultures and embrace our differences and learn from them. We need to knock down walls and build pathways to acceptance of those small things that make us special. Food is a great equalizer.
We all need nourishment and each of us brings something to the table that is uniquely our own whether it be sharing a dish from our culture, a story to contribute to the conversation, a bottle of our favorite wine, a flower for the cook, or a smile to brighten a day. The Kitchen Without Borders book is a beautiful testament to the brilliance that each of us, whether refugee, immigrant or native, has to offer.
Our
takes you inside this beautiful book and features the following
And the bonus of buying this cookbook is the following:
Special thanks to the publisher for providing two copies of this title in our promotion. Entry options include answering the following question in the comments section of this blog post.
Which recipe in the index would you like to try first?
Please note that you must be logged into the Rafflecopter contest before posting or your entry won't be counted. For more information on this process, please see our step-by-step help post and this forum post. Once you log in and enter your member name you will be directed to the next entry option – the blog comment. After that, there are additional options that you can complete for more entries. Be sure to check your spam filters to receive our email notifications. Prizes can take up to 6 weeks to arrive from the publishers. If you are not already a Member, you can join at no cost. The contest ends at midnight on July 4th, 2021.
a Rafflecopter giveaway