Super Natural Simple – Cookbook Giveaway
April 11, 2021 by Jenny
Enter our US giveaway to win a copy of Super Natural Simple: Whole-Food, Vegetarian Recipes for Real Life by Heidi Swanson.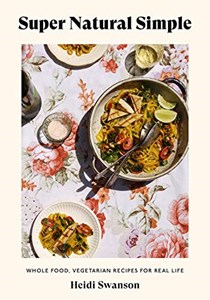 Super Natural Simple shares more than 120 whole-food, vegetarian recipes for quick weeknight meals full of flavor, spice, color, and nutrition from the New York Times bestselling author of Super Natural Cooking. Eat Your Books also indexes Heidi's blog and you may add those 872 recipes (at this time) to your bookshelf.
If you're looking for approachable ways to work more vegetables and whole foods onto your plate, this book is for you. In this artfully photographed collection which includes 150 photographs, Heidi presents recipes with short ingredients lists, make-ahead techniques, and clever methods to create high-impact meals.
The magic and benefits of cooking with nutrient-dense plants, fruits, vegetables, whole grains, and other natural foods are real. Spices like turmeric, cinnamon, cumin, paprika, and chiles are shown to have health-protecting qualities while herbs contribute powerful phytonutrients to prevent disease and keep our bodies working properly. Staying connected to what you eat is one of the most impactful ways to support your health and well-being.
This book features recipes for make-ahead mornings, weeknight noodles, one-bowl baking, the best salads, nourishing soups and stews, easy-drinking refreshers, single skillets, sheet-pan meals, and easy grills, while a power pantry provides the staples you'll want to have on hand.
Our
takes you inside this beautiful book and features the following
Special thanks to the publisher for providing one copy of this title of in our US giveaway. Entry options include answering the following question in the comments section of this blog post.
Which recipe in the index would you try first?
Please note that you must be logged into the Rafflecopter contest before posting or your entry won't be counted. For more information on this process, please see our step-by-step help post and this forum post. Once you log in and enter your member name you will be directed to the next entry option – the blog comment. After that, there are additional options that you can complete for more entries. Be sure to check your spam filters to receive our email notifications. Prizes can take up to 6 weeks to arrive from the publishers. If you are not already a Member, you can join at no cost. The contest ends at midnight on July 11th, 2021.
a Rafflecopter giveaway