Getaway – Cookbook Giveaway
May 17, 2021 by Jenny
Enter our US/Canada giveaway to win one of three copies of Getaway: Food and Drink to Transport You by Renee Erickson.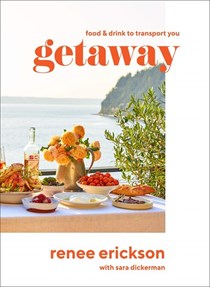 Renee Erickson, author of the spectacular cookbook A Boat, a Whale & a Walrus: Menus and Stories is providing us a virtual getaway in her latest book aptly named Getaway: Food and Drink to Transport You.
The acclaimed chef, restaurateur, and artist invites you on a culinary journey via her favorite places in the world – Rome, Paris, Normandy, Baja California, London, and her hometown, Seattle. Equally aspirational travelogue and practical guide to cooking at home, the book offers 120 recipes and 60 cocktail recipes for simple meals that evoke the dreamiest places and cuisines. From not-too-intricate cocktails and snacks to effortless entrées, these are the recipes that inspire Erickson and make for relaxed, convivial evenings, whether at home or abroad.
Showcasing Erickson's appealing and high-style aesthetic and featuring gorgeous photography and hand-drawn illustrations, this book offers a richly visual survey of beautiful, easy ways to escape the everyday, with meals that you will want to eat every day.
Our
takes you inside this beautiful book and features the following
Special thanks to Abrams books for offering three copies of Getaway in our giveaway open to US/Canada. Entry options include answering the following question in the comments section of this blog post.
Which recipe in the index would you try first?
Please note that you must be logged into the Rafflecopter contest before posting or your entry won't be counted. For more information on this process, please see our step-by-step help post and this forum post. Once you log in and enter your member name you will be directed to the next entry option – the blog comment. After that, there are additional options that you can complete for more entries. Be sure to check your spam filters to receive our email notifications. Prizes can take up to 6 weeks to arrive from the publishers. If you are not already a Member, you can join at no cost. The contest ends at midnight on July 17th, 2021.
a Rafflecopter giveaway