Chasing Smoke – Cookbook Giveaway
July 7, 2021 by Jenny
Enter our US and UK giveaway to win one of four copies of Honey & Co: Chasing Smoke: Cooking Over Fire Around the Levant by Sarit Packer and Itamar Srulovich.
The husband and wife team of Sarit Packer and Itamar Srulovich could write a book about boiling water and I'd be in line to buy it. Their work is nothing short of spectacular. For their latest title, Honey & Co: Chasing Smoke, Sarit and Itamar have focused on cooking with fire. They have been chasing smoke their whole lives as they state "where there's smoke, there's fire. Where's there's fire, there is delicious food to share, and friendships, and memories to make." Grab this book and make some memories of your own. The couple have events in the US and UK scheduled as well as cooking classes set up for August.
Below are five outstanding recipes that you can add to your bookshelf and try! Be sure to keep scrolling to the end in order to enter our giveaway.
---
Grilled stone fruits with rosemary and rose syrup
Add this recipe to your Bookshelf (click the blue +Bookshelf button)
Sarit and Itamar say: "Summer's stone fruits react particularly well to being grilled: their sweetness intensifies in the heat and is countered by a hint of smoke. If you have roses in full bloom when making this dish, it would be a shame not to use the fragrant petals to make the syrup to bathe the fruit.
"Waiting until the barbecue has reduced in heat to a lovely smoulder is key here, making this dish perfect to round off the evening. It is delicious served hot with cold vanilla ice cream or, once cooled, with sour cream and some shortbread."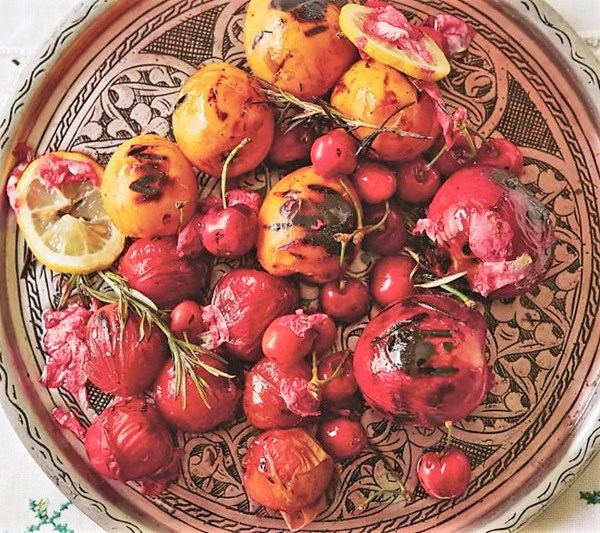 Serves 4–6
Ingredients
4 peaches and/or nectarines
6 loquats and/or apricots
8 small plums
20–24 cherries
a few sprigs of rosemary
For the syrup:
70g sugar
50ml water
petals from 2 organic roses (or 1 tbsp rose water)
2 thin slices of lemon
Method
You can either place all the fruit on the grill in one go, turning occasionally, and take them off as they cook, or start with the peaches as they will need the longest (about 6–8 minutes), then add the apricots (5–6 minutes), then the plums (about 2–3 minutes) and finally the cherries for just a minute to loosen their flavour and juices.
Add the whole sprigs of rosemary to the grill for a few seconds to enliven the oils and then put the grilled fruit and rosemary in a serving bowl.
Mix the sugar with the water, rose petals and lemon slices in a small saucepan and bring to a boil on the side of the grill. Allow to cook for 3 minutes, then carefully pour over the fruit.
---
Whole burnt aubergines with charred egg yolk, tahini and chilli sauce
Add this recipe to your Bookshelf (click the blue +Bookshelf button)
Samit and Itamar say: "This is the essence of our food, distilled into a single dish. It is inspired by the first whole burnt aubergine we ever ate, served with a smattering of grated tomato, at a very famous Jerusalem establishment we both love. It has since become a staple at every barbecue, and in our restaurant Honey & Smoke.
"Burning the aubergine really brings out the best in this slightly bland vegetable. Don't hold back – by the time you're done, the skin should be blackened and the flesh so soft it can easily be scooped out with a spoon."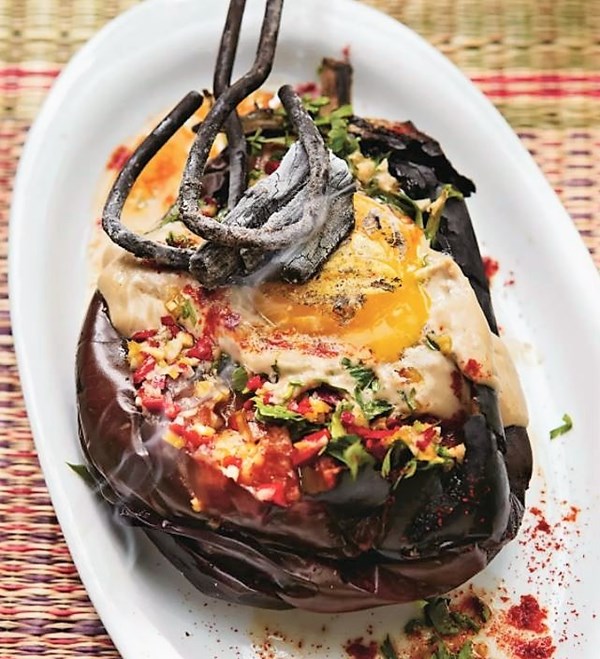 Serves 2 as a meal
Ingredients
2 aubergines (eggplants)
50g tahini paste
50ml ice-cold water
2 egg yolks from beautiful eggs

For the lemon, chilli and garlic dressing:
1 red chilli, deseeded and finely chopped (about 10g)
1 green chilli, deseeded and finely chopped (about 10g)
3 large garlic cloves, peeled and finely chopped (about 20g)
juice of 1–2 lemons (about 80ml)
1 tsp table salt
1 tsp ground cumin
1 tsp caster sugar
2 tbsp olive oil
1 bunch of parsley, leaves picked and chopped (about 30g)
Method
Place the whole aubergines on a very hot grill, or directly on the embers if you prefer. Let them scorch all over, turning occasionally, until the skin is charred and the flesh is so soft that it seems they are going to collapse.
While the aubergines are cooking, combine all the dressing ingredients apart from the chopped parsley. Separately mix the tahini paste with the water to form a thick whipped cream consistency.
Once the aubergines are fully blackened, remove from the grill onto serving plates and slit open to reveal the flesh.
Add the parsley to the dressing and mix well. Use half the dressing to douse the flesh of the slit aubergines, then top with the whipped tahini.
Use the back of a spoon to create a little well in the tahini and place a raw egg yolk in the centre of each one. Using tongs, carefully remove a hot charcoal from the fire and lightly char the top of each yolk.
Return the coal to the fire and drizzle the remaining dressing over the aubergines before serving.
To cook without a barbecue:
Cook the aubergines on your highest grill setting or in a super-hot oven at 240°C/220°C fan/gas mark 9, remembering to pierce them with a fork beforehand, as they have a tendency to explode.
Scorch one side, then rotate and char the next section until the flesh of the aubergine is completely soft.
Use a blow torch to scorch the surface of the egg yolk, or simply heat the back of a spoon over a flame and use that instead.
---
Grilled watermelon and prawns with feta and chilli
Add this recipe to your Bookshelf (click the blue +Bookshelf button)
Sarit and Itamar say: "Cooking the prawns with the shell on allows them to stay juicy and moist while taking on the great smoky flavour from the barbecue. If you use pre-peeled prawns they will only need a really fast flash on the grill, to avoid over-cooking."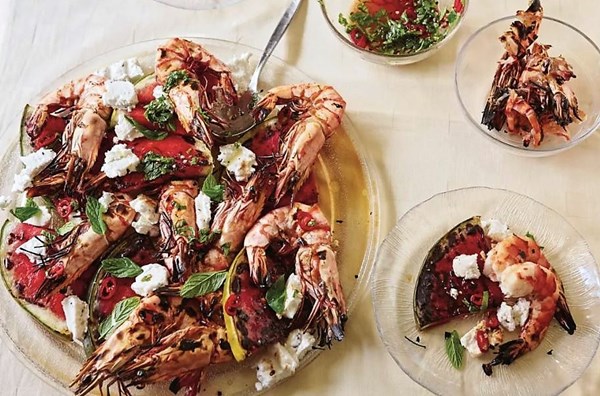 Serves 4 as a light lunch
Ingredients
12 large prawns or 16 smaller ones, whole and with shell on
half a small watermelon (or 2 thick slices of a large watermelon)
1 red chilli, sliced into rings
2 tbsp red wine vinegar
½ tsp salt
250g sheep's feta
1 small bunch of mint, leaves picked, half of them chopped, the rest left whole
3 tbsp olive oil, plus a little more for brushing on the watermelon
1 tsp roughly crushed black pepper
Method
To prepare the prawns, use a sharp serrated knife to score a slit down the back shell of each one, cutting through the flesh to reveal the digestive string. Remove it with the tip of the knife.
Put the cleaned prawns in a bowl in the fridge until you are ready to cook (once you start, you will only need 15 minutes to get this dish to the table).
Cut the watermelon into eight large wedges, keeping the skin on. Mix the chilli slices with the vinegar and salt, and set aside while you build your barbecue to a high heat with lovely glowing embers.
Start by grilling the watermelon – simply brush the pieces with some olive oil and lay them flat on the hottest part of the grill for about 1–2 minutes each side. You want to form black grid marks on the flesh, as this will intensify the flavour and sweeten the fruit.
Remove the melon to a side platter, then grill the prawns for 3 minutes on each side (2 minutes for smaller ones) or until they turn bright pink.
Add the prawns to the watermelon, crumble the feta over them, and scatter with the whole picked mint leaves.
Just before serving, stir the olive oil, black pepper and chopped mint into the marinating chilli and drizzle all over the platter.
Serve immediately with a finger bowl and another bowl for shells.
To cook without a barbecue
Use a lightly oiled, preheated griddle pan on your stove and cook just as you would on the fire.
---
Tahini BBQ lamb chops with fresh plums and spiced plum sauce
Add this recipe to your Bookshelf (click the blue +Bookshelf button)
Samit and Itamar say: "If you can, buy nicely trimmed lamb racks without too much of a fat cap, so that you don't need to worry about rendering fat off them before dividing into individual chops. Be forewarned, though: there will be a fair amount of smoke while cooking these, so they are best grilled outside.
"We use tahini in a few different versions of barbecue sauce, as the sesame paste lends itself so well to roasted meats, adding a rich nutty note. Here we include anchovies for a savoury touch and pomegranate molasses for sweetness.
"The accompanying plum sauce is like a chutney or Chinese plum sauce, with its sweet, sour and spicy flavours. It partners perfectly with these rich barbecue chops, and also works amazingly with a simple roast chicken or duck. The barbecue and plum sauces can either be made shortly before grilling the chops, or up to a couple of days in advance."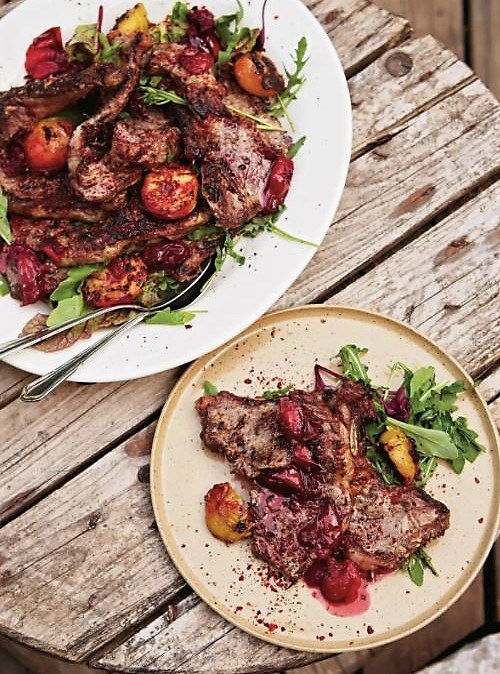 Serves 4–6
Ingredients
2 racks of lamb, divided into 12–14 single chops
100g baby red chard (or lamb's lettuce)
4 plums, halved and stones removed
For the tahini barbecue sauce:
150g tahini paste
1 clove of garlic, peeled and minced
2 salted anchovies, chopped
1 tsp pul biber chilli flakes (or Aleppo)
2 tbsp pomegranate molasses
100ml water, plus more if needed
1 tsp flaky sea salt
For the spiced plum sauce:
6 plums, cut into eighths and stones removed
50g sugar
1 clove of garlic
1 whole dried chilli, cracked in half and seeds shaken out
1 tsp Szechuan pepper
1 bay leaf
3 tbsp pomegranate molasses
½ tsp flaky sea salt
1 tbsp red wine vinegar
Method
Use a stick blender or a small food processor to blitz the barbecue sauce ingredients to a smooth, thick paste. You may need to add a little more water to reach the desired custard-like consistency, depending on the variety of tahini. You can use the barbecue sauce straight away or keep it in the fridge for a day or two until needed.
Put the plum wedges, sugar, garlic, spices, bay leaf and pomegranate molasses in a small frying pan, place over a high heat and bring to the boil. Cook for 5 minutes until the plums soften and start falling apart, then remove from the heat and stir in the salt and vinegar. You can use this straight away, or cool and store in the fridge for a few days.
When you are ready to cook, brush half of the barbecue sauce over the chops, coating both sides. You will need the rest of the barbecue sauce to brush on the chops as they grill.
Place the chops one by one on the rack above a hot barbecue. Grill for 2 minutes, then turn them over and brush with some more sauce.
Grill for another 2 minutes before turning them back over and basting again.
Repeat the grill-turn-baste process until the chops have cooked for a total of 6 minutes on each side.
Remove to a serving platter with the baby chard spread over it.
Pop the plum halves on the barbecue, cut-side down. Grill for a minute or so just to warm a little, then add to the platter with the chops. Serve with the plum sauce on the side.
To cook without a barbecue
Use a lightly oiled, preheated griddle pan on your stove and cook just as you would on the fire. But have your extractor fan on full blast, as it will get very smoky!
---
Tuna shish with chermoula and preserved lemons
Add this recipe to your Bookshelf (click the blue +Bookshelf button)
Samit and Itamar say: "Tuna is a very robust fish so it cooks beautifully on a barbecue, it retains flavour and moisture and the slight smoke works so well with the oiliness of the fish.
"The chermoula paste is a spicy lemony number that adds real zing – it will keep well in your fridge for a few days, so if there is any leftover or you are inclined to double the amount you make, it will work well in a tinned tuna salad or in a sandwich with salted or cured beef. Serve the shish with baked potatoes for a hearty meal."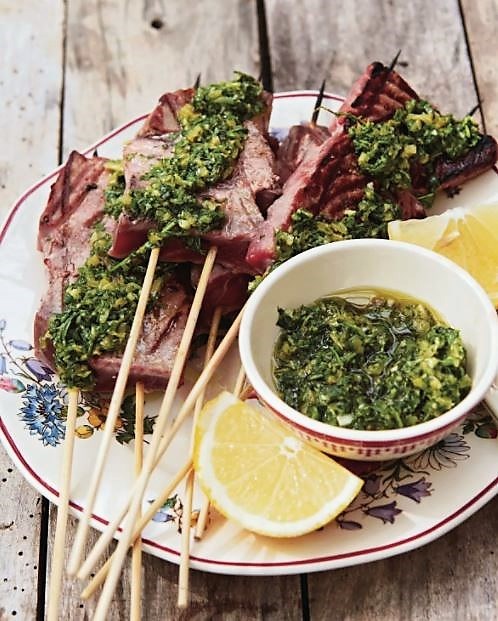 Makes 4 skewers – allow 2 per person for a meal
Ingredients
2 good, quality, thick tuna steaks (about 400g in total)
a drizzle of olive oil, for brushing
flaky sea salt
freshly ground black pepper
juice of half a lemon
For the chermoula:
2 preserved lemons, skin only (pulp and seeds removed)
1 clove of garlic
½ red chilli
1 bunch of coriander, top part only
½ bunch of parsley, leaves picked
freshly ground black pepper
½ tsp ground coriander
about 50ml olive oil
Method
We like to make this chermoula by hand, chopping everything until very fine, then mixing it with the oil in a small bowl. You could use a pestle and mortar instead to pound the ingredients, in which case add the oil at the end once everything else is well-combined.
Cut each tuna steak into four large cubes and thread two on each skewer. Brush well with olive oil, sprinkle with salt and pepper, and place on a very hot grill to cook and char nice lines.
Turn the skewers after a minute and repeat twice more to char the tuna cubes for a minute on each side. We rather like the interior a little raw, but if you don't, simply cook for 30 seconds more on each side.
Remove from the grill, douse with the lemon juice, then top with the chermoula.
To cook without a barbecue
Use a lightly oiled, preheated griddle pan on your stove and cook just as you would on the fire. Or you could simply use a non-stick frying pan.
---
Recipe excerpts from: Chasing Smoke: Cooking Over Fire Around The Levant by Sarit Packer and Itamar Srulovich (Pavilion). Photography: Patricia Niven
Special thanks to the publishers for providing four copies of this title in our promotion. Two copies to US members and two copies to UK members. Entry options include answering the following question in the comments section of this blog post.
Which recipe in the index would you like to try first?
Please note that you must be logged into the Rafflecopter contest before posting or your entry won't be counted. For more information on this process, please see our step-by-step help post. Once you log in and enter your member name you will be directed to the next entry option – the blog comment. After that, there are additional options that you can complete for more entries. Be sure to check your spam filters to receive our email notifications. Prizes can take up to 6 weeks to arrive from the publishers. If you are not already a Member, you can join at no cost. The contest ends at midnight on September 27th, 2021.
a Rafflecopter giveaway