Upper Crust and Emile Henry Epi bread baker giveaway & Quick Bites with Marie-Laure Frechet
December 27, 2021 by Jenny
Enter our US giveaway to win a copy of Upper Crust: Homemade Bread the French Way by Marie-Laure Frechet along with an Emile Henry Epi bread baker.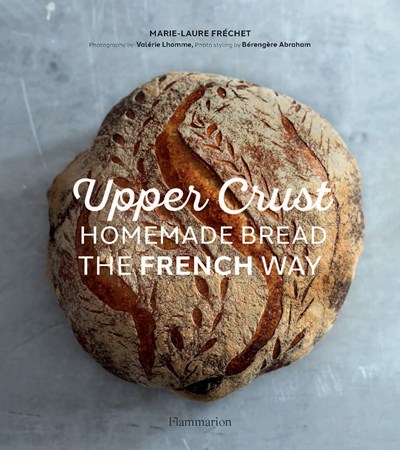 In this stunning book, eighteen bakers share their knowledge and recipes in book that is more like a piece of art and a trip to the best of bakeries in the world. The first 200 pages are devoted to the mechanics and technique of bread baking: scoring, kneading and more with a wealth of information and photographs. The recipes start on page 201 and they are impressive and labeled per difficulty level. There is a chapter on traditional breads from all around the world, such as pita, focaccia, bagels, Georgian khachapuri, and Norwegian polar bread are reinterpreted in the French style. This title is a must have for the bread baker.
There are five online recipes for you to try now:
---
Marie-Laure took time to answer a few questions for us:
As a food journalist, Marie-Laure Fréchet likes eating as much as she likes talking about cooking. She lives in Northern France and eagerly defends her region's gastronomy and chefs, particularly through Mange, Lille!, the food festival that she created in 2013. She writes for several food magazines and has penned books on cooking. She recently took a keen interest in baking, from bread to pastry. She is the author of Encyclopédie du pain maison (2019), Encyclopédie de la viennoiserie (2020) and Encyclopédie de l'alimentation Durable (2021), all published by Flammarion. You can follow Marie-Laure on Instagram here.

Q: What first triggered your interest in baking? Do you remember your first baking memory?
I first got interested in bread making when I met the wonderful baker Roland Feuillas (who is present in the book). Thanks to him, I rediscovered the simplicity of bread. Bread is way more than just bread: first there is a cereal that is (or should be) cultivated in a particular way, but also and above all it goes through the magical process of fermentation. Talking with Roland for hours obviously made me want to try baking my own bread and since then, I haven't stopped.
When I think about my first tries, I have to admit it was a complete failure. My family still jokes about these loafs so hard they could kill ducks if we tried to feed them with them, like in the movie About A Boy!

Q: If you had to describe your baking style, what would it be?

I'm not looking for professional results, although I recently passed my professional baking diploma. I am all for a "homemade" type of bread, one that is easy and pleasurable to make, and that you can bake with good and simple ingredients.
Q: Are you a cookbook collector?
I'm a massive cookbook collector! My bookcases are overflowing and I have book piles everywhere in my office. I must have about 500 books that I use for their recipes but also as references for my articles and food encyclopaedias. I'm very fond of ancient books or books on cooking history. I also enjoy books on specific themes, such as plant-based cooking, which I'm currently interested in. I also have a full collection of bread-related books, obviously. I want cooking books to be inspiring. Of course, it's good if recipes are easy to make, but I also want to be given ways to renew my every-day cooking.
Q: What is the best part of your job? Do you sometimes feel like working with food all day keeps you from wanting to get creative in the kitchen?
People think that the best thing about this job is eating. It's not completely false, because I get to go to restaurants often and try exquisite food, and that's great of course, but it's also a real profession. After eating, you have to come up with the words to talk about it and be able to illustrate the world of a chef in an article. I think my favourite thing is discovering the person behind the dish or the product. From the producer to the cook, from farm to fork, to meet the people who feed us. Do I still want to cook when I come home at night? Not all the time. Especially since for my family, I am the resident food expert, the others count always on me for preparing meals. So yes, I'd happily lend my apron to someone else.
Q: What is your go to for a quick dinner – quick dessert?

Honestly, I love a quick salad with whatever I can find in my fridge. I need veggies every day! But I always take the time to use good ingredients and to dress the plate nicely, like in a nice handmade pottery bowl for instance. I of course add a slice of good bead. I don't have such a big sweet tooth and can happily pass on dessert. I do love a thin apple tart, though.
Q: Tell us about your cookbook or any projects you are working on?

My new encyclopedia on sustainable eating was just published in France. It's a book that's really important to me and that I worked on for a whole year. In it, I review everything we eat and drink and give advice on how to eat tastefully, healthily and respectfully of the planet.
Emile Henry has new cookware pieces that are just beautiful and that help us to create beautiful dishes. The Epi bread baker is such a product. More about the baker:
Made in France of all natural materials and manufactured using Emile Henry's proprietary Flame technology.
Creates petite wheat stalk baguette loaves with crispy crust and airy interiors.
Designed for shaping, proofing and baking in one vessel. Makest two wheat stalk loaves at once.
Releases bread easily and will not chip, crack, craze or absorb odors or flavors.
Easy to clean with soap or water and is dishwasher safe.
Has a 10 year guarantee against manufacturing defects when used in a household environment.
Special thanks to the publisher for providing a copy of Upper Crust as well as to Emile Henry for offering one of their gorgeous bread bakers in our promotion. Entry options include answering the following question in the comments section of this blog post.
Which recipe in the index would you like to try first?
Visit Emile Henry and leave a second comment about which product you would like to add to your kitchen.
Please note that you must be logged into the Rafflecopter contest before posting or your entry won't be counted. For more information on this process, please see our step-by-step help post. Once you log in and enter your member name you will be directed to the next entry option – the blog comment. After that, there are additional options that you can complete for more entries. Be sure to check your spam filters to receive our email notifications. Prizes can take up to 6 weeks to arrive from the publishers. If you are not already a Member, you can join at no cost. The contest ends at midnight on March 25th, 2022.
a Rafflecopter giveaway