Your Daily Veg Cookbook Giveaway
May 10, 2022 by Jenny
Enter our worldwide giveaway to win one of three copies of Your Daily Veg: Modern, Fuss-Free Vegetarian Food by Joe Woodhouse.
Your Daily Veg: Modern, Fuss-Free Vegetarian Food by Joe Woodhouse (husband of Olia Hercules) celebrates everyday vegetables in a fresh, stunningly gorgeous and modern way. Chapters focus either on one core vegetable or a group of similar vegetables, celebrating seasonality and encouraging you to make swaps if you don't have the exact ingredients. These recipes can then be used as a base for experimenting.
Starting with the ingredient and working forward from there, Woodhouse blends textures, spices and flavors to create satisfying meals that use minimal ingredients but achieve maximum flavor. With tips on how best to prep dishes and advice on minimising stress and time in the kitchen, each recipe is as straightforward as possible.
These recipes are not only tempting and nutritious but also present as show stoppers, making impressive dishes to serve family and guests. I am making the Potato boulangère the next time we have company (it is a work of art) and those crispy edges – someone hold me, the Ginger and peanut butter roasted kale looks spectacular, as does the Flatbread with potatoes & onion sauce. To be truthful, I want to make nearly every one of these gorgeous dishes.
If you buy one veg cookbook this year, it should be this one! Gorgeous, impressive dishes that will tempt every palate.
---
The publisher has shared the following two recipes for our members to try now.
Cauliflower cheese tart Serves 8
Add this recipe to your Bookshelf (click the blue +Bookshelf button)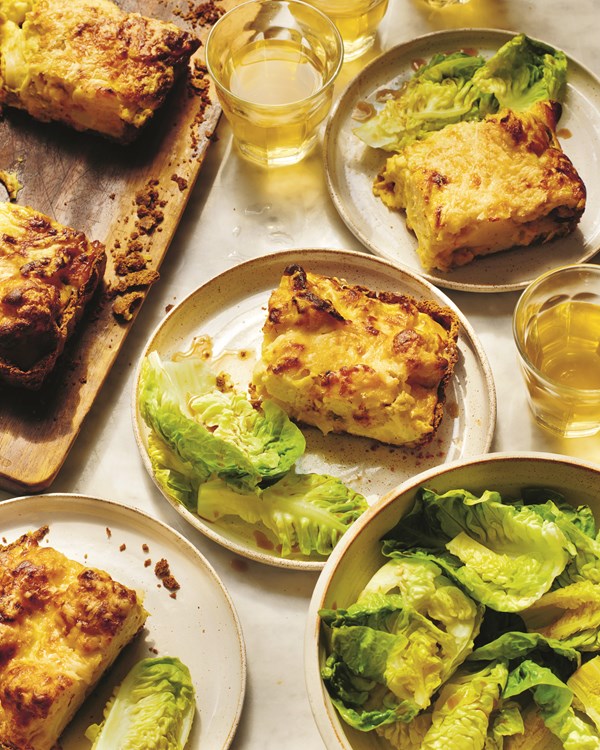 Author's notes: The pastry here is fairly short because of the walnuts. Don't worry if it cracks when rolling out. Once in the tin, try and patch it up a little with some offcuts. But as the mix is fairly thick it won't run out and stick, so don't worry too much. Make sure to cook the roux to the point where it starts to come away from the sides of the pan. This is when you know it is done. To bake blind I use dried beans but rice also works. Reserve afterwards and reuse for another pastry. I use a 30 × 20cm (12 × 8 inch) rectangular flan tin for this, but a similar-sized baking dish or a 24cm (9 inch) round tart tin works just as well.
For the pastry
200g (7oz) wholemeal flour, chilled
in the refrigerator, plus extra for dusting
100g (3 ½ oz) walnut halves
100g (3 ½ oz) unsalted butter, diced and well chilled
½ teaspoon sea salt flakes
1 tablespoon cider or white wine vinegar
For the cauliflower cheese
1 cauliflower (about 1kg/ 2lb 4oz), broken into small florets, stalk and tender leaves cut into similar-sized pieces
50g (1 ¾ oz) unsalted butter
50g (1 ¾ oz) plain flour
500ml (17 fl oz) milk
2 tablespoons English mustard, or to taste
a few gratings of nutmeg, or to taste
250g (9 oz) mature Cheddar grated
3 eggs, beaten well
sea salt flakes and black pepper
To serve
2 baby gem lettuce, leaves separated
lemon juice, to taste
sea salt flakes and black pepper
To make the pastry, put the flour, walnuts, butter and salt in a food processor. Pulse until the mix resembles fine breadcrumbs. Add the vinegar and 2 tablespoons of cold water, then pulse a couple more times to combine. Turn out and bring the mix together into a mass. Cover and let it sit for 15 minutes (an upturned mixing bowl works well).
Dust a work surface with flour, place the dough in the middle and sprinkle with some more flour. Roll out the pastry in long strokes going in one direction at a time; avoid rolling back and forth over the pastry. Make sure to roll it out larger than your tin. Place a 30 × 20cm (12 × 8 inch) flan tin (a roasting tray also works fine) underneath and roll the pastry over the tin. Lift the edges to let the pastry fall into the tin, then gently coax it into the edges, trying not to stretch the dough. Tuck over any extra pastry that comes over the edge. Place in the refrigerator to rest for 30–45 minutes.
Preheat the oven to 200°C (400°F), Gas Mark 6. Place the flan tin on a baking tray, line the pastry with greaseproof paper and fill with baking beans. Bake in the oven for 20 minutes. Remove the baking beans and cook for a further 10 minutes until golden. Remove from the oven and set aside.
Meanwhile, bring a pan of water to a boil and place a colander over the top. Add the cauliflower, cover and steam for 10–15 minutes until tender. Alternatively, boil the cauliflower for 7–10 minutes, but make sure to spread it apart on a baking tray afterwards to allow the moisture to evaporate.
To make the sauce, melt the butter in a medium, heavy-based saucepan, add the flour and stir with a whisk to combine well. Cook the roux mix for about 5–8 minutes over a medium–low heat. You want it to become golden for a deeper flavour to the final sauce.
Add the milk, 100ml (3 ½ fl oz) at a time, stirring vigorously to completely combine before adding more. When you have added all the milk, gently cook the sauce for 5–10 minutes until it has thickened enough to coat the back of a spoon.
Take off the heat. Add the mustard, season with salt and pepper and add the nutmeg to taste. Follow with 200g (7oz) of the cheese. Stir everything to combine and check the seasoning.
Reduce the oven temperature to 180°C (350°F), Gas Mark 4.
Once the mix has cooled a little, beat in the eggs and then add the cauliflower, making sure to mix well. Spoon this mix into the tart case. Top with the remaining cheese and bake in the oven for 30–45 minutes until golden on top and set.
Remove from the oven and allow to cool slightly to help the tart set a little. Serve with the baby gem leaves, seasoned and dressed simply with lemon juice to cut through the richness of the tart.
Grilled asparagus & lemon rice Serves 4
Add this recipe to your Bookshelf (click the blue +Bookshelf button)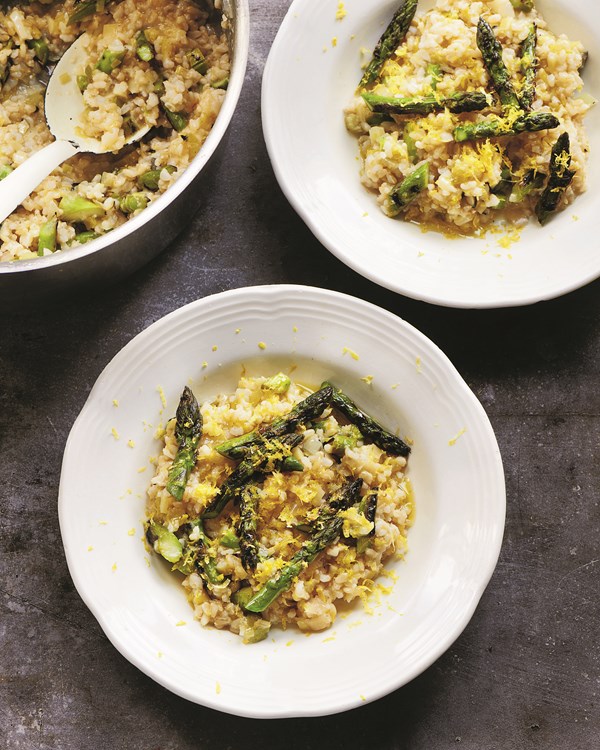 Authors note's: I adore asparagus. During its season I often just have a plate of simply steamed asparagus to myself for dinner. The best way to eat it is with melted butter, a judicious crack of black pepper and a light spritz of lemon – or maybe some aioli to dip the steamed tips into. But there comes a point, usually midway through the season, when I've eaten so much already that I look for some further expressions. By this time I've had so much I'm well on the way to looking like an asparagus.
I like to cook this on a barbecue with the pan resting on a griddle plate as it takes on a subtle smokiness from the fire – but a griddle pan on the stove is as good. Great with leftover rice, as the freshness of the lemon brightens everything and gives it new life.
3 tablespoons neutral oil (such as groundnut or sunflower)
1 onion, finely diced
1 celery stick, finely diced
1 leek, trimmed, cleaned and finely diced
3 garlic cloves, sliced
2 bunches of asparagus (500g/1lb 2oz), cleaned and woody ends snapped off
250g (9oz) cooked short grain brown rice (125g/ 4½ oz dry weight)
zest and juice of 1 lemon
100g (3 ½ oz) hard sheep's cheese, such as pecorino, grated (optional)
sea salt flakes and black pepper
Heat 2 tablespoons of the oil in a pan large enough to fit everything over medium heat.
Add the onion, celery and leek with a good pinch of salt. Gently cook for 12 minutes to soften everything.
Add the garlic and cook for a further 5 minutes.
Meanwhile, toss the asparagus in the final tablespoon of oil and a pinch of salt. Heat a griddle pan over medium-high heat and grill for about 5 minutes, turning once, until tender. Pull off a spear when you think they are approaching being done, slice a section off and eat it. If they need longer, return the spear and try again in a minute or so. Remove from the heat and slice each spear into roughly four or five sections.
Add the rice to the onion pan along with 100ml (3½fl oz) water to help everything get moving. Stir well but gently to reheat the rice but avoid breaking the grains. Add the asparagus and the lemon juice with a few good grinds of pepper. Stir to combine.
Spoon onto plates, or place the pan on the table for people to help themselves. Add the lemon zest and the cheese, if using.
Special thanks to the publisher for providing three copies of this title in our promotion. Entry options include answering the following question in the comments section of this blog post.
Which recipe in the index would you like to try first (besides the two shared here)?
Please note that you must be logged into the Rafflecopter contest before posting or your entry won't be counted. For more information on this process, please see our step-by-step help post. Once you log in and enter your member name you will be directed to the next entry option – the blog comment. After that, there are additional options that you can complete for more entries. Be sure to check your spam filters to receive our email notifications. Prizes can take up to 6 weeks to arrive from the publishers. If you are not already a Member, you can join at no cost. The contest ends at midnight on July 20th, 2022.
a Rafflecopter giveaway