Cassoulet Confessions Book Giveaway
November 10, 2022 by Jenny
Enter our US/UK/AU/NZ giveaway to win one of 3 copies of Cassoulet Confessions: Food, France, Family and the Stew That Saved My Soul by Sylvie Bigar.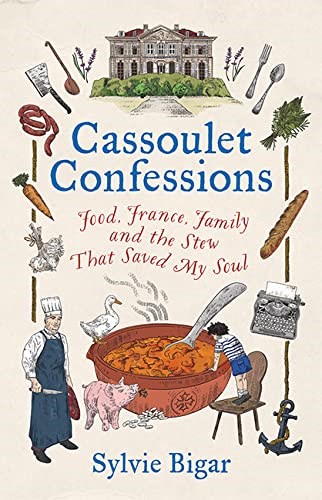 Cassoulet Confessions is a captivating memoir by award-winning food and travel writer Sylvie Bigar. Here a simple journalistic assignment sparked a culinary obsession and transcended into a quest for identity. Set in the southern French countryside, this honest and poignant memoir conveys hunger for authentic food and a universal hunger for home.
Sylvie is an award-winning food and travel writer who was born in Geneva, Switzerland, and lives in New York City. Her writing has appeared widely, including in The New York Times, Washington Post, Food & Wine, Forbes.com, Saveur, Bon Appetit, Edible, Departures, Travel & Leisure, and National Geographic Traveler. In French, Sylvie has contributed to Le Figaro, Histoire Magazine, Le Temps, and FrenchMorning.com. She also is the co-author of Daniel: My French Cuisine.

In Cassoulet Confessions, Sylvie travels across the Atlantic from her home in New York to the origin of cassoulet – the Occitanie region of Southern France. There she immerses herself in all things cassoulet; the quintessential historic meat and bean stew. From her first spoonful, she is transported back to her dramatic childhood in Geneva, Switzerland and finds herself journeying through an unexpected rabbit hole of memories.
Not only does she discover the deeper meanings of her ancestral French cuisine, but she is ultimately transformed by having to face her unsettling, complex family history. Sylvie's simple but poetic prose immerses us in her story: we smell the simmering aromas of French kitchens, empathize with her family dilemmas, and experience her internal struggle to understand and ultimately accept herself.
I started reading this title while waiting for a doctor and found myself relating to various aspects of Sylvie's story. I am savoring the pages slowly in an effort to make it last.
For those in the Denver area – Sylvie will be discussing her book at the Tattered Cover Book Store store on Colfax on November 30th at 6 pm.
Special thanks to the publisher for providing three copies of this title in our promotion. Entry options include answering the following question in the comments section of this blog post.
Have you ever made a cassoulet?
Please note that you must be logged into the Rafflecopter contest before posting or your entry won't be counted. For more information on this process, please see our step-by-step help post. Once you log in and enter your member name you will be directed to the next entry option – the blog comment. After that, there are additional options that you can complete for more entries. Be sure to check your spam filters to receive our email notifications. Prizes can take up to 6 weeks to arrive from the publishers. If you are not already a Member, you can join at no cost. The contest ends at midnight on February 1st, 2023.
a Rafflecopter giveaway