Cookbook Giveaway: Dark Rye & Honey Cake
April 14, 2023 by Jenny
Enter our US/CA/UK giveaway to win one of four copies of Dark Rye & Honeycake: Festival Baking from Belgium, the Heart of the Low Countries by Regula Ysewijn.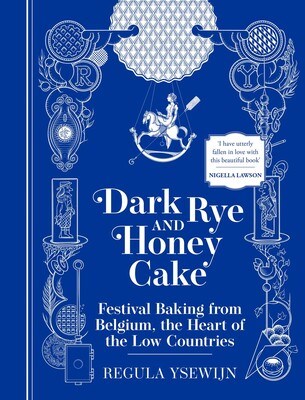 Dark Rye & Honeycake by Regula Ysewijn is an inspiring book for the baker. Here, the acclaimed food writer turns the spotlight on her native Belgium and delivers an intimate look at the culinary traditions and classic baked goods of Belgium. Included are Carnival and Renaissance treats, pastries, pies, biscuits, cakes, breads and, of course, waffles. The photography is stunning and the variety of recipes, and the history behind those recipes, are exciting. This book provides the reader with a fascinating journey to Belgium and joins a select few titles that I have two copies of – one for the kitchen and one for the nightstand so that I can absorb a bit of its brilliance whenever I need a dose of adventure.
I love everything about Dark Rye & Honeycake from the tapestry-like illustrated inside cover/end pages that mimic the cover of the book, the historical narrative that Regula provides that gives one a deeper understanding of Belgium and Her festive baking, the lovely selection of recipes – some of which I have yet to come across before and the imagery from street shots to a hauntingly beautiful image of Regula holding a manual waffle iron ready for battle. There is also one photo of the author in a kitchen surrounded by gorgeous wooden cookie molds and beautiful cookware. Be still my heart.
Our
takes you inside this must-have book and features the following
If you are a baker, a lover of culinary history and one who appreciates brilliance, you must own a copy of Dark Rye & Honeycake. Buy an extra copy for a special someone for Mother's Day and include a wooden cookie mold if you really love them. Wooden cookie molds are another obsession of mine. So many obsessions so little space.
Special thanks to the publisher for providing four copies of this title in our promotion. Entry options include answering the following question in the comments section of this blog post.
Which recipe in the index would you like to try first?
Please note that you must be logged into the Rafflecopter contest before posting or your entry won't be counted. For more information on this process, please see our step-by-step help post. Once you log in and enter your member name you will be directed to the next entry option – the blog comment. After that, there are additional options that you can complete for more entries. Be sure to check your spam filters to receive our email notifications. Prizes can take up to 6 weeks to arrive from the publishers. If you are not already a Member, you can join at no cost. The contest ends at midnight on June 28th, 2023.
a Rafflecopter giveaway