Gohan: Everyday Japanese Cooking Cookbook Giveaway
September 21, 2023 by Jenny
Enter our worldwide giveaway to win one of five copies of Gohan: Everyday Japanese Cooking: Memories and Stories from My Family's Kitchen by Emiko Davies.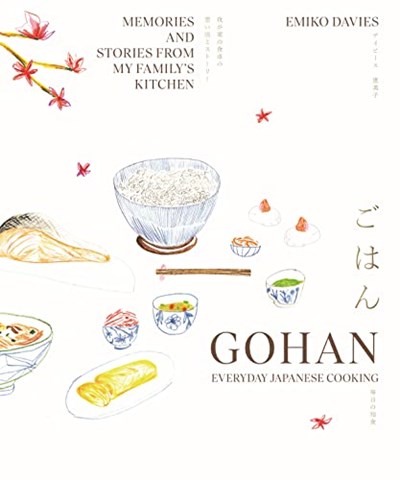 Emiko Davies' cookbooks are some of my favorite titles. She is an award-winning Australian-Japanese food writer, photographer and cookbook author who grew up in a diplomatic family. She spent most of her life in countries other than her own, from China to the US and now calls Italy her home.
Her books are beautifully written and photographed and encourage the reader (at least this reader) to search out a comfortable spot in order to soak up the words and images without interruption. Her latest Gohan: Everyday Japanese Cooking: Memories and Stories from My Family's Kitchen shares her favorite recipes from the kitchens of grandmothers and mothers. These are the simple, satisfying dishes she makes for her family. The book, as those Emiko has written in the past, is stunning – filled with photographs and lovely illustrations.
Japanese home cooking is not fiddly, nor time consuming. It's quick and remarkably simple, thanks to the Japanese philosophy that fresh, seasonal food doesn't need much to enhance its natural flavour. The recipes here reflect that statement. These are simple, yet elegant, dishes that any cook can manage. Filled with history, stories and 88 recipes, Gohan will encourage and inspire us to create these dishes for our families.
Our
takes you inside this beautiful book and features the following
Special thanks to the publisher for providing five copies of this title in our promotion. Entry options include answering the following question in the comments section of this blog post.
Which recipe in the index would you like to try first?
Please note that you must be logged into the Rafflecopter contest before posting or your entry won't be counted. For more information on this process, please see our step-by-step help post. Once you log in and enter your member name you will be directed to the next entry option – the blog comment. After that, there are additional options that you can complete for more entries. Be sure to check your spam filters to receive our email notifications. Prizes can take up to 6 weeks to arrive from the publishers. If you are not already a Member, you can join at no cost. The contest ends at midnight on November 30th, 2023.
a Rafflecopter giveaway