Of Cabbages & Kimchi Cookbook Giveaway
October 11, 2023 by Jenny
Enter our worldwide promotion to win one of two copies of Of Cabbages & Kimchi: A Practical Guide to the World of Fermented Food by James Read. James has events on October 21st at Wimbledon High School Hall and on October 28th at Wild Pickle Ferment Festival Stoke in the UK.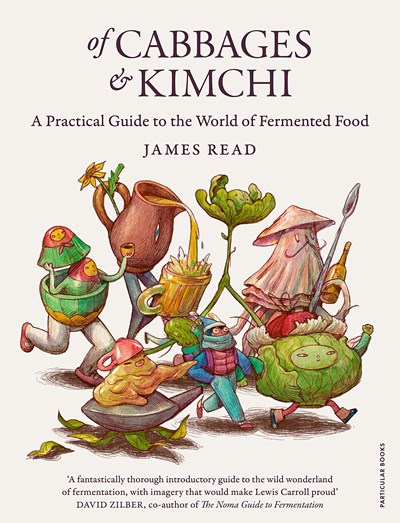 James Read is the founder of Kim Kong Kimchi, a company that's made tens of thousands of jars of kimchi distributed through hundreds of stores. His interest in living foods was born from developing 'zombie brains' from the florets of cauliflower kimchi for a Halloween pop-up restaurant.
Of Cabbages & Kimchi: A Practical Guide to the World of Fermented Food is a tidy little tome beautifully illustrated by Marija Tiurina – just look at that cover. James provides his vast knowledge in this debut title providing recipes, troubleshooting advice and further reading lists for those who catch the fermentation bug.
Chapters include the opening "It starts with a fizz" and continues with Sauerkraut, Kimchi, Soy Sauce, Hot Sauce, Vinegar, Kefir, Kvass, Tepache and Ginger Beer, Kombucha, Yogurt and ends with the Index and Reading List. Here you will find recipes from Soy caramel dark milk chocolate tart, Thai crab cakes with avocado hot sauce, Raspberry, almond and kefir crumb cake nestled between the narrative on each subject. Over fifty recipes fill this book that provides the reader with the basics to create fermented foods such as kimchi and then several recipes to use those home-made tangy dishes.
Our
takes you inside this title and features the following
What I really love about this book is that it is fun and approachable. Some other books on this subject can be overwhelming for a beginner fermenter. Of Cabbages & Kimchi strikes the perfect balance – perfect for the novice and interesting enough for someone with experience under their belt.
Special thanks to the publisher for providing two copies of this title in our promotion. Entry options include answering the following question in the comments section of this blog post.
Have you tried fermenting foods and if so what types?
Please note that you must be logged into the Rafflecopter contest before posting or your entry won't be counted. For more information on this process, please see our step-by-step help post. Once you log in and enter your member name you will be directed to the next entry option – the blog comment. After that, there are additional options that you can complete for more entries. Be sure to check your spam filters to receive our email notifications. Prizes can take up to 6 weeks to arrive from the publishers. If you are not already a Member, you can join at no cost. The contest ends at midnight on December 8th, 2023.
a Rafflecopter giveaway