Modern Mediterranean – Cookbook Giveaway
September 27, 2019 by Jenny
Enter our giveaway to win a copy of Modern Mediterranean: Sun-Drenched Recipes from Mallorca and Beyond by Marc Fosh.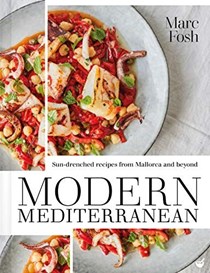 Marc Fosh, the Michelin-starred chef behind Palma de Mallorca's Restaurant Marc Fosh, takes us on a tour of the bountiful produce of the Mediterranean and shows us how to harness its flavors in new and exciting ways in Modern Mediterranean: Sun-Drenched Recipes from Mallorca and Beyond. Organized into 18 chapters by key ingredient; covering everything from tomatoes, garlic, almonds, and olive oil to octopus, chorizo, saffron and truffles, the book reflects today's Mediterranean cuisine.
Each chapter opens with an introduction explaining the history and origin of each ingredient and when each is at its peak. With 100 recipes accompanied by stunning photographs and beautiful landscape photography, this is a must-have book for anyone interested in this area of the world and Mediterranean cookery, both classic and modern. Fresh and vibrant dishes will impress even the experienced cook and inspire those new to this cuisine.
The recipes range from Poor man's potatoes with chorizo and Churros with hot chocolate and orange blossom dip to more elegant dishes such as Roasted rack of lamb in a feta, olive, and rosemary crust and Preserved lemon cream with pistachio dukkah, cherry-rosewater sorbet and ras el hanout caramel sauce. I am very impressed by the variety and scope of the content of this beautiful book which has approachable recipes and those that require a bit of planning.
---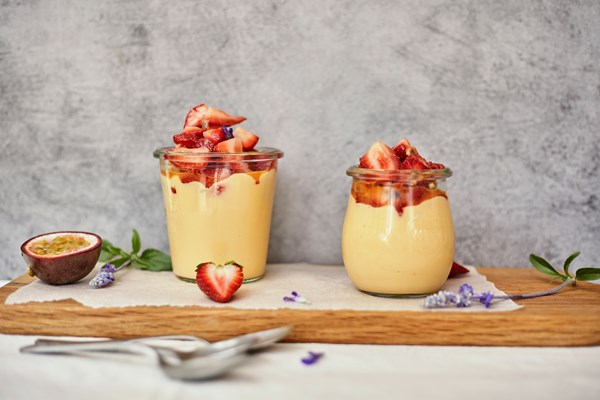 ---
Olive oil-marinated strawberries with passion fruit and lavender custard
Add this recipe to your Bookshelf (click the blue +Bookshelf button)
Cooking time: 8–10 minutes
Preparation time: 15 minutes, plus chilling and marinating
Serves 4
400g/14oz fresh strawberries, quartered
100ml/3.fl oz/scant 1/2 cup olive oil
zest and juice of 1 lime
1 tbsp caster (superfine) sugar
juice and seeds of 1 passion fruit
For the lavender and passion fruit custard:
150ml/5fl oz/ 2/3 cup double (heavy) cream
150ml/5fl oz/ 2/3 cup milk
1 tsp dried lavender flowers
150ml/5fl oz/ 2/3 cup orange juice
juice and seeds of 3 passion fruit
6 egg yolks
1 tsp cornflour (cornstarch)
125g/4.oz/scant 2/3 cup caster (superfine) sugar
To make the custard, in a medium saucepan, bring the cream, milk and dried lavender flowers to the boil, then remove from the heat and set aside to infuse for at least 10 minutes.
In a separate small saucepan, bring the orange juice and passion fruit to the boil and reduce to a light syrup, about 2–3 minutes.
In a large bowl, whisk together the egg yolks, cornflour (cornstarch), sugar and passion fruit syrup until smooth, then pour into the cream mixture.
Place the saucepan back over a low heat and cook, stirring continuously, until the mixture just coats the back of a spoon, about 3–4 minutes. Do not boil. As soon as the mixture begins to thicken, remove from the heat. Pass through a fine sieve (strainer) into a bowl, then chill in the refrigerator for at least 2–3 hours.
At least 20 minutes before serving, mix together the strawberries with the remaining ingredients in a large bowl and set aside to marinate.
To serve, half-fill 4 tall glasses with the passion fruit custard, top with the marinated strawberries and serve immediately.
---
Thanks to the publisher for providing two copies of the above-referenced title in our giveaway open to EYB Members in the US, CA and the UK. One of the entry options is to answer the following question in the comments section of this blog post.
Which recipe in the index would you try first?
Please note that you must be logged into the Rafflecopter contest before posting or your entry won't be counted. For more information on this process, please see our step-by-step help post and this forum post. Once you log in and enter your member name you will be directed to the next entry option – the blog comment. After that, there are additional options that you can complete for more entries. Be sure to check your spam filters to receive our email notifications. Prizes can take up to 6 weeks to arrive from the publishers. If you are not already a Member, you can join at no cost. The contest ends at midnight on December 2nd, 2019.
a Rafflecopter giveaway
Recipe excerpt from Modern Mediterranean by Marc Fosh 2019. Reprinted with permission of Nourish Books.
Seen anything interesting?
Let us know
& we'll share it!