Calgary Eats – Cookbook Giveaway
October 18, 2019 by Jenny
Enter our giveaway below to win a copy of Calgary Eats: Signature Recipes from the City's Best Restaurants and Bars by Gail Norton and Karen Ralph.
This title, like all such titles in the Cooks and Eats series from Figure 1 (pictured above), captures the culinary scene of a particular locale. Each book in this series profiles the city's chefs and offers one or two of their signature recipes. What I love most about these titles is that we are allowed to experience the various cuisines of a city in one beautifully photographed book.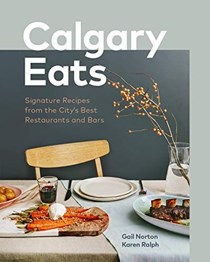 Ricotta-stuffed pasta with a preserved lemon-thyme butter sauce from The Cookbook Co. Cooks (author Gail Norton is a co-owner), Oxbow apple cinnamon buns from Oxbow, and Pork belly bao from The Wednesday Room are just a few examples I have bookmarked to make and our preview below provides three dishes for our members to try now.
Our
takes you inside this title and shares the following
:
The Cookbook Co. Cooks turns 35 next month and there is a birthday party on November 14th to celebrate. Our calendar highlights this event and more. Be sure to check out this shop if you are in the area.
Thanks go out to the publisher for providing two copies of the above-referenced title in our giveaway open to EYB Members in the US and Canada. One of the entry options is to answer the following question in the comments section of this blog post.
Which recipe in the index would you try first?
Please note that you must be logged into the Rafflecopter contest before posting or your entry won't be counted. For more information on this process, please see our step-by-step help post and this forum post. Once you log in and enter your member name you will be directed to the next entry option – the blog comment. After that, there are additional options that you can complete for more entries. Be sure to check your spam filters to receive our email notifications. Prizes can take up to 6 weeks to arrive from the publishers. If you are not already a Member, you can join at no cost. The contest ends at midnight on January 7th, 2020.
a Rafflecopter giveaway