Felidia Cookbook Giveaway
November 14, 2019 by Jenny
Enter our giveaway to win a copy of Felidia: Recipes from My Flagship Restaurant by Lidia Bastianich
Felidia: Recipes from My Flagship Restaurant by Lidia Bastianich is the beloved Italian chef's first restaurant cookbook. This title was written with the restaurant's executive chef Fortunato Nicotra and Lidia's daughter Tanya and shares dishes from across the restaurant's forty-year history. Along with gorgeous photos, recipes include the famous Eggplant flan with tomato coulis that reworks pasta alla Norma; Almond and chocolate tart and signature cocktails.
I crave restaurant experiences but that is often not an option. Books like Felidia allow me to experience the chef's dishes in my own kitchen. It is easy to plan a dinner party from Lidia's book: start off the party with a Basil martini, prepare your choice of an appetizer or soup (there are dozens of options), follow with a platter of Rigatoni woodsman style and end with Open cannolo. You can treat your family and friends to a Felidia experience at any time!
Special thanks to Knopf for providing the following recipe which Chef Nicotra developed for Felidia so that our members can try it now. Knopf is also offering copies of this beautiful book in our giveaway below.
Chocolate ravioli filled with burrata and butternut squash (Ravioli al cioccolato, ripieni di burrata e zucca)
Add this recipe to your Bookshelf (click the blue +Bookshelf button).
This was one of my signature dishes at the Michelin-starred restaurants Villa Marchese and Villa Esperanza in Sicily. Bitter cocoa powder is used in a lot of savory preparations there, and when I arrived at Felidia, I wanted to do something similar but using more local ingredients. So I kept the same dough but added butternut squash—a typical sweet ingredient from America that balances the bitterness of the cocoa powder. I make this dish a few different ways. It is sometimes stuffed with ricotta or burrata. Amaretti cookies are often grated on top, as is done with the tortelli di zucca that are served in Mantua, Lombardy. —Chef Nicotra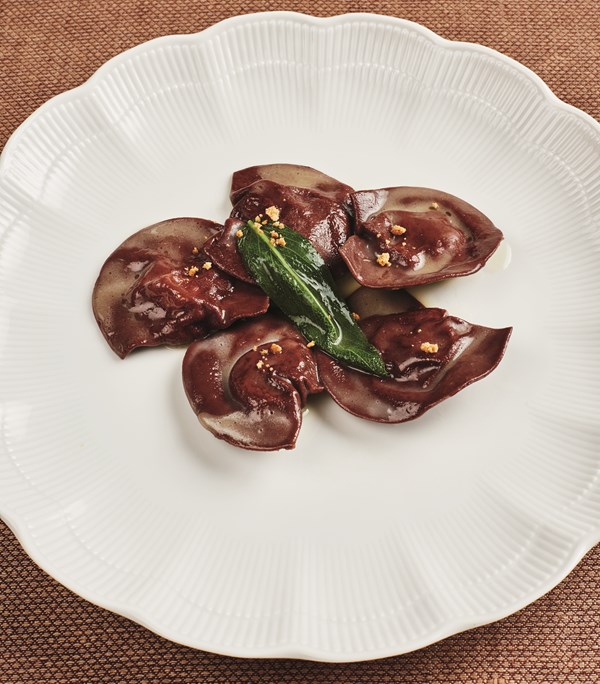 Makes about 30 to 34 ravioli, serving 6
For the Filling
1 small butternut squash (1 ½ pounds)
Extra-virgin olive oil, for brushing
Kosher salt
Freshly ground black pepper
2 cups (about 12 ounces) shredded burrata cheese (it's easiest to shred by hand, with your fingers)
1 cup freshly grated Grana Padano
2 large egg yolks, beaten
cup toasted breadcrumbs, or as needed
For the Dough
1 cups all-purpose flour, plus more for working the dough
½ cup Dutch-process cocoa
4 large eggs
1 large egg yolk
2 tablespoons extra-virgin olive oil
For the Sauce
1 stick (8 tablespoons) unsalted butter
12 fresh sage leaves
Kosher salt
Freshly ground black pepper
1 cup freshly grated Grana Padano
6 amaretto cookies, crumbled or grated
Preheat the oven to 375 degrees. For the filling, cut the squash into quarters lengthwise, and scrape out the seeds. Brush a 13-by-9-inch baking dish with olive oil. Arrange the squash pieces cut side up in the dish, brush lightly with olive oil, and season with salt and pepper. Bake until the squash feels soft and is easily pierced with a knife, about 1 hour. Allow to cool.
Remove the skin from the squash, and place the flesh in a food processor; process until no longer chunky, just a few quick pulses. Transfer the squash to a sieve lined with cheesecloth, and drain into a bowl in the refrigerator overnight.
Transfer the drained squash to a mixing bowl. Stir in the burrata, grated cheese, and egg yolks. Then stir in the breadcrumbs to make a filling that is tight but not dry. Add more breadcrumbs, a tablespoon at a time, if the filling is too loose. Refrigerate the filling while you make the dough.
For the dough, put the flour and cocoa in a food processor, and pulse several times. Beat 3 eggs, the egg yolk, olive oil, and 2 tablespoons water in a spouted measuring cup. With the food processor running, add the liquid, and let it run until the dough forms a ball on the blade, about 30 seconds. If it's too loose, add a tablespoon or two of our; if still crumbly, add a teaspoon or two of cold water.
Let the machine knead the dough for about 10 seconds. Turn the dough out on a very lightly floured surface, and knead by hand for another 30 seconds or so, until it's smooth, soft, and stretchy. Wrap, and rest the dough for 30 minutes. Line two baking sheets with kitchen towels, and dust with flour.
Cut the dough into four pieces. Keeping the pieces you are not immediately working with covered, roll each piece through a pasta machine set to the next-to-last setting (or the last setting, if you are comfortable with your machine—you want the dough to be quite thin, since you will be folding it over), to get strips that are about as wide as the machine and about 16 inches in length.
Lay one strip out on a very lightly floured surface, and dollop scant tablespoons of filling at about 3-inch intervals down the center of the strip (you will get about six ravioli per strip). Press the tops of the mounds lightly to flatten. Beat the remaining egg and brush a thin strip along the top, bottom, and side edges of the dough strip and in between each mound of filling. Fold the dough over and seal.
Using a round pasta cutter, cut full half-rounds and fold in slightly. Arrange the finished ravioli on a lightly floured towel-lined baking sheet. Make more ravioli from the remaining pieces of dough.
When ready to cook, bring a large pot of salted water to a boil. For the butter-and-sage sauce, heat the butter in a large skillet over medium heat until melted and just foaming. Gently lay the sage leaves in the pan, and heat until they crisp up, about a minute. Ladle in 1 cup boiling pasta water; stir the sauce, and simmer for about 2 minutes, to reduce the liquid by half. Season the sauce with salt and pepper, and keep warm over very low heat while you cook the ravioli.
Add the ravioli to the boiling water, and let return to a simmer, stirring gently. Cook until the edges of the pasta are tender but still firm to the bite, about 3 minutes once the water returns to a simmer.
Transfer the cooked ravioli to the sauce with a spider or slotted spoon. Toss gently to coat. Remove the skillet from the heat, sprinkle with the 1 cup grated Grana Padano, and toss gently. Sprinkle the cookies over the top, and serve. If plating individually, gently scoop up the ravioli with a large spoon and place in large shallow bowls, covering the bottom and layering the ravioli, not piling them up, or use a flat plate.
Thanks to the publisher for providing three copies of the above-referenced title in our giveaway open to EYB Members in the US. One of the entry options is to answer the following question in the comments section of this blog post.
Which recipe in the index would you try first?
Please note that you must be logged into the Rafflecopter contest before posting or your entry won't be counted. For more information on this process, please see our step-by-step help post and this forum post. Once you log in and enter your member name you will be directed to the next entry option – the blog comment. After that, there are additional options that you can complete for more entries. Be sure to check your spam filters to receive our email notifications. Prizes can take up to 6 weeks to arrive from the publishers. If you are not already a Member, you can join at no cost. The contest ends at midnight on January 19th, 2020.
Recipe excerpt and image used with permission from Knopf from Felidia by Lidia Matticchio Bastianich. ©2019 Photo credit Jennifer May.
a Rafflecopter giveaway