Midwest Made – Cookbook Giveaway
December 5, 2019 by Jenny
Enter to win a copy of Midwest Made: Big, Bold Baking from the Heartland by Shauna Sever in our giveaway below.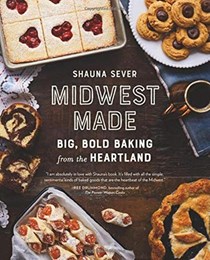 Shauna Sever's Midwest Made: Big, Bold Baking from the Heartland is a love letter to the baking culture of the north-central region of the US. These recipes are influenced and drawn from the immigrants who settled there. In this cookbook, you will find gorgeous loaves of Potica (a pastry made with a yeast-raised dough that is rolled or stretched out thinly and then spread with a filling), Dutch letters (a type of pastry or cookie that is filled with almond paste, dusted with sugar and shaped in an "S" or other letter shape), and Belgian pie (a sweet, raised dough pastry that is usually filled with fruit and topped with a cottage cheese topping) alongside Ozark skillet cake and Real deal St. Louis gooey butter cake.
The photographs will tease you into the kitchen to whip up your own Danish Kringle instead of waiting for Trader Joe's to stock the delicious pastry. The author's headnotes are worth the price of admission and make you feel as if she is sitting at the kitchen island with a cup of tea while you measure flour and cream butter.
The following recipes from Shauna's book are available online for our members to try now:
Reading this book has me missing home. I grew up in the Midwest. I spent my childhood there and left in my thirties. I spent 15 years in New York so both places feel like home to me. Both are melting pots of cuisine offerings that are generations old. Italian shops, specialty bakeries and more are available for those of us who love food and history. This book feels like home.
Special thanks to Running Press for offering three copies of this fantastic book in our giveaway below.
Thanks to the publisher for providing three copies of the above-referenced title in our giveaway open to EYB Members in the US. One of the entry options is to answer the following question in the comments section of this blog post.
Which recipe in the index would you try first?
Please note that you must be logged into the Rafflecopter contest before posting or your entry won't be counted. For more information on this process, please see our step-by-step help post and this forum post. Once you log in and enter your member name you will be directed to the next entry option – the blog comment. After that, there are additional options that you can complete for more entries. Be sure to check your spam filters to receive our email notifications. Prizes can take up to 6 weeks to arrive from the publishers. If you are not already a Member, you can join at no cost. The contest ends at midnight on January 29th, 2020.
a Rafflecopter giveaway
Seen anything interesting?
Let us know
& we'll share it!