Plants-Only Kitchen – Gaz Oakley
April 6, 2020 by Jenny
Enter our US/UK/AU/NZ giveaway to win one of three copies of Plants-Only Kitchen: Over 70 Delicious, Super-Simple, Powerful and Protein-Packed Recipes for Busy People by Gaz Oakley.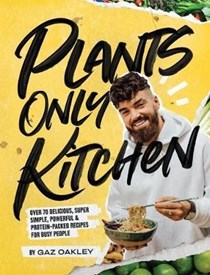 Plants-Only Kitchen offers an explosion of flavor, with more than 70 vegan recipes that work around your lifestyle.
With symbols flagging recipes that are high-protein, take less than 15 minutes, or are suitable for meal prep and batch cooking, Gaz explains how best to make a vegan diet work for you. No fancy ingredients – just fantastic food using plants, only.
Gaz Oakley has amassed well over a million followers on social media with his exciting vegan dishes, which emphasize that a plant-based diet doesn't mean missing out on taste. Gaz's recipes are easier than ever before following his step-by-step instructions, tips, and advice, anyone can cook great vegan food.
Our
takes you inside this beautiful book and features the following
Special thanks to Quadrille Publishing for providing the materials for our EYBD Preview and for offering three copies of Plants Only Kitchen in our giveaway. Entry options include answering the following question in the comments section of this blog post.
Which recipe in the index would you try first?
Please note that you must be logged into the Rafflecopter contest before posting or your entry won't be counted. For more information on this process, please see our step-by-step help post and this forum post. Once you log in and enter your member name you will be directed to the next entry option – the blog comment. After that, there are additional options that you can complete for more entries. Be sure to check your spam filters to receive our email notifications. Prizes can take up to 6 weeks to arrive from the publishers. If you are not already a Member, you can join at no cost. The contest ends at midnight on June 5th, 2020.
a Rafflecopter giveaway
Seen anything interesting?
Let us know
& we'll share it!