The Hot Chicken Project – Cookbook Giveaway
May 12, 2020 by Jenny
Enter our giveaway open to US/UK/AU/NZ to win one of three copies of The Hot Chicken Project: Words + Recipes | Obsession + Salvation by Aaron Turner.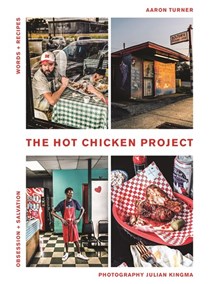 "Hot chicken ain't nothing but the truth."
Acclaimed Australian chef Aaron Turner, owner of Igni and author of the cookbook of the same name, tackles hot chicken in his latest work. For Turner, hot chicken isn't just food – it's salvation in crispy, fried, and hellish spicy form. Here he travels back to Nashville, the place of its birth, to pay his respects to the makers, to chart the love and obsession that has shaped his world, and to make sure that what he does back home is doing it justice.
The Hot Chicken Project is part recipe book (40 recipes covering the best mains, sandwiches, sides, salads, and sauces), part narrative, part pictorial celebration of the history and power hot chicken holds over us all. He begins in Louisville with a chapter on the one and only Col. Harland Sanders. Turner states that the colonel and himself have spent the better part of their lives chasing the perfect chicken fry.
This book, heavy on imagery, shares the stories of the people and families and communities who have cooked and eaten and appropriated it in Nashville over several generations. These are the dives, shacks, and hole-in-the-wall places that you would be sure had been abandoned years ago but once you step in and sample their offerings you are grateful. The narrative offers a loud, opinionated take-no-prisoners perspective on food culture in the US today, as well as being an incomparable how-to manual for the very best hot chicken and accompaniments.
Our
takes you inside this special book and features the following
Special thanks to the publisher for providing the materials for our EYBD Preview and to Aaron Turner for opening our eyes to the world of hot chicken.
Special thanks to Hardie Grant for offering three copies of The Hot Chicken Project in our giveaway. Entry options include answering the following question in the comments section of this blog post.
Which recipe in the index would you try first?
Please note that you must be logged into the Rafflecopter contest before posting or your entry won't be counted. For more information on this process, please see our step-by-step help post and this forum post. Once you log in and enter your member name you will be directed to the next entry option – the blog comment. After that, there are additional options that you can complete for more entries. Be sure to check your spam filters to receive our email notifications. Prizes can take up to 6 weeks to arrive from the publishers. If you are not already a Member, you can join at no cost. The contest ends at midnight on October 22nd, 2020.
a Rafflecopter giveaway