Ovenly – Cookbook Giveaway
January 10, 2021 by Jenny
Enter our US giveaway to win one of three copies of Ovenly, Updated Edition: Sweet and Salty Recipes from New York's Most Creative Bakery by Agatha Kulaga and Erin Patinkin.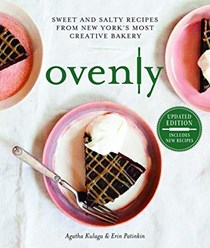 The recent publication of an updated edition of Ovenly: Sweet and Salty Recipes from New York's Most Creative Bakery reminded me just how amazing this title is. I volunteered to paginate the original book as well as index the new eight recipes shared in Ovenly, Updated Edition and found myself marking all the recipes I want to bake and it would have been easier to mark those I didn't want to try.
Ovenly shares loads of photographs (including some process photos) and details to help guarantee baking success. There are eighteen online recipes that you can try now. Make their scones because they are killer good especially the Cheddar mustard scones which I have made to serve with a ham or roast. Print copies of the 2014 edition average around $50.00 used – so now is the time to snatch up this book and you will get the bonus eight recipes too!
Special thanks to the publisher for offering three copies of this title to our members in the US. Entry options include answering the following question in the comments section of this blog post.
Which recipe in the index of this title would you make first?
Please note that you must be logged into the Rafflecopter contest before posting or your entry won't be counted. For more information on this process, please see our step-by-step help post and this forum post. Once you log in and enter your member name you will be directed to the next entry option – the blog comment. After that, there are additional options that you can complete for more entries. Be sure to check your spam filters to receive our email notifications. Prizes can take up to 6 weeks to arrive from the publishers. If you are not already a Member, you can join at no cost. The contest ends at midnight on May 23rd, 2021.
a Rafflecopter giveaway